Don't Miss These Virginia Beach Attractions!
So...what are the best Virginia Beach attractions--and the best attractions beyond the beach?
The Virginia Beach area is a family vacation getaway paradise...beaches, science museums, aquariums, theme parks, historic sites...the list of sights goes on and on.
But since you want to maximize your travel dollar, which attractions are right for you?
To help you plan your visit, I've personally reviewed most of the top attractions in Virginia Beach, Norfolk, the Hampton Roads area, Williamsburg, and beyond...and added admission details, hours, ways to get discount tickets, and general tips for making your trip as fun and inexpensive as possible.

Keep in mind what a lot of people don't realize: the Virginia Beach and Hampton Roads area is not just a summer vacation spot, it's a great fall and spring destination too. Crowds are less, hotels go on sale, and cooler temps prevail, making either of those seasons a delightful time to visit as well.
In fact, Virginia Beach was recently named one of the Best Beach Locations to visit in the Fall.
---

Virginia Beach Attractions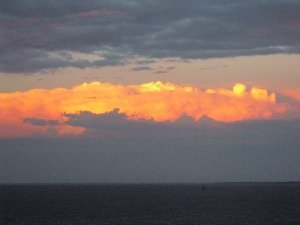 There are so many Virginia Beach attractions and fun things to that you can't possibly do them all...even after multiple trips. In fact, I've devoted a dedicated page to Planning Your Virginia Beach Vacation, plus one dedicated to Virginia Beach Attractions Near the Resort Area, attractions like: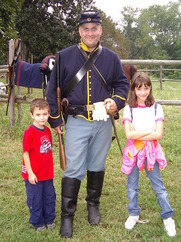 Cinema Cafe - $1 movies while you dine!
Pieces of Eight Pirate Cruise
Want to get discount tickets and travel deals to make a more affordable family vacation? Go to my Discount Travel Deals page for Busch Gardens discount tickets, Kings Dominion discount tickets, and more.

Looking for free or low-cost Virginia Beach attractions? Go to my Cheap or Free Fun page.
Don't know what to do on a rainy or snowy day? Here are my Best Things to Do on a Rainy Day in Virginia Beach for my favorite Virginia Beach attractions that are either indoor or defy the weather.
Want to know how to get there? Check out my links to local airports.
---

Hampton
Air Power Park
Why will air and space enthusiasts love this park?
Cousteau Society
Who (or what) is Allison the shark?
Virginia Air and Space Museum
How can you crash and burn at this fantastic space museum?
---

Jamestown & Newport News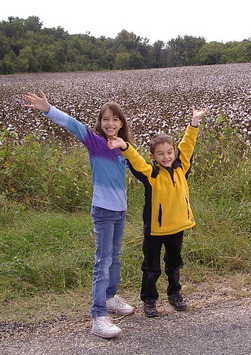 Jamestown Attractions
Historic Jamestowne
The real McCoy...Why do archaeology lovers "dig" this spot?
Jamestown Settlement
Defend the fort talk with an Indian...and how'd they fit so many people on such a tiny ship?
Tips for Visiting Jamestown
We'll show you which Jamestown Attraction is right for you...
The James River Plantations
Hob-nob with the rich and famous at this amazing mansions.
The Jamestown-Scotland Ferry
A free and fun excursion on the James River.
Newport News Attractions
Mariner's Museum
It's the ultimate sea-faring museum, including the turret from the USS Monitor!
Virginia Living Museum
What's the "buzz" at this "touchy-feely" zoo/museum/aquarium?
---

Norfolk
What recent change made this hot art spot better than ever?
Doumar's Drive-In
Like going back 50 years in time! Great shakes, burgers and fries--a classic among Virginia Beach attractions.
Macarthur Memorial
Read my son's review to see why even kids will like this free museum...
Norfolk Cruises
Spirit of Norfolk, Tall ship cruises, & Bahamas cruises
Bakers Crust Restaurant & Crepes 
Watching them make a chocolate and hazelnut Crepe Noisette (then savoring every mouthful) is an event in and of itself.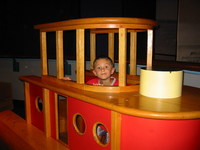 Norfolk's Nauticus has something for everyone.
Mermaids on Parade
Hunting for mermaids? It's a fun, free, and creative scavenger hunt!
Nauticus
What has touch tanks, sharks, computer simulation games, tornadoes, subs, and a battleship? And guess who gets in for free?
Catch the full spectrum of naval history at this free museum.
Norfolk Harborfest
It only comes once a year, but it's a spectacular parade of tall ships, pirates and more!
Rowena's Tea Room and Shop
Why is this our #1 spot for a Girls' Day Out?
Virginia Zoo
One of the most family-friendly Virginia Beach attractions.
---

Portsmouth
Commodore Dinner Theater
Pretend you're a movie star at this Art Deco cinema cafe experience. Our favorite date spot among many Virginia Beach attractions! Will it become yours?
Portsmouth Childrens' Museum
Hands-On heaven for kids of all ages...especially if you like to crash planes!
---

Richmond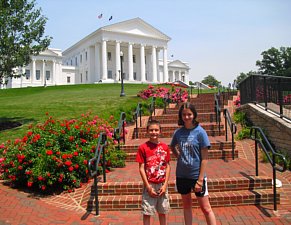 The Virginia Capitol Building is well worth a tour. And it's free!
Maymont 
Best kept secret in Richmond! Historic house, bears, secret gardens, & more...
Museum of the Confederacy and White House 
The OTHER White House from the Civil War
Science Museum of Virginia
Basketball-playing rats, cool science experiments, and an IMAX!
Virginia Museum of Fine Arts
One of the largest collections of Faberge Eggs in the World...plus an ant tunnel through George Washington's face!
Virginia Historical Society
Virginia and Civil War historical, curious oddities, and it's free!
What do two US presidents, Jefferson Davis, 18,000 soldiers, and a black iron dog have in common?
---

Williamsburg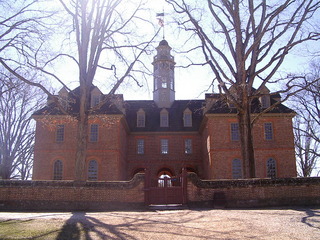 The Capitol Building at Colonial Williamsburg.
Williamsburg Attractions
A comprehensive overview of all the many attractions in Williamsburg.
Colonial Williamsburg
Here are our top 5 favorite things to see at Colonial Williamsburg (and one to avoid!), plus our trick for seeing it for free!
Busch Gardens Williamsburg
Griffon, Verbolten, Mach Tower, and more. Check out my exclusive tips for getting discount tickets!
Water Country USA
Wanna get wet? Check out this gnarly family water park!
Paramount's Kings Dominion
Are you an adrenaline-loving coaster junkie? Try this all-in-one amusement park/water park.
Want a waterpark where the weather's always a perfect 82 degrees year-found? My kids like this place better than Disneyland!
Ghost Tours of Williamsburg
These ghost tours show you the spooky side of history...pirates, tavern "wench" ghosts, and more.
Williamsburg Haunted Dinner Theater
This interactive experience combines a live version of "Clue" with a 71-item buffet, so you can figure out "whodunit" over jumbo shrimp and cheesecake!
Kingsmill Resort 
The ULTIMATE in pampering. Read our insider review of this deliciously decadent spa.
Prime Outlets Williamsburg
Which shops offer free chocolate samples? Why should you count cows here?
Williamsburg Pottery
Why is staying at their campground a great deal for Busch Gardens visitors?
Virginia Shakespeare Festival
See fabulous Shakespeare productions (like Romeo and Juliet) at this world-famous summer festival.
Yankee Candle Factory
Why do our kids insist on stopping here to see the free show?
---

Yorktown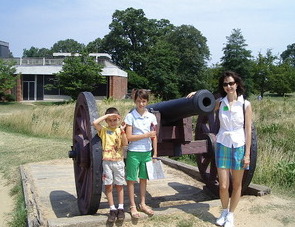 Yorktown Battlefield
Why is Yorktown a quaint and hidden jewel waiting to be discovered?
Yorktown Battlefield
Why is this historic attraction is so much fun...and such a bargain?
Yorktown's Carrot Tree Kitchens
Read about our family reunion dinner at this historic cottage...and their fabulous carrot cake!
---

Washington DC, Luray Caverns, Charlottesville, and Beyond
In Washington, DC...
Best Washington DC sights for less!
How we planned a three day Washington, DC vacation for 5 for about $500!
Free Washington DC things to do!
So many things you can do in Washington DC without paying a dime.
DC's all-news-all-the-time museum full of fascinating history and artifacts - your chance to be a news anchor for a day.
National Air & Space Museum
Touch Moon and Mars Rocks, Fly a Plane, See a Space Shuttle -- All for Free!
Washington Monument
What you need to know before you go (including tips for how to get tickets)
Mount Vernon
George Washington's beautiful mansion and estate overlooking the Potomac

Museum of the Marine Corps 
An amazing, interactive (and free!) stroll through the history of the Marines
Perfect for James Bond lovers, and spy and gadget enthusiasts

Near Charlottesville...
Charlottesville Overview
The best sights, restaurants, and family fun in beautiful Charlottesville
Monticello
The amazing home of Thomas Jefferson 
James Monroe's Ash Lawn-Highland
The pleasantly surprising home of our 5th President
Michie Tavern 
Authentic colonial food, a fascinating tour, and punch served by tavern "wenches."
Carter's Mountain Orchard 
Enjoy a breath-taking view of Charlottesville and the Blue Ridge Mountains while picking delicious apples and peaches.
James Madison's recently renovated mansion and grounds
In the Shenandoah Valley...
Luray Caverns
Simply the largest and most popular cavern in the eastern United States. Listen to their stalagpipe organ play...
Blackfriars Playhouse in Staunton
At this recreation of Shakespeare's famous indoor theater, you can see actors "do it with the lights on"...
Thomas Jefferson's Poplar Forest
His fascinating hidden getaway-- the first octagonal home in the U.S.
A long-lost (and possibly haunted) mansion overlooking the Blue Ridge Parkway
Virginia Beach Family Fun

› Virginia Beach Attractions