Cheap Eats Deals that Let You Eat Out for Less
I'm always looking for cheap eats deals that will help me eat out for less. After all, doesn't it seem like everything costs more these days? So every little bit helps, including the deals I'v found below.
As always, these deals usually don't just fall in your lap. You have to look for them. And who has time?
I do! And I'm happy to pass them on to you...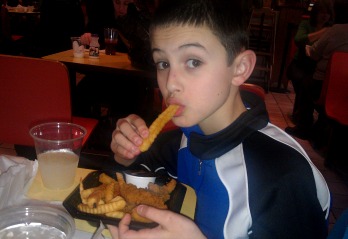 A few freebies days to keep in mind:

National Frozen Yogurt Day - first week in Feb - Free Menchie's Yogurt
National Donut Day - first week in June - Free donut at Krispy Kreme
Chick-fil-A Cow Appreciation Day - second week in July - free entrees for those in costume
National Coffee Day - Sept. 29 - free coffee at Caribou Coffee, Dunkin Donuts, Starbucks, and Krispy Kreme
IHOP all-you-can-eat pancakes - start of Jan. through the second week in Feb. 
Tropical Smoothie Cafe - 3rd Friday in June - get a free smoothie when you wear flip flops
---

Ongoing Kids Eat Free Deals
Following are some of my favorite deals (keep in mind that deals are constantly changing and some locations don't participate, so check online to see what specific deal they're offering in your neck of the woods):
IHOP - Besides offering good value meals and killer pancakes, IHOP usually offers some kind of kids eat free deals at participating restaurants. Some locations offer free kids meals on Wednesdays. Get one free Just for Kids meal for every adult entree you purchase.
At other times, they've offered this deal on Tuesdays or Sundays, so check with your local IHOP to see what deal they're up to now. Also, be sure to sign up for their Pancake Revolution (check their website) for free pancakes on your birthday and other times during the year.
Topeka Steakhouse - Prefer steak over pancakes? Buy one kids meal Sunday through Thursday at Topeka Steakhouse, and you'll get a second kids meal free.
Quiznos - Buy an adult entree and kids 12 and under eat free all day.
Moe's - Buy an adult entree and kids eat free on Sundays.
Firehouse Subs - Buy an adult entree and kids eat free after 4 pm on Sundays and Wednesdays.
Denny's - On Tuesdays and Saturdays, up to two kids under age 10 can eat free from 4 pm to 10 pm with every purchased adult entree.
TGIF - Buy an adult entree and kids eat free after all day on Tuesdays, 5-9 pm. The Virginia Beach location has a magician show those nights too.
Red Robin - Kids 12 and under kids eat free daily, with the purchase of an adult meal.
Lone Star Steakhouse - Their cheap eats deal provides two free kid's meals all day Tuesday.
Tropical Smoothie Cafes - Free kids combo meal for every adult combo meal you purchase on Sundays. Don't forget their National Flip Flop Day the 3rd Friday in June - wear flip flops and get a free smoothie.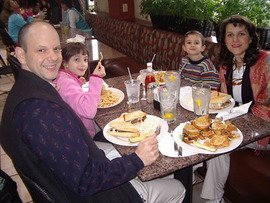 Perkins - Kids eat free all day on Tuesdays.
Max & Erma's - One free Kids meal with every adult meal purchased on Tuesdays.
Shoney's - Kids under 4 eat free every day of the week!
Qdoba - Kids eat free with a paid adult entree on Sundays.
---


Buy Restaurant.com Certificates
Are you like me? Always on the lookout for cheap restaurants and other ways to save when you eat out? Try Restaurant.com. You can buy dining certificates for less than half the cost of your meal. It certainly doesn't work for all restaurants, but your favorite might be on their list. And why pay full price?
Restaurant.com frequently offers even more rock bottom deals, such as 60%-80% off dining certificates that can help you nab a $25 dinner for as little as $3!
The trick is where you live: If you life in a relatively small place like me, you won't find many restaurants on their list to choose from. On the other hand, if you live in a larger metropolitan area, you'll find a lot more offerings. 
Another thing to keep in mind is that Restaurant.com coupons often have end dates or restrictions. So do be sure to read the fine print before you use these cheap eats deals!
---

Buy an Entertainment Book
For great cheap eats deals, these national coupon books --tailored to individual cities-- give you coupons worth hundreds of dollars in savings on a variety of casual and fine dining (from McDonald's, to Ben & Jerry's, to top-notch spots like the Melting Pot)...not to mention coupons for local attractions, golf, and more. It's the source of many a great cheap eats deal.
I bought mine one year the beginning of March for $17 plus free shipping. And my book more than paid for itself the first time I used it (I saved $30 by using a promo to buy three airline tickets. Combining that with some other airline tips I'd love to share with you, I saved $500 on three tickets. Click here to find out how!)
What's the cheapest way to buy an Entertainment Book? Check out my dedicated Entertainment Book page to find out!
---

Download Apps, Get Freebies
These days, you can get major freebies just by downloading many chain restaurants fre apps. While some of the benefits may make it worth it to keep the app, some people choose to sign up for freebies and then trash the app once they've gotten the deal.
Personally, the apps I've felt it worthwhile keeping are apps for Chick-fil-A and McDonald's, but do what works for you. Here are some examples of recent app deals:
McDonald's - One recent offer: Download their free app and get one free McCafe drink for every 5 McCafe drinks you buy. They also offer weekly deals, like buy one sandwich and get a soft drink and fries for free.
Dunkin Donuts - I don't go there often, but I downloaded their app when their had this deal: Put $10 on their app and get $5 placed on the app for free.
Panera Bread - Just having a Panera card pays major dividends if you go there at all frequently (last month a got a free bagel every day of the month) but they offer even more deals when you order on their app.
---

Want more cheap eats deals and ways to save? 
Try these links:
Go to my Site Index to find more great deals.
Virginia Beach Family Fun

› Cheap Eats and Kids Eat Free Deals