Don't Miss Things to Do in Virginia Beach VA
Virginia Beach VA is known for its fabulous, endless, and clean beaches and cool summer breezes. But there's so much more to do here. So I've put together an exhaustive overview of the best things to do here.

All of these attractions are within 20 minutes or so of the oceanfront. But if you're willing to travel further afield, there's even more. Scroll all the way down the page for a link to Virginia Beach Attractions beyond the Beach area.

And if you're on a budget, check out my Cheap or Free Family Vacation Ideas page (see link below).
---
Seasonal fun
During the summer season, there is no end to special (and often free!) events along the Boardwalk. Here are just a few examples:
Free Summer Sidewalk Entertainment - Virginia Beach hosts free sidewalk entertainment (music, performers, and more) every night during the summer at 7:30 pm from 17th Street to 25th Street.
Free Family Adventure Series - Free movies and family scavenger hunts on the beach
Free Fireworks - Enjoy free fireworks shows on the beach two nights a week 
For details on these events, go to my Free Summer Fun page. 
And for more seasonal events, go to my Events & Festivals page.
How about this family fun idea? Pick up a Monster Coupon Book or Virginia Passport Book (free at most corners along Atlantic Avenue). Look through the books and find a coupon for yummy Dough Boy's California Pizza ($2 off a large pizza, $9.99 all you can eat buffet, etc.) Get free Aloha Leis and use the coupon for a free Frisbee (with kid's slice). Then, play some family frisbee while you wait for the sidewalk entertainment to begin.
Cost? Little. The experience? Priceless!
---

Check out these local attractions
Adventure Parasail
Adventure Parasail is your chance to soar up to 1,200 feet for a bird's eye view of the beach under a colorful parachute. Don't worry--they have a perfect safety record. They also offer jet ski, kayak, and boat rentals, plus inshore and offshore fishing excursions. Check out their website for a slideshow of what they offer.
Hours: They open at 9 am daily.
Adventure Parasail address: 300 Winston Salem Avenue, Virginia Beach. Adventure Parasail phone number: 757-422-UFLY (8359). Adventure Parasail website: http://www.beachparasail.com. 
Jungle Golf
Just off Atlantic Avenue and 22nd Street, this African animal-themed miniature golf attraction has an air-conditioned game room and snack bar, free parking (access it from 23rd street). Look in the local visitors guides for coupons.
Hours: Mon-Sun 24 hours a day from Memorial Day to Labor Day; various hours during the off-season. Admission: $11 for adults, $9 ages 4-8 and seniors 55 and up, free for 3 and under. This gives you unlimited games from morning until 6 pm (day golf). Fees are the same for unlimited games from 6 pm to midnight (evening golf).
Jungle Golf address: 22nd Street and Pacific Avenue, Virginia Beach VA. Jungle Golf phone number: 757-425-7240.
Virginia Aquarium
What has over 300 hands-on exhibits, 700,000+ gallons of aquarium tanks, and the only place in the nation where you can directly interact with seals? Yep. The Virginia Aquarium and Marine Science Center. This world-class aquarium has a wonderful IMAX, lots of interesting programs, and is easily accessible from the oceanfront via the VB Wave Trolley. For more on the Virginia Aquarium, plus how to get discount admission, click here.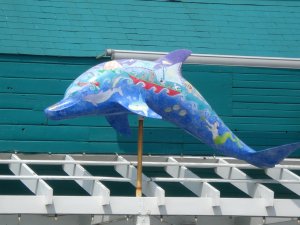 Laser Quest
Laser Quest is live action laser hide and seek-- like paint ball but without the mess! Play with friends or by yourself. Laser Quest games last up to 15 minutes.
Hours: Mondays by appointment for private group events; Tues-Thurs, 4-9 pm; Fri, 4 pm to midnight; Sat, 10 am to midnight; Sun, 10 am to 8 pm. Admission: $9 per game.
Laser Quest address: 2682 Dean Drive, Virginia Beach VA. Laser Quest phone number: 757-463-6300.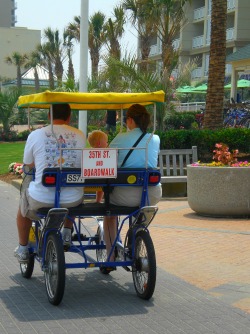 Motor World of Virginia Beach
Eleven race tracks, 250 go karts in 16 different styles, plus a new Kiddie City center for the little ones. They also have the VB Splat Zone for paintball and Shipwreck Golf, with two different 18-hole miniature golf courses, a snack bar, parking, and birthday party amenities. They're right next door to Ocean Breeze Water Park, so why not combine both attractions?
We visited Shipwreck Golf and I have to say I was disappointed doing 9 holes there. We had fun, but for $18 for the three of us (and that was using a buy-one-get-one-free coupon from my Entertainment book!)
I thought that was a bit steep for only a 45 minute activity on a uninspiring course. My advice? Skip Shipwreck Golf and go to Jungle Golf near the beachfront.
Motor World hours: Open year-round daily, weather permitting: 10 am to 10 pm; end of May to Memorial Day: 10 a.m. to midnight. Admission: Free admission into park, $4-$6 per ride per person. Shipwreck Golf is $9 per person for 18 holes. Look for coupons in the local visitors guides.
Motor World address: 700 S. Birdneck Road, Virginia Beach VA.Motor World phone number: 757-422-6419. Motor World website: www.vbmotorworld.com. 
Ocean Breeze Water Park
Virginia Beach's only water park, complete with 16 slides, a huge wave pool, and a Buccaneer Bay playground for the kids. For details, photos, and how to get a discount on admission to Ocean Breeze Water Park, click here.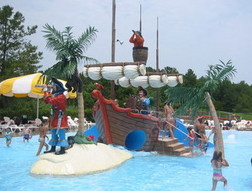 Ocean Breeze Water Park in Virginia Beach
Pieces of Eight Pirate Cruises
Cruise the oceanfront with your scurvy mateys! Friendly pirates will entertain you with pirate stories, face painting, dance parties, secret maps and treasure, a full service bar, and free soft drinks...perfect for birthday parties. They offer free round-trip shuttle service to the ship from their lot next to the Schooner Inn.
Hours: Cruises are offered in season at 10 am, 1 pm, 4 pm, and 7 pm daily.
Pirates of Eight address: 2nd Street and Atlantic Avenue, Virginia Beach VA. Pirates of Eight phone number: 757-417-7272.Pirates of Eight website: www.piecesofeight.com.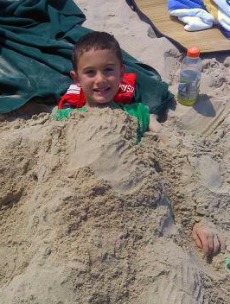 Virginia Beach Boardwalk Food Tours 
Learn the history of the area while dining on delicious seafood and cocktails and area favorites such as she-crab soup, tapas, and award-winning desserts, all under the guidance of a dedicated food expert thanks to Coastal Food Tours.
The 3+ hour tour costs $59 per adult (includes all food and drinks) and meets at Atlantic and 2nd avenue. Tours are available Tuesdays-Sundays between 3 pm and 6 pm.
For more information, call Coastal Food Tours at 202-683-8847.
Atlantic Fun Park
It's small and a bit cheesy, but Atlantic Fun Park is like one of those traveling carnivals you remember from your childhood, including the Flipping Action Arm Ride, the Gravitron, and the Sling Shot. They also have kiddie rides and a kiddie train, plus a Mid-Way. And the park is on Atlantic Avenue and 15th, just a hop and skip from the beach.
Hours: Open 7 days a week during the summer. Call or go to their website for times and days the rest of the year. Admission: Free entrance; unlimited ride wristbands start at about $29.95, while single-ride tickets start at about $4.
Wednesday deals: Mid-June through the end of August, you can often ride from 1 pm-6 pm for a discounted rate. Discounted day passes are available at the Harris Teeter grocery store on 28th and Arctic Avenue, and at Holiday Stores on 12th, 20th, 29th and Atlantic Ave.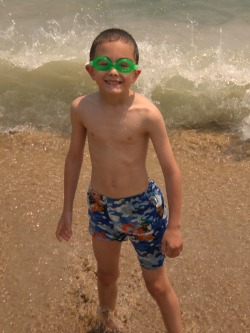 Atlantic Fun Park address: 233 15th Street, Virginia Beach VA. Atlantic Fun Park phone number: 757-422-2307. For details go to www.atlanticfunpark.com.
Hunt Club Farm
This 23-acre, family-owned petting farm featuring goats, sheep, llamas, bunnies, pigs, donkeys, and a miniature cow, as well as turkeys, chickens, and peacocks. It's open 7 days a week, April through December. They charge $4 per person for the petting farm, ages 3 and up, and $5 for pony rides. For details, go to www.huntclubfarm.com. 
---

Attractions & museums
Adam Thoroughgood House
The Adam Thoroughgood House (circa 1680) is one of the oldest brick homes America. This Virginia Beach VA house got its name from an indentured servant (indentured servant were freemen who paid off their debts by agreeing to work as a servant for 7 years) who became wealthy through raising tobacco. His success story made him a symbol for the power of hard work in achieving upward mobility in the new nation. Affiliated with the Chrysler Museum, the house offers tours inside and in the gardens.
Hours: Tues-Sat 10 am-5 pm; Sun 1 pm-5 pm. Admission: $5 for adults, $4 for seniors, $3 for student/kids 6 and up. Free for kids under 6. They offer group discounts and free parking. You can also get a combo ticket (good for admission to Lynnhaven House and the Francis Land House too) for $9.
Adam Thoroughgood House address: 1636 Parish RoadVirginia Beach VA. Adam Thoroughgood House phone number: 757-4000. 
Atlantic Wildfowl Heritage Museum
This museum is for the birds...literally. Devoted to wildfowl (seagulls, herons, geese, cardinals, and any other type of bird imaginable) the museum features artwork and wooden carvings of—you guessed it—birds.
I'm not a bird aficionado, but we enjoyed it for a quick visit...especially watching artisans carving the birds. The museum has nice ocean views and is housed in a 19th century cottage built by Virginia Beach's first mayor.
(His wife hated living at the beach, so she eventually bugged him until he built her a separate house away from the beach...like one block away. Go figure.)
And hey, you can't beat the price (it's free, with donations requested), and it's close to the Boardwalk area, so check it out.
Hours: Tues-Sat from 10 to 5, and Sun Noon to 5. Admission: Free!
Atlantic Wildfowl Heritage Museum address: 113 Atlantic Avenue, Virginia Beach VA. Atlantic Wildfowl Heritage Museum phone number: 757-437-8432. 
Chesapeake Bay Bridge Tunnel
It's more than just a bridge and tunnel...it's considered one of the 7 Wonders of the Modern Engineering World. Take it to visit Chincoteague Island--home of the Wild Pony Run in July--and the northern shore, or just go to the southern end to eat at the restaurant, take pictures of the bay, and learn how this marvel was built. For details on the Chesapeake Bay Bridge Tunnel, click here.
Fort Story & Cape Henry Lighthouse
It's one of the hidden gems in Virginia Beach VA. This army base at the north end of the strip boasts two lighthouses, First Landing Cross (site of where the Jamestown colonists first set foot on the New World), and lovely, deserted beaches. Here's what our kids love to chase at Fort Story.
Lynnhaven House
This historic house is built on what used to be a 250-acre plantation. Built by Francis Thelaball III in 1725, this all-brick home has costumed guides who lead you through rooms full of period furniture and discuss life in the 18th century. It's an excellent way to get an idea of what life was like for middle-class Virginians during the the 1700's.
Hours: Tues-Sat 10 am-4 pm; Sun 12 pm - 4 pm. Admission: $5 for adults, $4 for seniors, $3 for student/kids 6 and up. Free for kids under 6.
Lynnhaven House address: 4405 Wishart Road, Virginia Beach VA Lynnhaven House phone number: 757-460-1688. 
The Contemporary Art Center of Virginia
Love art? Looking for a bi-monthly free family event? The Contemporary Art Center of Virginia doesn't have free admission, BUT they host a free Family Fest on a Saturday every other month, featuring hands-on activities, refreshments, and a gallery scavenger hunt. For details, go the Contemporary Art Center of Virginia.
---

Virginia Beach VA Parks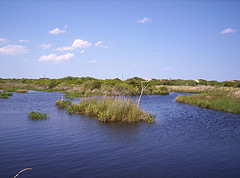 Back Bay National Wildlife Refuge
This hiker's and bird-watcher's paradise is an amazing wildlife preserve for migrating and wintering birds. Definitely a place to get away from it all enjoy nature for a day or for a camping adventure. For our full description of Back Bay National Wildlife Refuge, click here.
False Cape State Park
This is Virginia as Pocahontas and John Smith might have seen it. Virginia's most remote park, it's one of the last undisturbed coastal environments on the East Coast. Hike, camp, and see wildlife, including wild horses. For our full description of False Cape, click here.
Mount Trashmore
Virginia Beach VA's most popular park is built on a pile of trash. Yes. But not just any pile of trash. It's now the highest point in the city and full of innovative playground sets. For more details on Mount Trashmore, click here.
---

More area attractions...and free sights!
There is SO much more to do within a short drive of the Virginia Beach VA area, including many things which are free or cheap. Check out these links:
Virginia Beach Attractions beyond the Beach
Cheap or Free Family Vacation Ideas 
Discount tickets for local attractions like Busch Gardens, Kings Dominion, Water Country USA, Colonial Williamsburg, and more
Virginia Beach Family Fun

›

Virginia Beach
› Virginia Beach VA Attractions