Bakers Crust -- Our Family Reunion Restaurant
We enjoy Bakers Crust so much it's become a tradition to stop by for a fantastic meal whenever family visit. The fact that Norfolk International Airport is just a short drive away is a plus, too.

Baker's Crust-- a fantastic Virginia Beach restaurant
(Last time our California relatives visited they boarded the plane home clutching their lunch doggie bags. They came in handy when their flight was delayed!)

When you walk in the door you're immediately greeted with a medly of aromas...fresh baked bread (everything from cranberry walnut to jalapeno cheese), pastries, espresso, and succulent soups.

Although it's tempting to just grab a loaf of their signature bread, don't. The best is yet to come! For lunch, they have a wide selection of sandwiches--from turkey clubs, to cream cheese and vegies, even PBJ for the kids--all served on their fresh baked bread.

---

Absolutely divine crepes at Bakers Crust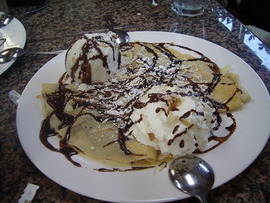 Amazing Nutella crepes!
Dinner entrees are even more delicious. Our latest favorite: their chicken canneloni, which is brimming with succulent, tender chicken and a sauce to die for. They also have great sandwiches and burgers with tasty fries or chips (although once you see the bread when you walk in you may just decide to gorge on fresh bread).

To drool over their menu, click here.  You HAVE to save room for dessert because...yes, it's true...they have the best dessert crepes we've ever tasted (that's alot for Italians to admit).
My favorite has Nutella (hazelnut chocolate) spread with almonds, wrapped in a crepe, drizzled with chocolate sauce and served with vanilla ice cream and a dollop of whipped cream. Best of all, you can actually watch them making the crepes, which is very helpful for keeping the kiddies occupied while you wait for your food (they tend to be pretty busy, so sometimes there is a wait for food).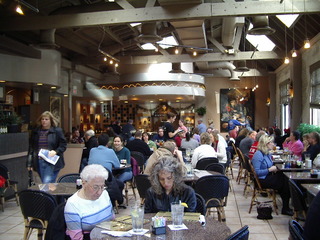 They're known for their delicious crepes.
Because Baker's Crust is so popular, there's often a wait during busy hours. So bring crayons and other toys for little ones. Or, let the kiddies watch them make crepes in while waiting for your meal. 
They have several locations:
Virginia Beach location: 704 Hilltop North Shopping Center - Virginia Beach - 757-422-6703.
Short Pump location: Hyatt House Richmond West, 11800 W. Broad Street #1102, Richmond, 804-377-9060. 

The Norfolk location is our favorite! It's located in Historic Ghent, at 330 W. 21st Street - 757-625-3600.

They also have two locations in Richmond, one at the Short Pump Town Center.
Virginia Beach Family Fun

›

Top Virginia Beach Area Restaurants
› Bakers Crust