Yorktown is a Hidden Jewel in the Historic Triangle
I think of Yorktown as a hidden jewel waiting to be discovered. It easily makes our "Cheap Family Vacation" hall of fame, yet remains unspoilt by crowds. It's kinda like Cinderella.
While people generally flock to Colonial Williamsburg and—especially after last year's America's 400th Anniversary--Jamestown, this attraction is like a poor cousin…thrust in the background by her better-known relatives.
Without Jamestown, there might not be a New World. Without Williamsburg, there might not have been a Revolutionary War. But without this little hamlet, we might still be eating tea and crumpets.
Okay, so I DO eat tea and crumpets (thanks to an English mom), although I prefer scones and pound cake with my afternoon tea.
But few Americans realize the crucial role that this village played in U.S. history, as the location of the final decisive battle that gained our independence from Britain.

All the better for visitors. This place is like an undiscovered gem. Few crowds. No lines. A beautiful town overlooking the bay. Quaint antique shops, boutiques, and restaurants (like our favorite, Carrot Tree Kitchens--read about our family reunion dinner here...)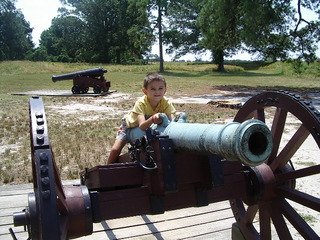 Just one of many cannons to climb on at the Battlefield.
The village also has lots of free concerts and events (click here for the schedule). Plus, there's a free shuttle to save your feet.
It's a bargain too. Tickets to the National Park's Battlefield are a better deal than the nearby Yorktown Victory Center.
The Battlefield is just $14 for adults, a fee which gets you into Historic Jamestowne for no extra charge...and is good for 7 days.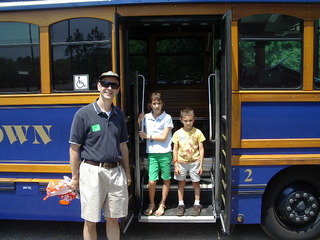 Be sure to take a spin on the free trolley.
And we found Carrot Tree Kitchens, a charming little restaurant where you can sample delicious home-cookin' and fabulous desserts in a historic cottage...without paying an arm and a leg. (Click on the link above for my review of Carrot Tree Kitchens, and why you should sample their divine Carrot Cake.)

---

A little Yorktown history...
On October 19, 1781, British General Charles Lord Cornwallis and his army was forced to surrender to General Washington's combined American and French army.
And Cornwallis didn't take it like a man, either. Upon hearing of their defeat, British Prime Minister Frederick Lord North is reputed to have said, "Oh God, it's all over."
And it was. The victory secured independence for the United States and significantly changed the course of world history.
To learn all about this crucial event in our history, visit the National Park-run Yorktown Battlefield, not the more expensive Victory Center. Here's why... 


---

Don't miss Riverwalk Landing
This town is like a mini version of Williamsburg. A pristine combination of historical attractions, carefully preserved buildings, and unusual shops and boutiques.
However, unlike Williamsburg, it has few crowds, and actually boasts a more striking setting, perched on a series of hills overlooking the York River.
It wasn't always a lovely spot.
Frankly, except for its historical attractions, the village used to be a real dive.
That all changed a few years ago with the addition of Riverwalk Landing, a quaint collection of shops and restaurants on a beautifully-landscaped brick-lined waterfront.
Now, before I tell you about the shops, I have to be honest: they're what some men refer to as "chick shops."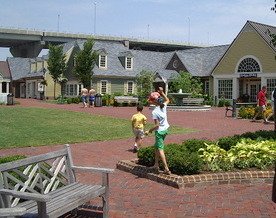 Plenty of room to run and shop at Yorktown's Riverwalk Landing.
When we went there at Christmas, my brother-in-law, James, kindly offered, "Rule number one: Do not bring men...I need stores with stuff that plugs in!"
Okay, you're not going to find stuff like that here. Instead, you'll find:
Green Mountain Coffee Cafe 
Carrot Tree Kitchens
Yorktown Bookshop - a warm, fun place to search for that perfect used book
The Onion - one of those boutiques my husband refers to as "potpurri stores," where they sell things like Vera Bradley bags and bath fizzies in the shape of scoops of ice cream
Auntie M's American Cottage - an upscale tourist shop selling everything from patriotic-colored and rhinestone studded cowboy and baseball hats, and red, white, and blue attire, to toy soldiers and American novelties.
Patriot Tours & Provisions (where you can book a Segway tour of Yorktown)
As for James and the other men in the family, never fear: things worked out perfectly. While the women in our party browsed, the men took the kids and walked down to the waterfront where they climbed on the rocks and watched the boats go by on the river.)
Here's a link to a Google map of the town.
---

Yorktown Directions
The town is located about a 20-minute drive west from Newport News/Williamsburg International Airport, about one hour west of Norfolk International Airport, and about one hour east of Richmond International Airport.
Colonial National Historical Park is just a short drive from (I-64). If you're coming from Richmond on I-64, head east and take exit 242B for Yorktown, to the Colonial Parkway, then continue until you see the signs.
If you're coming from the Virginia Beach/Norfolk/Hampton area, head west on I-64 and then take Route 105 East (Fort Eustis Boulevard east), which is exit 250B. You'll take this to Route 17 (also called George Washington Memorial Highway). Turn left onto Route 17 and follow the signs to the Battlefield.
Although it is possible to walk from the town to the Battlefield and back, it gets a little hilly, so take advantage of the free Trolley. If you're driving to Williamsburg or Jamestown, you'll take the Colonial Parkway, a very scenic 23-mile drive.
The Historic Triangle Shuttle offers service between Historic Jamestowne, Yorktown Battlefield, and the Colonial Williamsburg Visitor Center between March 16 and November 1. It's free, but you'll need boarding passes which you can get at the Colonial Williamsburg Visitor Center or at the information desk at the Battlefield.
The town is a little off the beaten path, so it's not directly accessible by public transportation. If you're taking public transportation, there are AMTRAK stations in Williamsburg and Newport News. Greyhound has bus service to Newport News and Williamsburg also. From there, you'll have to get a rental car or taxi, unless you use the Historic Triangle Shuttle (see above).
Important Phone Numbers and Info
Battlefield phone number: 757-898-2410
Carrot Tree Kitchens address: 323 Water Street (they also have locations in Jamestown and Williamsburg)
Carrot Tree Kitchens phone number: (757) 989-1999.

Virginia Beach Family Fun

› Yorktown