Science Museum of Virginia: Your ticket to fun (and getting in other museums for free!)
Look below for an amazing Science Museum of Virginia deal for teachers!
This is the second time in 5 years that we've bought a membership at this museum. It's not so much because it's the most fantastic science museum ever, as it is because membership there opens us up to free admission at so many other great museums (more on that below!).
My kids' favorite part is the traveling exhibits. We've seen their exhibits on China, bugs, and candy. All are interactive.

For example, the candy exhibit demonstrated how peoples' taste buds are different by providing visitors with a piece of super sour candy. You had to suck on it while others observed your expression and timed you to see how long you could suck the candy before having to spit it out (which in my case was about two seconds, while my son could suck on one for hours).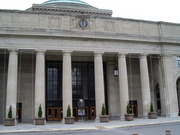 Another past traveling exhibit which we loved was "Zap" which we also saw at Virginia Air & Space Museum. It's was like being in a modern, high-tech remake of the B-movie "Amazing Voyage" where you're "injected" into a patient's body to see how Gamma Knife surgery works. Definitely a great way to combine learning with fun.
Other exhibits have included "Be the Dinosaur," which featured gigantic animatronic dinosaurs (like triceratops), plus interactive exhibits and computer simulations that gotyour kids learning hands-on facts about these amazing ancient creatures.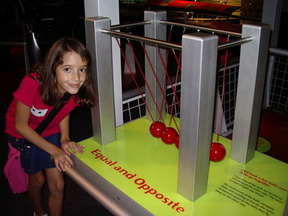 Our kids love the hands-on physics exhibits at Science Museum of Virginia in Richmond.
On a science museum scale of 1-10, 10 being best, I'd give Science Museum of Virginia a 7. While not as good (and well-funded) as the science museums in Chicago, Toledo, and Orlando, our kids always enjoy it and are entertained for a good two hours (not including time for an IMAX movie).
The museum is housed in the 1920's era former Richmond train station, which still has the ramps that used to lead down to the trains. As you stand in the main entry hall, be sure to look up at the cavernous ceiling and try to imagine the place teeming with travelers in fedoras and pill box hats and white gloves. 
---
What we like best at Science
Museum of Virginia
What could be better than an exhibit on chocolate at Science Museum of Virginia?
Straight back from the front entrance is the physics and space exhibit, which features hands-on, interactive exhibits that demonstrate gravity, motion, and other physics principle and detail America's space exploration.
Upstairs you'll find exhibits on the human body, a forensics exhibit where kids can figure out "whodunit" a la "CSI," a small animal room, and an exhibit on crystals and computers (skip that one—it's very underwhelming).
Our other highlights include:
The basketball-playing rats show - so cool it's often standing room only, so line up at least 20 minutes before each show!
Seeing the snakes and black widows up close in the animal exhibit
The gift shop, which features cool toys like spy gear and science experiment kits
The IMAX movies
The last IMAX we saw there was on the Hubble telescope. Unlike some IMAX theaters, SMV's is a tall, flat screen, rather than curved and concave. That's a relief for me, because it means that I can watch an IMAX movie there without feeling nauseated (unlike with the concave screens).
If you live close enough to SMV, take advantage of their ongoing program of educational lectures and field trips, as well as their summer camps. 
---

Why membership will pay off again
and again...
Membership at the museum gives you automatic membership in the ASTC program, which gets you into other participating science museums for free. Click here to see why the ASTC Passport Program is such a great deal!
If you travel at all, that alone makes membership at SMV and amazing deal. Even if you just stay in southwestern Virginia, buying SMV membership will also give you free unlimited admission to Hampton's Virginia Air & Space Museum, Newport News' Virginia Living Museum, and the Charlottesville's Virginia Discovery Museum. 
SMV sweetens the pot even more, by giving new members six free IMAX tickets, and four free visitors' tickets, so you can bring friends at no charge. 
---

Admission and Hours
Science Museum of Virginia is open seven days a week every day except Thanksgiving and Christmas Day. Hours are Monday - Saturday, 9:30 am - 5:00 pm, and Sunday, 11:30 am - 5:00 pm.
Admission to the exhibits is $11 for adults (13-59) and $10 for kids (4-12), seniors 60+, and active military. Members are free.
IMAX tickets are $9 for all visitors age 4 and up, and $5 for members. Your best value is a combo Exhibits/IMAX ticket, which is $16 for adults (13-59) and $15.00 for kids (4-12), seniors 60+, and active military.
Guess what? Teachers with current school ID always receive FREE admission to the exhibits!
Science Museum of Virginia address: 2500 West Broad Street. Science Museum of Virginia phone number: 804-357-6552.
(Looking for more to do in Richmond? Click here for more Richmond Attractions.) 


Virginia Beach Family Fun

›

Virginia Attractions
› Science Museum of Virginia