The EZ Guide to an Affordable Family Vacation 
Looking for an affordable family vacation or getaway?
It IS possible to have a cheap family vacation in the Virginia Beach area and beyond.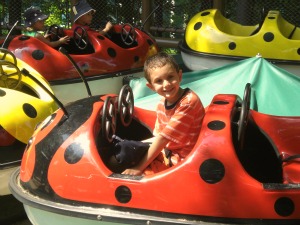 Save on tickets at Busch Gardens Williamsburg!
You just have to know where to get the discounts and coupon codes, the hidden free or inexpensive attractions, and the top restaurant and hotel deals.
But who has time for that?
I do! And I'll share my secrets with you...
Let's start with how to get in top attractions for less. For secrets of getting discount tickets (or getting in free), click on these links... 
Don't miss the tours at Historic Michie Tavern in Charlottesville.
...just to name a few. Don't see the attraction you want on the list? Click here for my Attractions page.

Keeping reading for travel, restaurant, and entertainment deals, kids eat free spots, and how to learn how to get the lowest gas price around. 
---

Take Advantage of Free or Cheap Attractions
Visiting the attractions in Virginia Beach, Williamsburg, and beyond doesn't have to cost you an arm and a leg. Between gas, accommodations, eating out, and even airfare, travel has become expensive enough without throwing in high ticket or admission fees. So what can you do for fun that won't break the bank?
I've found a variety of fun and unique spots and attractions that are either cheap or free and can help you make an affordable family vacation.
Follow this link for my Cheap or Free Things to Do Hall of Fame. It's chock-full of free or inexpensive sights and attractions in Virginia. 
---

Take Advantage of Groupon and Living Social Deals
There are SO many sites online today that can save you tons of money on everything from restaurants, to spa treatments, to attractions. Two of the best are Groupon. com and Livingsocial.com (plus Hampton Roads area site PilotOnline.com). 
Sign up for their daily emails and you'll be amazed at how much you'll save every day...and help you get that affordable family vacation!
Here's how to save 50% or more using Groupon and Living Social... 
---

My Favorite Cheap but Delicious Restaurants
Meals (especially for a family) can eat up a large portion of your travel budget. So you want the best bang for your buck if you want an affordable family vacation.
But you don't have to sacrifice great taste or a memorable experience on your vacation. If you know how, you can even enjoy the top restaurants on the Virginia Beach resort strip for considerably less than you'd think. To find out how, check out the money-saving tips on my Best Restaurant Deals page.
If you're really on a budget, check out my Great But Cheap Eateries page.
For my favorite cheap restaurants in Williamsburg, click here.
Looking for kids eat free, buy one get one free, and other dining deals? Check out my Cheap Eats page. 
---

Have an Affordable Family Vacation by Picking Up a Free Coupon Book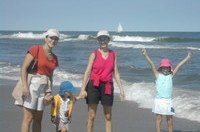 Alex's first time to Virginia Beach.
Looking for coupons? Maps? Free postcards?
The tourist areas (Virginia Beach, Norfolk, Hampton Roads, Williamsburg, etc.) have a number of free visitor guides which you can pick up at stands, hotels, restaurants and attractions. All offer coupons, ranging from $1 off an all-you-can-eat buffet at Fish Bones, to $7 a family bike rental on the resort strip.
When I arrive in the area, the first thing I do is pick up as many free guide books and brochures as possible. I then take a few minutes to review them, pull out the coupons I want, and start planning my detailed itinerary around them. I then pick the best, most compact guide to keep in my purse.
In Virginia Beach, I like the Monster Guide Coupon Book, because it's full of coupons, includes a free Virginia Beach map, and fits easily into a pocket or purse.
In Williamsburg, I recommend The Colonial Guide. For more details on Williamsburg coupon books or my "Secrets of a Cheap Colonial Williamsburg Vacation" Guide, click here.
---

My Secret for Visiting Museums for Free!
No affordable family vacation is complete without a visit to a museum. So how'd you like to visit a local museum and "get paid" to visit others?
You can. Certain museum memberships reward you by allowing you to visit similar participating museums around the world for FREE. By doing so, you can easily save hundreds of dollars a year.
There are two types of museums that offer these programs: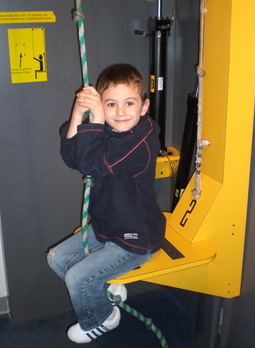 Having fun with hands-on exhibits at the Childrens Museum of Portsmouth.
ASTC (Association of Science - Technology Centers)
For more information, and a list of Virginia museums that participate in ASTC, click here.
ACM Reciprocal Program (Association of Children's Museums)
For more information, and a list of Virginia museums that particpate in ACM, click here.
TIP! Save even more by getting a membership at a museum that is a member of BOTH the ASTC and ACM programs. 
---

Free Events and Festivals

They say "the best things in life are free." They may have been talking about all the free festivals and events in Virginia Beach, Williamsburg, and beyond!
Especially during spring, summer and fall, the Virginia Beach Boardwalk frequently hosts free festivals at the beachfront that are tailor made for an affordable family vacation.
For example, we love September's Virginia Beach Neptune Festival, where you can listen to rollicking music, check out local arts and crafts, and spend hours viewing some of the most amazing sandcastle sculptures on earth.
Other free events for your affordable family vacation include: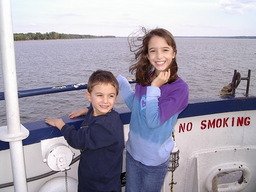 Take a free ride on the Jamestown-Scotland ferry!
May's Atlantic Coast Kite Festival
Summer Fireworks on the Beach
July 4th Stars and Stripes Explosion
Fall's Neptune Festival
Norfolk Harborfest
For a full list of free or low cost events at the beach, go to my Events and Festivals page.
---

Save Money on Hotels and Accomodations
What's the biggest threat to an affordable family vacation?
Aside from airfare, hotels and other accommodations eat up the biggest part of your traveling budget. So you want the get the best rate possible...without wasting hours on the net searching individual sites.
One option is to travel off-season and/or take advantage of limited-time travel deals. For example, by visiting Washington DC in February, we were able to take advantage of a "Buy One Night, Get the 2nd Night 1/2 Off" deal.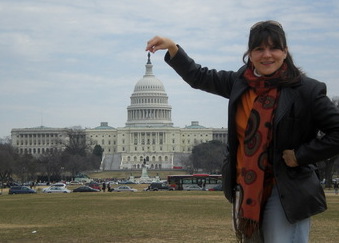 The lid is off! Look below to see how see how we planned a 3-day weekend in Washington DC for $500
As a result, we were able to spend a 3-day museum-extravaganza weekend for FIVE in Washington DC for about $500! Want to know how we did it? Check out my Cheap Washington DC Weekend page.
Also, check out my Accommodations page for reviews of select Virginia Beach hotels, oceanfront hotels, B&B's, and timeshares.

Three More Inexpensive Options
Here are three more alternatives for a truly affordable family vacation.
1) Consider camping - For a review of the best campgrounds in Virginia, click here.
2) Stay at a hostel - We found a wonderful, low-cost hostel at a quaint guest cottage just one block from the Virginia Beach oceanfront. Read about this fantastic hostel deal. And here's a link to a Williamsburg hostel we've found.
3) Choose Airbnb or VRBO - Airbnb is a great way to get a comfortable room (often with a private bath, and sometimes an entire floor of a house or whole apartment) for less than you'd pay for a hotel room. Similarly, VRBO is a great way to get a condo or hotel room for less. We once got a room at a beautiful casino hotel in Reno through VRBO, paying just $95 a night for a room on the concierge floor that normally cost well over $300 per night!
4) Save with HotelTonight app - Get a last minute hotel room deal (often up to 60% off) with this last minute app. (I've also gotten great deals with the last minute hotel deals on Priceline, Expedia, and Hotwire by being willing to let them surprise me with a hotel.)
5) Housesit - How does it work?
First, register with a house sitter directory. Home owners in the area you want to visit are planning vacations too, and don't want to leave their house unattended. Directories like www.housecarers.com can hook you up with home owners in your target spot who'll pay you to stay in their home!
You may have some light duties (walking their dog, taking in their mail, contacting a plumber if a pipe bursts), and you'll have to vacation on their schedule, but hey, you'll get to visit your vacation spot for free...and get paid something to boot.
---

Want to Save Money on Gas?
I found a great website that let's you type in a zip code to find the cheapest gas stations in that area. Plus, I've put together tips that will help you use less gas when you travel. Click here if you want to save gas and money.
Still haven't found what you're looking for? Go to my Site Index.
Virginia Beach Family Fun

› Affordable Family Vacation