Free Washington DC Attractions & Things to Do
There are SO many free Washington DC attractions and things to do, it's almost hard to find an attraction you DO have to pay for. This makes our nation's capitol the perfect place for a cheap family vacation IF you know our how to save on travel.
We do. And we'll pass our secrets on to you...for free!
We planned a 3-day, fantastic family vacation (food, gas, attractions, and hotel for five) in our nation's capitol for just over $500. Want to know what we saw and how we did it? Scroll down to the bottom of the page...

Meanwhile, here's a list of amazing museums and attractions in Washington DC that are totally free! 
---
 
Free Washington DC Museums

You could spend days just going to Smithsonian museums, of which there are 14 (plus one in New York). All are free. Here are our favorites:

Cool geodes at the National Museum of Natural History.
National Air & Space Museum 
Did you know that this free museum is actually TWO museums? If you're interested in space, aircraft, or just like pushing buttons, don't miss these amazing museums. Read our review by clicking the link above.
Ford's Theatre
See the theatre and the Presidential Box where Lincoln was shot, then tour the Peterson Boarding House across the street to see where he died and learn about the aftermath of the assassination. For details and photos, click here.
National Museum of Natural History 
Dinosaurs, the Hope Diamond, live butterflies, IMAX, and more. Our favorites? The Precious Gems room, the "hibernating" squirrel, and the fennec fox.
National Museum of American History 
One of the best places in the nation to get a walking overview of American history. Highlights include Abe Lincoln's top hat, Dorothy's "ruby" slippers from "The Wizard of Oz," and a display of inaugural gowns from First Ladies.
National Portrait Gallery 
The best free Washington DC site to see all the former presidents in one place (well, through their portraits).
Other free Washington DC museums...

National Gallery of Art 
Perhaps the most relaxing and beautiful free Washington DC museum. See work of artists ranging from Leonardo daVinci, Monet, Van Gogh, Rembrandt, Degas. You name it, they have it...plus a wonderful gift shop and delicious eateries. Don't miss their "NGAKids" link--it's one of our kids' favorite online sites for art games.
National Zoo
Over 400 species--including pandas!-- at this 165-acre oasis in the city. It's a free Washington DC site, but they get you through the parking fees: $10 for the first hour, $15 for 2-3 hours, and $20 for 3+ hours. Hmm. Sounds like a good reason to take the Metro from your hotel...
Looking for other free or cheap things to do in Virginia? Click here. 
---

Free Washington DC Monuments
The Washington Monument 

Yes, it's open again! (After suffering damage during the 2011 earthquake, the Monument was closed for a few years, but now it has reopened. True, the Washington Monument is free (and has totally amazing views!). BUT we found the secret for bypassing the long lines...and for only a small fee. Here's how, plus what they WON'T tell you on the Washington Monument tour!

Lincoln Memorial 
Pay Abe a visit between 8 am and midnight. Use your cell to dial 202-747-3420 to listen to Lincoln Memorial interpretive recordings as you visit.
Jefferson Memorial 
Open 24 hours a day, there's small museum in the lower level which is open 9:30 am-11:30 pm daily. Use your cell to dial 202-747-3420 to listen to Lincoln Memorial interpretive recordings as you visit.
FDR Memorial 
Not too far from the Lincoln Memorial, this 7.5 acre memorial to President Franklin Delano Roosevelt is open 24 hours a day, but park rangers are available 8 am-midnight, and the bookstore is open 9 am-6 pm. 
---

White House, Capitol Building, and More...
The White House 
Yep. It's totally free to tour the Executive Mansion, although getting tickets take a little doing. You have to get tickets through your local congressman, and you often have to plan a month or more ahead. Tours are Tues-Sat, 7:30 am-12:30 pm.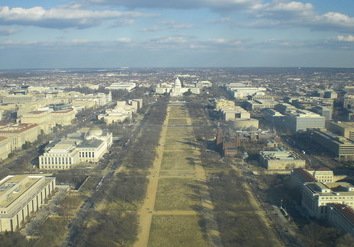 The FREE view of the Capitol from the Washington Monument.
Capitol Building 
One of the best known buildings in the world, the Capitol has tours every 15 minutes from the Rotunda. Tickets are available first-come, first-served at the Capitol Guide Service Kiosk (on the sidewalk south of the Capitol) starting at 9 am. Tours are offered Mon-Sat, 9 am-4:30 pm. Contact your congressman for limited free passes to the House and Senate galleries.
National Archives 
A few blocks west of the National Gallery of Art, the National Archives is best known as the home of the Declaration of Independence (thanks to the movie "National Treasure"). But other famous documents include the Bill of Rights, the Emancipation Proclamation, and the Magna Carta. Open 10 am-5:30 (stays open later in spring and summer). (Tip: A bit boring for the little ones, but older kids will appreciate this free Washington DC site.)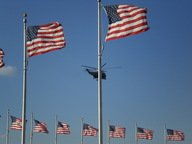 You just might see the President fly by. We did!
Library of Congress 

This free Washington DC site achieved fame with younger kids thanks to the movie "National Treasure II". See a Gutenberg Bible and letters from famous presidents. Includes a 12-minute film and scheduled tours, Mon-Sat, 10 am-5:30.
Bureau of Engraving and Printing 
Everyone loves to see money being made (if only they could keep it!). The fascinating public tour is offered every 15 minutes 9 am-10:45 am, and 12:30 pm-2 pm weekdays year round. In summer, they add evening hours: 5 pm-7 pm. March through August, you must get tickets on a first-come, first-served basis from a kiosk at Raoul Wallenberg place starting at 8 am. Tickets go fast, so get there early.
US Holocaust Memorial Museum 
Beware: This is not an easy museum to visit due to the subject matter. But it is something that everyone age 10 or older should see. You'll be given the name of a holocaust victim to "assume." Find out at the end of the tour if your character survived the Nazi Holocaust. Open 10 am-5:30 pm, with extended hours in summer. Timed tickets are required and usually sell out by noon. You can get them onsite or through www.tickets.com.
National Museum of the Marine Corps 
Learn about the US Marines whose motto, "Always faithful," has represented their faithful service to our nation since 1775. You can also see famous artifacts, including a Grumman F9F-2B Panther, Bell UH-1E Huey, and the famous Wake Island M1903 Springfield Rifle which was captured by the Japanese at Wake Island during World War II, and then recovered by the Marines when Wake Island was liberated.
Now you can even take a virtual tour of the entire museum from your laptop! Open 9 am-5 pm everyday except Christmas. Best of all, the museum is absolutely FREE. The National Museum of the Marine Corps is just off I-95, about 35 miles south of Washington, DC. The address is 18900 Jefferson Davis Hwy, Triangle, VA 22172. Call 1-877-635-1775 for more details.
Washington National Cathedral 
Enjoy a little bit of Europe in American by touring this cathedral, the 6th largest in the world, which features beautiful stained glass windows, flying buttresses, gargoyles and grotesques (including one of Darth Vader) and a real moon rock. It's not usually free, but click the link above to learn when you CAN visit (and park) for free. 
Not free, but a must-see nearby
Mount Vernon
George Washington's beautiful mansion and estate overlooking the Potomac River is located in nearby Alexandria. And while it's not free, it IS worth the splurge for admission. Click here to learn what you'll see, PLUS learn how you can get in for free to Mount Vernon.
International Spy Museum
If you love James Bond movies, spies, and gadgets, this hands-on museum may be for you, despite the relatively hefty admission fee. But it may NOT be for the little ones. Read my full review to see if the International Spy Museum is worth the admission for you.
---

Don't miss other amazing attractions in Virginia!
There's so much to do in Virginia: Virginia Beach, Colonial Williamsburg, Jamestown, and Yorktown, and more. Which attractions are must-see's?
Don't miss our Virginia Attractions page for links to our reviews of the sights you shouldn't miss! 
And to learn how I planned a three-day weekend trip for 5 to Washington DC for $500 (hotel, meals, attractions, and more), click here.
Virginia Beach Family Fun

›

Washington DC
› Free Washington DC Attractions