The Newseum

Washington DC's Tribute to News
For years, I avoided visiting the Newseum. After all, why pay $22+ per person to visit when so many things in Washington DC are free?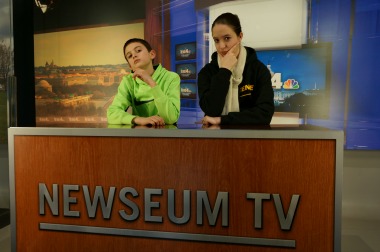 I was wrong. 
After visiting last year, I learned that whether you're a news-junkie or not, the Newseum is worth the admission fee, although probably best for adults and kids ages 8 and up.
It has enough historical and news memorabilia to make you laugh (and possibly shed a tear or two-- more on that later) and enough videos, and interactive, hands-on exhibits to keep the kids happy.
Our #1 highlight? Starring in your own newscast, as you can see from my son Alex's video below (just make sure you don't wear green - they don't call it a "green screen" for nothing!). 

---

Must-Sees at the Newseum
The museum has 15 separate galleries and 15 movie theaters, so you may want to take advantage of the fact that you get a second day free with your paid admission (see "Admission" below). But if you have less time, here are the highlights:
The Berlin wall gallery with real pieces of the Berlin wall




The G-man and journalists gallery, which has artifacts from big FBI cases like the Unibomber and John Dillinger

Our kids' favorite: The NBC interactive newsroom which lets YOU actually be the news anchor or play with other hands-on news "toys"

A 4D time travel adventure in their movie theater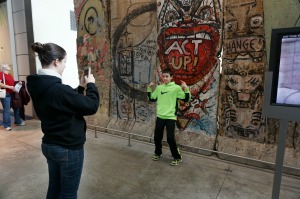 A news history gallery with front pages for historical events throughout history such as the US declaring war on Japan, and wrong but very famous paper with the headline "Dewey Defeats Truman"

The infamous Watergate door-- the actual door the burglars taped open with duct tape during the break-in at the Watergate Hotel

The HP gallery which lets you view hundreds of millions of tweets every day and even send some of your own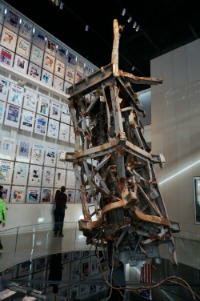 The emotionally moving Comcast 9/11 gallery, which features the twisted remains of the antenna from the top of the World Trade Center and other artifacts from the World Trade Center (I dare you not to cry...)

The Bloomberg Internet TV and Radio Gallery, packed with interactive exhibits that let you see the biggest news in the last hundred years

A recording studio, where you can occasionally see live shows being taped (sometimes involving very prominent figures, such as Barack Obama!)
In addition, they have gift shops stocked with very books, toys, and news-related items guaranteed to make unique gifts (but quite possibly, blow your budget, although they do have some cheap mementos for the kids). 
As I mentioned above, there's so much to see at the Newseum that it is hard to do it in only a few hours. You could easily spend the entire day there or take advantage of the second day. Do take advantage of their excellent café or a couple of great, inexpensive restaurants within a block.
My favorite lunch, dinner, or snack spot near the museum: Cosi - best-known for their delicious flatbread, they also have amazing sandwiches, soups, smoothies, and yummy desserts that won't break the bank. Save room for their S'Mores which you can roast to perfection at your own tabletop fire pit.
---

Admission, Hours, and Parking
Buy a ticket and your next day's visit is FREE!
Limited time deal: Purchase ahead of time online at newseum.org and save 15%
Admission:
Adults ages 19 to 64: $24.95
Seniors: $19.95
Youth ages 7 to 18: $14.95
Children ages six and younger are free.
Discounts:
Ask at the admissions desk to get discounts for military, college students and AAA members. 
TIP! The museum frequently offers free admission for kids under 19 during the month of July and sometimes during the month of August.
Newseum Hours:
The museum is open daily from 9 AM to 5 PM. It is closed Thanksgiving day, Christmas, and New Year's day. The museum is located at 555 Pennsylvania Ave., NW, Washington DC 20001.
Parking is available in nearby garages. I recommend you try Parking Panda to check for available and prices and reserve parking spaces nearby.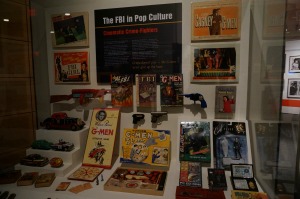 TIP! Visit on Sundays and parking on the street is free! Although you probably won't be able to find anything during the spring and summer season, you stand a good chance of lucking out in winter. When we last visited, we came on a Sunday in February and were able to park right outside the museum...for free!
Timing Your Visit:
The museum is very centrally located near all the major sites, not far from the US Capitol building and the White House. They are only a block from the national mall and since they open an hour earlier than the Smithsonian museums it's often best to start your day there, then move to other museums.
Other Nearby Sights:
Ford's Theater and the International Spy Museum are only a few blocks away. 
Virginia Beach Family Fun

›

Washington DC
› The Newseum