Childrens Museum of Virginia: 

Hands-On Heaven for Kids of All Ages 

The newly renovated Childrens Museum of Virginia is now open!
I'm excited that the new museum is open after a major renovation...but I'm not excited about the hefty increase in the admission price. So keep reading to see which two groups can get in for free.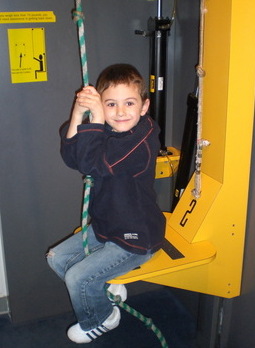 Become a human elevator on this pulley experiment
The Childrens Museum of Virginia is a hands-on heaven for toddlers through early teens, and kids of all ages. Make gigantic bubbles (with you in them), become a living elevator, "drive" a fire engine, "touch" electricity, see the stars come out in a planetarium, get "inside" a model train set...there's so much to do. I even dare adults to not get involved.

The museum has two floors and over 90,000 square feet of hands-on, interactive fun where kids can experiment, marvel, and dress up. I can't possibly name everything you'll see there, so here are my kids' favorite parts:

The Bubble Room - It's chock-full of stations for trying large-scale bubble experiments. The best part is a soap-drenched ring (looks like a Hula Hoop) which you stand inside. You then pull up the ring by pulling a lever. As the ring goes up, it makes a giant bubble. Voila! For the first and probably only in your life, you're IN a bubble! And that's just one of the bubble experiments you can do (you can even blow a flat bubble!).


The Market/Bodyworks Center – The perfect place to pretend to be a grown-up, these areas let kids "shop" for groceries (then switch places and scan them at the checkout stand), as well as play doctor or nurse (x-rays, anyone?).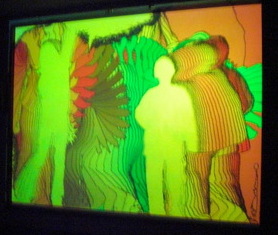 Make Kinetic Art!
CreARTivity Room – Create hands-on, one of a kind art in spaces designed to bring out your inner artist, whether it's music, drawing, painting, or whatever floats your child's boat.


The Train Room – A train set lovers' paradise! See lots of model train sets…then climb inside an observation bubble to get an up-close look as the trains go by.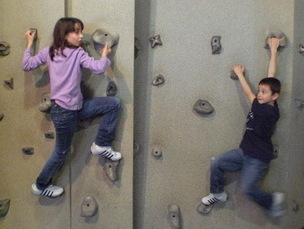 Try your hand at the rock wall
I've been to the museum twice. Both times the kids have had so much fun with the exhibits that we've never made it to the planetarium, so I can't comment on how it is, but if it meets the same standard as the rest of the place, it's must be excellent.

For moms with tots, they have a large toddler's area (complete with a gate to foil escapees) where the bambinos can safely crawl around and over foam obstructions without being trampled on by older kids.

There's so much to do that your kids could easily spend three hours here and still be reluctant to leave.
---

Childrens Museum of Virginia admission, plus getting in for free
Admission to the new museum has almost doubled the price. Adults are now $11 (ages 18 and up), and $10 ages 2-17. Kids under two are free. Members of AAA get $1 off admission.

These two groups always get in free with valid ID: 

- Teachers

- City of Portsmouth employees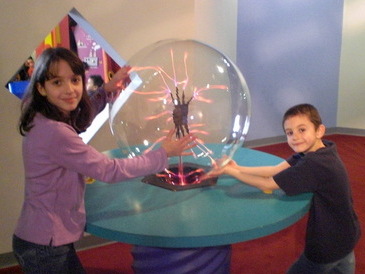 Touch a plasma ball
The museum now has a kid-friendly "Taste and Feast" cafe on the Middle Street Mall next to the museum's entrance. If you want to make it a full museum day, top it off with a visit to the Sports Hall of Fame which is just a few blocks away.

Another option is to have lunch at Doumar's, an old-fashioned drive-in where they serve yummy but cheap burgers and fries, and killer milkshakes. Click here for photos, my full review of Doumar's, and the delicious treat they invented.

Childrens Museum of Virginia hours are Tuesday – Saturday, 9 am to 5 pm, Sunday 11 am to 5 pm. They're closed Mondays.

Parking at the nearby County Street lot is $1 per hour Monday-Friday, and free on weekends. Note that you must pay BEFORE you leave your car for the museum. The museum recommends you pre-pay for three hours.

Childrens Museum of Virginia address:  221 High St., Portsmouth, VA 23704
Childrens Museum of Virginia phone number: (757) 393-5258

Childrens Museum of Virginia Google map.
---

Don't Miss These Nearby Attractions


Be sure to check out these nearby attractions:

- Virginia Zoo in Norfolk

- Virginia Air & Space Center in Hampton

- Virginia Living Museum in Newport News

Click here for more Virginia Attractions


Virginia Beach Family Fun

> Childrens Museum of Virginia