Looking for a Virginia Beach Vacation Rental or Timeshare?
Considering a Virginia Beach vacation rental or timeshare?
Sometimes a sterile hotel room just doesn't cut it. After all, a hotel room...
...doesn't feel like home (let's face it, most are pretty clinical, kinda like your doctor's waiting room)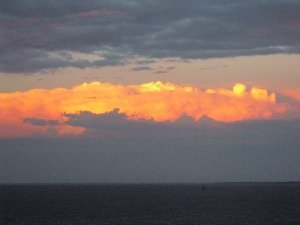 Enjoy beautiful sunsets like this at Virginia Beach!
...won't help you save money by being able to make some of your own meals
...is usually tiny, tiny, tiny, with no room for all those souvenirs you're going to buy at the Virginia Beach oceanfront, as well as at area amusement parks, outlet stores, and museums.
---

Virginia Beach Timeshares
Once you've visited Virginia Beach and know it's a spot you'd like to return to again and again, you might want to consider a timeshare. A Virginia Beach timeshare is the perfect option if you're looking for a vacation rental style accommodation with the security, luxury, and services of a high-end resort. 

You'll feel right at home with properties like Beach Quarters Resort or Turtle Cay Resort, which feature on-site tennis courts, shuffleboard courts, indoor heated pools, hot tubs, beach access and much more. Inside your timeshare suite you'll typically find amenities like ultra-spacious living and dining rooms, full kitchens, balconies, and fireplaces.
If you're interested in a timeshare in Virginia Beach, I recommend acquiring one through a private owner rather than directly through the resort. By using a resale site like SellMyTimeshareNow.com, you can buy or rent a Virginia Beach timeshare at up to 70% off resort pricing.  

Click here to learn about VA Beach timeshares and read tips you need to know BEFORE buying one... 


---

Top Virginia Beach vacation rental agencies
To be honest, since I live in the area, I haven't bought or used a Virginia Beach vacation rental or timeshare. But my sister-in-law, Cindy, regularly gets together a bunch of friends to rent cottages and homes at Sandbridge Beach and on North Carolina's Outer Banks.
In fact, if she's looking for a quiet weekend with friends, she always chooses a rental or timeshare at Sandbridge Beach over glitzier and more "hopping" sites near the Virginia Beach strip.
Honestly? During the height of the summer season, traffic can get relatively thick during rush hour near the strip. So Sandbridge can be a welcome relief. Or, you can stay near the Boardwalk (click here to see what to do on the Virginia Beach oceanfront) and take advantage of the VA Beach trolley (also know as The "Wave.")
But if you're a traveler who loves glitz, action, and being able to select from dozens of great restaurants just outside your balcony, go with a place near the Boardwalk.
Wherever you decide to stay, Cindy tells me she's had great experiences with Siebert Realty, an agency with a local reputation for super service.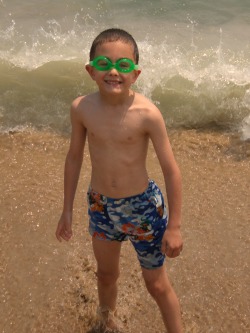 A great beach day at Virginia Beach!
Here's the info for Siebert Realty, and a list of other agencies to find just the right Virginia Beach vacation rental for you.
Siebert Realty - Siebert Realty rents over 400 furnished beach vacation homes at Sandbridge Beach, just south of the resort area. www.siebert-realty.com/
Atkinson Realty - A searchable database to find the perfect house, condo or other rental. Also includes details on the company's real estate services in the area.www.atkinsonrealty.com/
Sandbridge Realty - One of the largest and best known realtors in the area, their site lets you search for rentals and homes with an online brochure. www.sandbridge.com/ 
SellMyTimeshareNow Rentals and Resales - There's no larger secondary timeshare marketplace online, so it's a great place to browse for those looking for inexpensive timeshares for sale or rent. www.sellmytimesharenow.com/
VRBO - Want to rent directly from an owner? A wide range of spacious, comfortable rentals. 

Go Ahead and Travel Provides a nice list of hotels and rentals by location on the boardwalk and beyond. www.goaheadandtravel.com 
---

Must-read tips before you visit
Virginia Beach
Once you have your Virginia Beach vacation rental, be sure to read my Dedicated Virginia Beach pages to save you time and money. You'll get:
An Overview of Virginia Beach
Best Attractions/Things to Do in Virginia Beach and beyond
Best Restaurants & Deals/Cheap Eats
Virginia Beach Events & Festivals
Best Places to Shop
Maps, Weather & Surf Conditions
Visitor Facts, Important Numbers, and Visitors Guides
Click here for my dedicated Virginia Beach pages. 
Virginia Beach Family Fun

›

Virginia Beach
› Virginia Beach Vacation Rentals