Great Wolf Lodge Williamsburg
Our Favorite Indoor Waterpark 
I have tips for saving money at Great Wolf Lodge Williamsburg - Look below for TWO promo codes.
Virginia's Great Wolf location may well be our family's favorite vacation spot ever! And that's saying a lot! When we went, there was literally a blizzard outside...but inside, it's always a perfect 84 degrees of splashin' surfin' fun.
That's because the 55,000 square-foot indoor waterpark/resort near Williamsburg boasts fun to rival Disneyland-- literally. As we waited to go down another fantastic water chute, I asked the kids, "Which do you think is more fun: Great Wolf Lodge or Disneyland?" "Truthfully?" they said. "Here!"

Now, it's not a day park-- you have to spend at least one night to use the waterpark--but it's SOOO worth it! Me, my husband (who'd just blown out his back), and two kids, and my sister-in-law have such a great time during our annual visit. Each year, we can't wait to go back.
It's no wonder that Great Wolf Lodge in Williamsburg was ranked one of the "Top 10 Best Pools in the US" by TripAdvisor's Travelers' Choice Awards for the third year in a row.
With its woodsy, log cabin theme, Great Wolf Lodge Williamsburg is a full-service family vacation resort that includes 300+ family-sized suites; a 66,000 square-foot indoor entertainment area featuring the waterpark, an arcade, fitness and children's activity rooms; two family restaurants; a huge outdoor pool (just in case the weather is perfect); a miniature golf course, two spas, and several gift stores.
---

Get a Great Rate at Great Wolf Lodge Williamsburg with these tips!
"HEROES" - Military, law enforcement, fire, paramedics, 911 dispatchers, and EMS workers get up to 30% off best rates. 
"MOREFUN" -  Save up to 25% off regular rates through June 9.
GROUPON DEAL - They frequently offer deals good for 50% off or more. Check out possible current deals here.
New: Kids 12 and under get free wolf ears with each stay.

---

How to Eat and Save at Great Wolf
The "bucket" at Fort Mackenzie drops 1000 gallons of fun about every 5-10 minutes at Great Wolf Lodge Williamsburg.
There are a variety of food options within the lodge...so you never even have to leave the building if you don't want to.

Great Wolf Lodge Williamsburg has four eateries -- Bear Paw Sweets & Eats, Buckets Snack Bar, Loose Moose Cottage, and Hungry as a Wolf.
Until 2013, they had a Pizza Hut Express right next to the check in desk at Great Wolf Lodge Williamsburg. No more. Now they have their own pizza place called Hungry as a Wolf on the ground floor right around the corner from the candy shop. It's NOT as good as Pizza Hut, but prices for a large pizza are reasonable, and you can bring a pizza up to your room (or into the waterpark) without having to change (a plus in my book!). Best bet: Order your pizza by 4:30 or 5 pm at the latest unless you want a wait longer than 30 minutes!
If you prefer a real dining experience, there's the Buckets Snack Bar (which serves hamburgers, hot dogs, pretzels, drinks, and frozen desserts) just inside the waterpark. Prices are okay: $4-5 for a burger and $2 for a pretzel.
If you want something a little different, but don't want to hop in the car, just walk about a block across the parking lot to The Huntsman's Grill restaurant. (It is similar in content and price to Applebee's.
But if you're going to go outside for a meal, I recommend this better, cheaper route: try a cheap local restaurant.
Want to save even more at Great Wolf?  
My Great Wolf Lodge Discounts Page will show you how we saved on food, fun, got a great room, AND saved nearly $100 at this great Virginia resort.
---

Anatomy of a great day at Great Wolf Lodge Williamsburg
On our first visit to Great Wolf Lodge Williamsburg, we decided to start our visit by taking off a Friday and spending the morning shopping at the nearby Premier Outlets Williamsburg. We got to the park around 3 pm and it took 30 minutes to check in and settle into our lovely room. But we were soon geared up in swimsuits and flip flops to make our way into the park. 

(TIP: These days, we arrive MUCH earlier as you check in as early as noon and sometimes even get into your room that early!)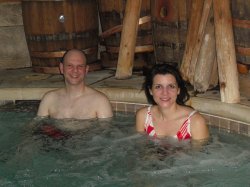 Ahhh. The wave of 84 degree air hits you the moment you enter the waterpark doors. We grabbed a towel from the endless supply at the kiosk at the entrance (next to a snack bar and swimsuit shop), plopped our stuff on a table, and went straight for the grandaddy of all rides: The Howlin' Tornado.
Howlin' Tornado is a six-story "extreme" tubing ride. Under a clear sky dome, Great Wolf Lodge Williamsburg guests climb up a flight of stairs (after a few hours, it's quite a workout!), then drop into a 65-foot funnel (the eye of the tornado) in tubes that twist back and forth like pretzels and drop 30 feet each second, before shooting with a big splash into a pool.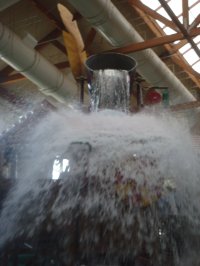 The bucket at Fort McKenzie
Totally fun. Cool (in more ways than one). A little dizzying, so if you're motion sensitive like me, you may just want to do it once (or not at all-- I'd give it a 6 on my "Spin-O-Meter").
But Howlin'Tornado is just one of many attractions at the weather-oblivious waterpark, including six pools, seven other waterslides, a kiddie play area, the Flowrider surf simulator (see my YouTube video below), a wave pool, two whirlpools and the signature attraction, "Fort Mackenzie."
Fort Mackenzie is a four-story interactive water fort featuring a huge tipping bucket in case you feel like getting drenched by 1,000 gallons of water.
When you hear a bell start to clang, you know the bucket is getting ready to unload. Kids of all ages come rushing from all directions to stand under the bucket. At the end of our visit, Alex proudly announced that he'd been drenched a total of "fifteen times, Mom!"
If you're looking for something a little gentler at Great Wolf Lodge Williamsburg, try the giant Wave Pool which starts out at a 0 degree depth (like a beach), then deepens to maybe three feet. Hear wolves howling? That means that the waves are about to begin, and when they do, you can grab a clear donut floatie and enjoy the lapping waves.

Need a little peace and quiet? Just above the Wave Pool is not one, but two whirlpools-- one reserved for adults 21 and older. It's probably the quietest part of the park, which, I must admit, is pretty darn loud.
Be sure to check out the Flowrider surf simulator, the most energetic (and dangerous) ride at the park. How can I explain Flowrider? Here's the best way, with this video of my sister-in-law Cindy. (Click play, wait a sec, then click play again.)
A little advice on Flowrider? I read one reviewer online who said he broke his leg on the ride. We didn't break anything, but two of our party did end up with significant bruises from wiping out on it, so be really careful.
And...be prepared for wardrobe malfunctions! (You know, the Janet Jackson kind?) While watching people on Flowrider, we saw one woman lose her swim top...and a 6-year-old boy had his swim trunks yanked off!
---



"MagiQuest" 3D Game, Arcade, Gr8_Space & More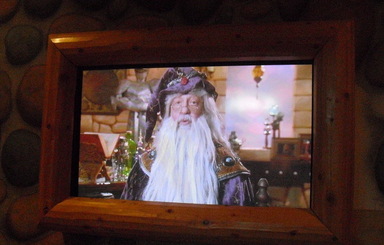 MagiQuest's 3-D interactive game.
Toes starting to look a little like raisins? No problem. Great Wolf Lodge Williamsburg has plenty of "dry" fun as well. Take MagiQuest, their 3-D, interactive, live-action adventure game where you can slay dragons and defeat goblins (kind of a live-action Dungeons and Dragons.)
Click here to learn all about MagiQuest...including how to get a coupon for a free game!
Tweens and Teens? There's a full service Northern Lights Arcade full of games to keep you (and your wallet) occupied for hours. Buy tokens with cash--or, you can activate your child's wristband so they can bill tokens directly to your room. One scan gives you $5 worth of tokens. On your 5th scan, you'll get 12 extra tokens. It's open 8:30 am to 11 pm.
Or, Great Wolf Lodge Williamsburg has Gr8_space, a tech center with teen-appropriate computer access, Play Station, Xbox, and Nintendo Wii. It's open from Noon to 11 pm. Plus, weather-permitting, there's the 18-hole "Howl in One Mini-Golf," which is open to the public 10 am to 8 pm daily.
Need a little Kid-Less Time at Great Wolf Lodge Williamsburg? Try Cub Club. Open 10 am to 7 pm, Cub Club lets you drop off kids 4-12 (must be potty-trained!) for two hours worth of fun, a snack, a craft, and more. Price is $30 per child and must be reserved in advance.
True, 30 bucks seems like a lot to my frugal mind. But if money's no option or you just need little alone time, it may be worth the splurge. 


---



Great Nearby Attractions
While you're in Williamsburg, be sure to check out the other great area attractions, like Colonial Williamsburg, Kingsmill Spa & Resort, and Busch Gardens Williamsburg. All are very nearby the the lodge, so combining a vacation with a visit to one or more of these attractions is something to consider. 
For reviews of all Williamsburg attractions and shopping, and tips for getting discount tickets, click here.
I also have detailed reviews of other Virginia waterparks you may want to consider visiting. so, check out these links:
Virginia Beach Family Fun

› Great Wolf Lodge Williamsburg