Tour Swannanoa - The Lost Haunted House on a Hill
Ever heard of Swannanoa? Chances are, you haven't, since this Gilded Age mansion is a shell of its formal self, perched high on Afton Mountain half-way between Charlottesville and Staunton.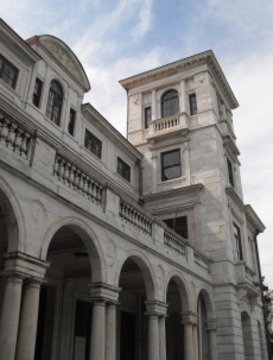 The crumbling facade of Swannanoa.
But if--like me--you love palatial and history--and maybe, haunted--houses, it's a must-see...even if its rarely open to the public.
Located just off the Blue Ridge Parkway, this almost 100 year- old, crumbling, Italianate mansion is like a neglected, poor relation compared to its well-maintained cousin, Richmond's Maymont Estate.
Both were built by James Dooley, a former Confederate soldier during the turn of the century.
But while the Dooley's main home, Richmond's Maymont--an elaborate stone mansion that the city turned into a zoo/city park/nature preserve--is in excellent condition and visited by thousands of people monthly, Swannanoa is like an abandoned child, largely left to ruin the last few decades.

Sadness clings to the walls of this formerly jeweled estate, just like the ripped and fading yellow silk wallpaper in the ballroom. Meanwhile, its rooms have been stripped of all furniture and accessories, while the marble terraces outside are collapsing in parts.

Venture through the wood-paneled rooms, the echoing marble hallways, the old-fashioned elevator, and the once-elaborate gardens. Close your eyes and maybe, just maybe, you'll be able to imagine the house as it might have looked when James Dooley, and Sallie May, his wife, built it in 1912.
That's when you just might be able to imagine their horrified ghosts traipsing through the empty rooms, exclaiming in horror, "What happened to our house?"
"It reminds me of 'The Fall of the House of Usher'," said Virginia Edwards. Edwards is a local resident who has lived on Afton Mountain since 1968 and has been privy to seeing Swannanoa gradually decline and decay over the years.
---

What you'll see at Swannanoa
This magnificent Tiffany window portrays Sallie May, who died in the mansion.
The house took about a decade to complete and it never functioned as more than a summer home. So by the time James died in 1925, the couple had barely spent three months of time there. Two years later, in 1927, Sallie May died here in her famous swan-shaped bed (you can see it and her elaborate silver and Narwhal trunk furniture at Maymont). Some claim the house is haunted by her ghost.
When Sallie died, the mansion went to Dooley's sisters, who had neither the interest or money to keep it up, so they sold it. Its next served as a country club with an 18-hole golf course; it closed after three years. Enter Walter Russell, a sculptor scientist, and businessman who lived there with his wife until they died. It was then maintained (however poorly) by Russell's followers in the University of Science and Philosophy until 1998.

---

Visiting the "haunted" house on the hill
A developer called James Dulaney is the leader of a consortium that is the current owner. While Dulaney claims that he hopes to one day turn the estate into a bed and breakfast, its hard to imagine it given the "state" of the estate (and the fact that he also owns the dilapidated motel that you can see from I-64 at the crest of Afton Mountain).
Then there's the huge bill that would be required to restore the mansion before it falls apart. It's not a likely prospect, so Swannanoa's future is indeed dim.
"It's one of those things that will just disappear," said Edwards.
Dulaney makes Swannanoa open to the public 10-12 weekends a year, usually in August, September, and October. It's also available for rent for weddings and special events.

When they do offer self-guided tours, admission is usually $6 per person.

Even if they're not open for tours, it's still worth driving up to see the place for a glimpse into the Gilded Age and a level of wealth that is long gone. (Best bet: Go to the Visitor's Center at the top of Afton Mountain and ask them to point you to the right road. It's a two-minute drive from there, at 497 Swannanoa Lane. You can find out more about Afton Mountain by clicking here.)

If you do manage to go on a tour day, be sure to walk up the staircase past the Tiffany window (which depicts Sallie Mae in her younger years), then go up to the third floor.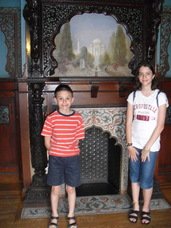 One of a dozen fireplaces in the mansion
As you observe the panoramic views of the Crozet valley from the tower windows and look off to the city of Charlottesville in the distance, close your eyes and listen. You might even imagine you hear the poor James and Sallie May Dooley weeping for their lost castle on the hill.

Virginia Beach Family Fun