Best Virginia Beach Parks?
All my favorite Virginia Beach parks are unique. They run the gamut from...
- a former trash dump that now offers the city's highest elevation (perfect for kite flying) plus a gigantic, nautical-themed wooden playground...
- a park featuring a disc course for Frisbee golf players (plus a really unique playground for the kids), to...
- the most remote park in Virginia. 
If you want to see fabulous fall foliage go to www.nationalparks.org for their best fall foliage spots by state. 
You'll find details on hours, fees, and directions, plus a weekly fall color report-- a detailed guide on what colors are out at each park!
For Virginia, they recommend Shenandoah National Park, and even have a Mountain Web cam so you'll know the best time to visit.
Want to learn how to visit more than 100 national parks for free in 2017? Scroll down...

Looking for a great campground? Here are some wonderful campgrounds near Virginia Beach and Williamsburg. 
---

Back Bay Wildlife Refuge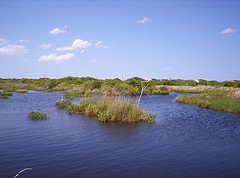 Back Bay Wildlife Refuge. © Charlie Smith
Which of the Virginia Beach parks has nearly 8,000 acres of marshes, sand dunes, beaches, and ponds?
What is home to 300 species of birds, deer, mink, and other creatures? Back Bay Wildlife Refuge.
To find out why Back Bay is a perfect place to stop, recharge, and get away from it all, click here.
---

False Cape State Park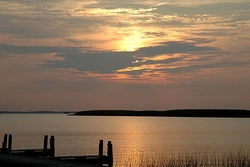 False Cape © Liz Paton
If your pulse picks up at the word "remote," don't stop at Back Bay Wildlife Refuge. This Virginia Beach park (only accessible through Back Bay) takes the award for Virginia's most remote park. False Cape is also one of the last undisturbed coastal environments on the East Coast.

To find out why False Cape makes you feel like the first settlers when they met Pocahontas, click here.
---

Mount Trashmore
Build the new park on a heap of trash? R-i-g-h-t...
In the beginning, the locals thought it was a joke. Now the joke's on them. Despite it's hokey name, Mount Trashmore is a paragon of waste management. Why can't they do this with all dumps?
What used to be 750,000 tons of trash has been transformed into one of the top Virginia Beach parks. Topped by its 68-foot summit (the highest point in the city, proudly flaunting "Mount Trashmore" on its grass-covered flank) this park has everything.
Fly a kite or launch your model airplane from its summit. Feed the ducks and geese. Stroll on over to Kids Cove, a huge wooden playground featuring mazes, bridges, ramps and slides. The perfect place to play pirate!

One caveat: this park is so popular it can get crowded! Still, where else can your kids boast "I played in a dump!"
Open 7:30 am to sunset. Location: 310 Edwin Dr. - Virginia Beach - 757-473-5237. 
---

Bayville Farms Park
Why should the kids have all the fun?

Yes, you...um...they...will be thrilled to burn off that excess energy conquering the innovative playground's swinging tires and climbing towers at one of the most innovative Virginia Beach Parks. 

But let's face it: adults, this park is for you too! Now's your chance to burn off your own calories and aggression at the city's only disc course for Frisbee golf. (Actually, we hear its one of the toughest courses in the country.) 

What is Frisbee golf? Just how it sounds. Substitute a frisbee for a golf ball and a flick of the wrist for the 5 iron. Just what the doctor ordered.
Open sunrise to sunset. Location: First Court Road - Virginia Beach - 757-460-7569.
---

Here's How to Visit Virginia Beach Parks for Free!
Back Bay Wildlife Refuge © Charlie Smith
Ahh, nature. Seems like it should be free, and at 300 US National Parks it is.
But 117 US National Parks-- such as Historic Jamestowne and Yorktown Battlefield-- charge an entrance fee...unless you're visiting on select fee-free days.
There are a total of 9 Fee-Free Days each year to take advantage of this deal. Here is a list of 2017 dates:
January 17 - Martin Luther King Jr. Day 
February 20: President's Day
April 15-15 and 22-23 - opening weekend of National Park Week 
August 25 - National Park Service Birthday 
September 30 - National Public Lands Day 
November 11-12 - Veterans Day Weekend
For details, go to the National Parks Service.
---

Want to Save Money on Food, Entertainment, and More?
While you're planning your getaway at these wonderful Virginia Beach parks, be sure to check out these tips:
Free or cheap things to do in Virginia
Travel deals, coupons, and discount tickets
And for the latest ticket deals, free events, coupons and more, don't forget to check out our Virginia Beach Blog Daily Deals! 
Virginia Beach Family Fun

› Virginia Beach Parks