Howl-O-Scream Haunts Busch Gardens Williamsburg
Look below for the Howl-O-Scream Terror Thursdays deal, plus their 50% off Kids Spooktacular deal.
I's not really haunted. But if it's Sept.-Oct., you can be sure that the park's fall attraction is scaring up a storm. The park is open for this attraction weekends starting the second week in September and running through Oct. 28. 
And as this is the 20th anniversary of this fall event at the park, they have even more scares, haunted houses, bars, and shows than ever (see below). Here are the basics:
The Count's Spooktacular: The park is open until 5 pm on operating weekends for roller coasters, attractions, and shows with a family-friendly fall festival theme. 
The haunted aspect of the part is open weekends 6 pm to 10 pm or 11 pm (see the link below for exact hours). The evening entertainment is probably not appropriate for some children under 13.
TERROR-TORIES - They are bringing back several themed "Terror-tories" including Ripper Row (in England), Vampire Point (in Germany), Sideshow Square (in Festa Italia), and Axe Alley (in New France). New this year: Fool's Court (in France), and Garden of the Souls (in Italy).
HAUNTED HOUSES - Returning haunted houses include Circo Sinistro, Cornered, Lumberhacked, and Frost Bite, as well as three new houses: Demented Dimensions, Vault XX, and Dystopia.
BARS - Eat and drink if you dare with themed bars including:
Chaos Cocktails – Located near Fools' Court (France)
Cobblestone Ale & Spirits – Located in Ripper Row (England)
Inoculation Station – Located across from Abbeystone Theatre (Ireland)
Jack's Nightcap – Located in Vampire Point (Germany)
Last Call: XX – Located in front of Das Festhaus (Germany)
Nitro Freeze – Located at the entrance of Fool's Court (near Lorikeet Glen)
Restless Spirits – Located near Marco Polo's Marketplace (Italy)
SHOWS - The park is welcoming back favorites Monster Stomp, Night Beats: Revamped and Fiends.

ESCAPE ROOMS - For an additional fee ($50-$100, depends on the day you visit), you can try to think your way out of escape rooms "Case of the Haunted Hotel," and "Jack's Escape Room."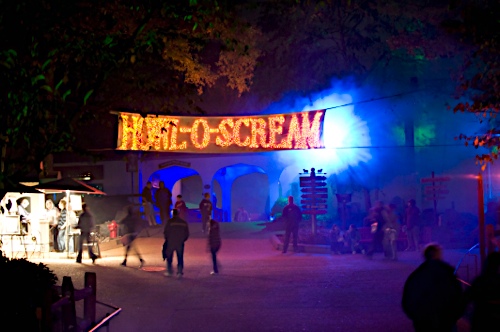 Howl-O-Scream © 2018 Busch Entertainment Corporation. Reproduced by permission of Busch Gardens Europe. All rights reserved.
EXPERIENCES - 
Control Lab at Inoculation Station
Haunting Hour
Party Zones
Coaster Creepers
Projection Mapping
Halloween Shopping
...and many of your favorite rides (like Verbolten and Apollo's Chariot) IN THE DARK
Park Hours & Fun for the Kids

Busch Gardens Williamsburg Howl-O-Scream is open Fridays, Saturdays, and Sundays only during this time (with the exception of two Thursdays, Oct. 18 and 25 - see below for their Terror Thursdays online deal). Click here for exact times and dates for Howl-O-Scream.
For the little ones, there's Halloween music, playgrounds, the usual kiddy rides, and the Sesame Street Forest of Fun located in England.
Personally, I wouldn't take little ones to such a scary place...especially with the new "minion hoards" potentially jumping out from every corner. I recommend that if you have little kids, leave the park by 6 pm to avoid the really scary stuff. But if you're willing to deal with their nightmares, be my guest! 
---

Frightening Admission Rates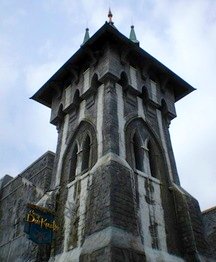 The Curse of DarKastle at Busch Gardens Williamsburg closed last year - will it be another haunted house this year?
Howl-O-Scream ticket prices and deals haven't been announced yet, but will likely be the following:

Busch Gardens Williamsburg Fall Fun Card (Sept. 15-Oct. 28)
Adult admission (ages 3 and up): $90. Children 2 and under are free.
If you want to go multiple times, it's worth it. The Fall Fun Card is good for unlimited admission Sept. 15-Oct.28. It does not include admission to Christmas Town and does not include parking (which is $18).
Busch Gardens Williamsburg Howl-O-Scream Single-Day Ticket
Adult admission: $90. Kids Ages 3-9: $80 . Children 2 and under are free.
Good for one-day's admission and does not include parking. 

Spooktacular Kids Ticket Deal
(Ages 3-9): $40 gives kids admission during daytime hours on the weekends (10 am to 5 pm, Saturdays and Sundays - good for online purchase only). Good for these dates: Oct. 6, 7, 13, 14, 20, 21, 27, or 28.  
Terror Thursday Ticket
Adults can take advantage of this 50% off online deal for two dates: Oct. 18 or 25. You'll pay just $45 (doesn't include parking). 
Busch Gardens + Colonial Williamsburg Bounce Ticket
Get unlimited visits to both sites for 7 consecutive days for $105 (ages 13+) or $87.50 (ages 6-12). Kids 5 and under are free if you buy an adult ticket. You must buy your ticket at the Busch Gardens website and tickets include free parking. Good mid-Sept. through Oct. 28 on regularly scheduled operating days. 

Here's why it's a good deal: If you plan to visit the park more than once, but are willing to group your visits within a 7 day period (say, visit on a Saturday, and then again on the following Friday), then this is a better deal than the Fun Card. Why? For a bit more than a Fun Card, you'll get free parking (a savings of $21 over the two days), plus you'll get admission to Colonial Williamsburg (normally $42 or more). 
Season Passes
Basic - Busch Gardens Virginia + Water Country USA
--1 Year - Individual Passes: $144 or $12 a month - includes unlimited two parks, Howl-O-Scream and select Christmas Town dates (blackout dates apply).
Unlimited - Busch Gardens Virginia + Water Country USA
--1 Year - Individual Passes: $204 or $17 a month - includes unlimited two parks, Howl-O-Scream and Christmas Town (no blackout dates), plus FREE parking and two free friend guest tickets.
Premier - Busch Gardens Virginia + Water Country USA + 9 other parks
--1 Year - Individual Passes: $264 or $22 a month) - includes unlimited 11 parks, Howl-O-Scream and Christmas Town dates (no blackout dates), plus FREE PREMIER parking and THREE free friend guest tickets.
---


More Add-Ons to Round Out Your Visit
Dining Deals
The Basic dining plan saves you up to 35%. Just $16.99 gets you one entree, one side, and a drink.
The All-Day Dining Deal claims to save you up to 45% at $34.99 for adults (one entree, side or dessert every 90 minutes). It's $19.99 for children. Add drinks to the All-Day Dining Deal for $5 more.
(Note that the Drink All Day Souvenir Cup by itself is $13+. I know an number of people who buy one and let the whole family drink from it. Not terribly sanitary, but it saves money!)
Quick Queue
Get to the rides faster with these options:
Quick Queue Junior - $20 - good for two guests for single-time use on select kids rides.
Quick Queue - Quick Queue Unlimited - Quick Queue Unlimited Plus
For prices ranging from $25 to $55 (and up) you can get various levels of skipping the lines. 
---


Howl-O-Scream 
Ticket Discounts, Promo Codes and Coupons
Promo Codes & Deals
So current deals, coupons and promo codes aren't out yet, so I'm also leaving up last year's info to give you an idea of what else we may expect this year.
Groupon Deal - Save 50% off tickets (pay just $45) when you take advantage of this limited time Groupon deal.
BGWoffer - get $20 off tickets when you use this promo code. 

Group Deal - Get tickets for just $58 when you purchase with a group of 15 or more in advance online at least two days in advance.
Active Duty Military/Veterans' Deal - Active duty military get complimentary admission and veterans get 50% off admission by going to www.wavesofhonor.com. 

Discounts/coupon locations which worked in the past and MAY OR MAY NOT be offered again later this year (keep checking back for details!):

Subway Promo Code - Get $15 off single-day tickets when you use the promo code "BGWSUBWAY" online. 
McDonald's Promo Code - Get $15 off single-day tickets when you use the promo code "BGWMCDONALDS" online. 
Valpak Promo Code - Get $15 off single-day tickets when you use the promo code "BGWVALPAK" online. 
Living Social Deal - In the past, they've run a promotion offering adult tickets for $36 and child tickets for $31, good for Fridays or Sundays in October. Deals like this can end at any time, so go to Living Social quickly if they offer a similar deal. You might keep watch on Groupon too. 

Keep checking back for more coupon locations and promo codes! And for more theme park deals, travel discounts, and attractions reviews in Virginia, go to my Site Map.

---

For a really memorable experience, try these ticket options...
SOURCE: Brian Hammond on Flickr
2018 info is not out yet, so here are 2017 details and prices...
Howl-O-Scream All Access Insider
An additional $125 per person (yep, that's on top of admission and parking!) gives you what the park's site calls "all-access." It includes: backstage tour at a haunted house, dinner at a show, priority access for all haunted houses, reserved seating at two shows, and a make up session with a Busch Gardens makeup artist.

Howl-O-Scream Eerie Insider
For an additional $75 per person on top of admission and parking, you'll get what the park's website calls "...the best of Howl-O-Scream with no lines!"
It includes priority access to every haunted house at the park, plus reserved seating at two popular shows.
Quick Queue Passes
For an extra $40 per person (per visit!), a Quick Queue Unlimited Pass gives you unlimited priority access to all park rides and attractions. Too rich for you? Go for the regular Quick Queue pass for $20. You'll pay a bit less for a one-time priority access for each ride or attraction.
---

Looking for more Halloween and
fall fun?
Check out these links for more Halloween and fall fun:
Virginia Beach Family Fun

›

Busch Gardens
› Howl-O-Scream