The Cousteau Society -- A Free, Mini-Museum for Ocean Lovers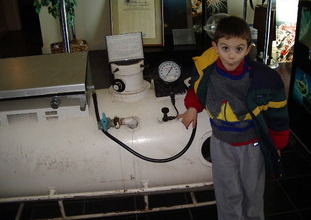 The Cousteau Society has artifacts from years of marine research.
What is the Cousteau Society museum? In our ongoing endeavor to find free or cheap family vacation spots, we read about this free attraction in Hampton, and decided to check it out.

Is it worth the trip? Read on and you decide.
---

What the Cousteau Society Museum is...
The Society is a mini-museum (they call it a "compact gallery") dedicated to sharing the work of Jacques Cousteau, as well as his society's ongoing work.

Depending on your age, you may be saying "Jacques who?" (My kids did.) Or if you're...ahem...say, in your late thirties or older, you'll remember him as the host of the 70's TV show "The Undersea World of Jacques Cousteau."

Cousteau was a famous French oceanographer and explorer who introduced millions around the world to the fragile beauty and wonders of what he called "the Water Planet." He is also known as the co-creator of the Aqua-Lung (another name for SCUBA diving equipment...those tanks that let SCUBA divers stay under the water so long).

Anyway, in addition to housing his non-profit's US headquarters, the society gallery displays photos, ongoing video clips, and artifacts from 50 years of exploration.

You can see: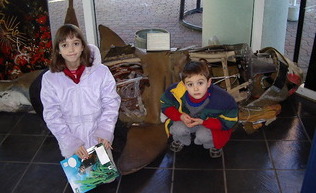 a tiny research sub (about the size of a refrigerator...a photo shows two men squeezed inside it like sardines for hours underwater-- talk about devotion to science!) 


underwater scooters


a see-through shark cage


a hyperbaric bell (surfacing divers would climb in it to decompress and avoid getting the bends)
and our favorite: Allison the shark
"Allison" is a 7-foot mechanical shark that was used in the filming of "Jaws." It was so realistic looking that real sharks attacked it. You can still see the wires and hardware where the sharks ripped into its side.



---

What the Museum is Not...

Gotta level with you: yes, it meets our criteria for a cheap family vacation spot, but don't expect anything fancy (in fact, my initial impression was, "That's it?") The museum is good for 15-30 minutes depending on how interested you are in ocean exploration and ol' Jacques' life.

BUT, if you tie it in with a visit to the Virginia Air and Space Museum, and the Hampton Carousel next door, it's a nice little stop for a cheap family vacation.

One Warning--

We had a terrible time finding the museum! We spent a good ten minutes driving back and forth on the block since it's rather hidden. Your best bet: park on the street or in the parking lot for the Virginia Air and Space Museum. Go east for about two blocks. (That would be to the right as you stand outside the Space Museum's main entrance.) You'll pass a hotel on your right and then make a right into the building that advertises Miss Hampton II cruises (they share the bulding with the Cousteau Society.)

It's open daily 9:30 am - 4 pm in the summer (closed Monday and Tuesday other months) and admission is free.

Location: 710 Settlers Landing Road, Hampton - 757-722-9300 - www.cousteausociety.org. 
Virginia Beach Family Fun

›

Virginia Attractions
› Cousteau Society