Romantic Weekend Getaways in the Lovers' State
Virginia has always been for lovers...and romantic weekend getaways.
There's no shortage of memorable restaurants, inns, attractions and other spots for some special time alone...without the kids!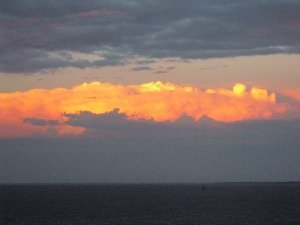 Here's just one example: Look below to read about our 15th anniversary celebration at one of the loveliest Virginia inns around. Then scroll down for a few other Romantic Packages we've found. 

---

Great Romantic Weekend Getaway Packages
Here are some of the current romantic weekend getaways in Virginia:
Whale Watching Packages 
Virginia Beach 
December through March
Why not snuggle up with your special someone and enjoy the wonders of nature on an inspiring whale watching weekend? December through March, you can view these wonders of nature and take advantage of special package deals.
Packages include: Two nights accommodations, two-hour Virginia Aquarium & Marine Science Center Whale Watching Excursion, and admission to the Virginia Aquarium & Marine Science Center and 3D IMAX® Theater. Some hotels even through in daily breakfast for two! For details, check out our dedicated Whale Watching Package page.
Hampton Inn Virginia Beach North 
3107 Atlantic Ave, Virginia Beach
Romance is in the air all the time at Virginia Beach, especially with when you're on the beach. Whether you're looking for romantic weekend getaways, anniversaries, or honeymoons, the Hampton Inn Virginia Beach North has the packages, including their "Valentine's Romance" package, featuring oceanfront accommodations, champagne flutes and champagne, their breakfast buffet, long-stemmed roses, and chocolate dipped strawberries (plus a late checkout). Packages start at $184. You can book online or call 1-800-HAMPTON.
Romantic Getaway Package 
Various Virginia Beach hotels
Looking for romantic weekend getaways at a rock bottom price? a If you're willing to endure a timeshare presentation, this may be just the dirt cheap deal for you. This couples experience includes: oceanfront accommodations for two and a $50 resort certificate (similar to cash at most beach retailers).
Depending on your dates, deals start as low as $49 per night!
Offer includes a 90-120 minute timeshare presentation of the new Ocean Beach Club. Remember: You don't have to purchase anything (and probably shouldn't!), and you have to meet certain age, income and eligibility qualifications. But if you have a will of iron, and a little time to kill, things don't get much cheaper than this! Go to goldkeyvacations.com for complete terms and conditions, or call (800) 492-9861.
Shadow Mountain Escape in Luray
Luray, Central Virginia 
Now through end of the year
This charming cabin resort offers both wine and romance packages in their romantic, unique cabins. They even offer a 10% off deal for police, military, and first responders. Choose from the Butterfly Loft, Bumblebee, LadyBug, or Dragonfly cabin, plus enjoy a pizza and with wine delivered to your cabin. Take a walk on their walking trail, sit a spell, visit nearby Luray Caverns, and just enjoy being together.
Call (540) 843-0584 or go to www.shadowmountainescape.com and click on "Packages."
Colonial Williamsburg Packages - 
Their 3-day, 2-night packages give you nightly accommodations at a Colonial Williamsburg hotel with daily breakfast, passes to the Historic areas, and more. Depending on your package, rates may start at $89 per person per night. For details, go to my Colonial Williamsburg page.
Oceanfront Inn, Virginia Beach - Virginia is for Lovers Package
Enjoy two-night oceanfront accommodations at the lovely Oceanfront Inn at winter prices starting at $59 per night. For $39 more, you can get a Spa Basket which includes, slippers, massage oil and other massage and bath items. The Oceanfront Inn is located at 2901 Atlantic Avenue, Virginia Beach. For reservations, call (888) 826-2326.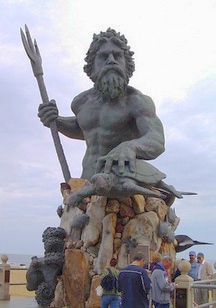 Romance By the Sea Package - Holiday Inn Virginia Beach
Starting at $129 per night, their romance package includes oceanfront lodging for two, breakfast in bed, and Champagne and Truffles upon arrival (ID required for champagne). Offer is based on availability by going to www.holidayinn.com, putting "Virginia Beach" in the search box, and then clicking on "Offers."
Country Inn & Suites "Romance" Packages - Multiple locations
Go to http://www.countryinns.com/ and look under "Hotel Deals" and you can select "Love and Romance" packages at more than a dozen Country Inn and Suites locations in Virginia. Packages may include lodging for two, chocolates, and more. The Williamsburg location's package includes a bottle local wine with glasses, a $20 restaurant gift certificate and tickets for two to a tour and tasting at the Williamsburg Winery. Rates start at about $110 per night. For details, go to http://www.countryinns.com.
Romance Package at the Jefferson Hotel - Richmond
Spark some romance at Richmond's most famous and historic hotel! Starting at $305 (plus taxes), you can choose from a variety of packages like the "Jefferson Package," an "Engagement Proposal" package, and a "Bed and Breakfast" package which may include extras like sparkling wine and strawberries upon arrival, a full American breakfast delivered by room service (sign me up!), breakfast gratuities, valet parking and more. Call (800) 424-8014 or go to www.jeffersonhotel.com.

---
A Romantic Evening in a Historic Plantation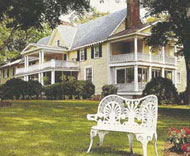 Want to spend the night in a real plantation? I know of four such plantations where you can spend an intimate evening indulging in a bygone lifestyle.
One of them, Prospect Hill Plantation Inn & Restaurant, is a lovely location for a fabulous gourmet meal on a special occasion (we had a delicious dinner there for our 16th anniversary!), a restful and memorable night or two, or even a delightfully unique wedding. Near Charlottesville and Richmond, it's a great spot for exploring Thomas Jefferson's Monticello and the Blue Ridge Parkway.
Ladies: Here' why Prospect Hill is the spot for romantic weekend getaways that will light your fire (and even his)! There are no TV's in the rooms, so you won't have to fight with ESPN for his attention. (Okay, there IS one in the common area, but you don't have to tell him that...) Plus, you have the option of having your full country breakfast served in bed. How decadent is that?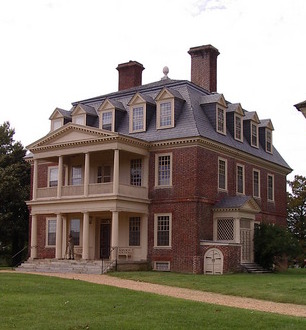 Most of the beautifully-furnished rooms have jacuzzis, and there are hammocks, 50 acres of lush grounds to stroll and explore, and no distractions. It's like a dream come true. For details, go www.prospecthill.com. 
A little further to the southeast are the James River Plantations. There are three plantations inns which make a perfect starting point for romantic weekend getaways touring the historic James River plantations, such as Shirley and Berkeley.
For details on three romantic James River Bed and Breakfasts, click here. For estate information, admission, hours, and tips you need to know before planning a James River Plantation tour, click here. 
---
Consider a "Suite Romance"
Spa Package...or a Cozy Cabin
Kingsmill Resort and Spa offers the height of luxurious relaxation and pampering--with or without kids. Their "Suite Romance" package offers a decadent getaway featuring a couples massage and chocolate-dipped strawberries.
If your tastes for romantic weekend getaways tend more to adrenaline-charged amusement parks or golf, they have just the package for you too.
Or, if your tastes run to something more rustic or really getting away from it all, check out Cabin Capital, an excellent site which has photos and descriptions of cabins in the Luray-Page County area. Whether you want a log cabin or a luxury cabin, they have details on the number of beds, types of views (mountain or river), prices, and more. abincapital.com for details.
---

Looking for a Restaurant for That Perfect Date?
We LOVE having date nights in the Virginia Beach area (we just don't get enough of them...but then, does any couple?).
And on our romantic weekend getaways, if we do manage to get away for a quiet dinner (and pay for the babysitter, etc.), we don't want the restaurant to be a dud!
So here are our recommendations for some fabulous romantic restaurants in the Virginia Beach area-- including a famous 1940-era Art Deco cinema cafe. Click here to read our romantic restaurant reviews.
---

Romantic Getaway Attractions
My husband and I love romantic weekend getaways (especially when Grandma takes the kids for a few days!). Since we love to travel, we're always looking for romantic, just-the-two-of-you spots that we can enjoy...and then recommend to you.
So here are some of our favorite romantic getaway attractions in southeast Virginia. Best of all, some are even free!
For more attraction ideas, go to my Virginia Attractions page, or go to my Site Map.
Virginia Beach Family Fun

› Romantic Weekend Getaways