Fall Fun in Virginia
Looking for Fall Fun in Virginia?
Here's your guide to all the Halloween haunts, pumpkin patches and corn mazes, fall foliage, fall events and festivals, and best places to visit during the fall season.
Scroll down for my two-three day fall foliage itinerary... 
Or, keep reading to learn about Halloween events, including Busch Gardens Williamsburg's "Howl-O-Scream," Kings Dominion's "Halloween Haunt," and Halloween events at Great Wolf Lodge. 
---

Halloween Events
Howl-O-Scream at Busch Gardens
Select days and Weekends, Sept. 15-Oct. 28 
Busch Gardens Williamsburg
Come fall, experience spine-tingling chills at the park's annual Howl-O-Scream event, featuring rides and several themed "Terror-tories" including Ripper Row (in England), Vampire Point (in Germany), Sideshow Square (in Festa Italia), and Axe Alley (in New France). New this year: Fool's Court (in France), and Garden of the Souls (in Italy).
Returning haunted houses include Circo Sinistro, Cornered, Lumberhacked, and Frost Bite, as well as three new houses: Demented Dimensions, Vault XX, and Dystopia.
They'll also have seven-themed bars or dining halls, four shows, and for the first time, an escape room.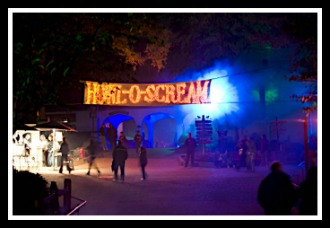 © 2016 Busch Entertainment Corporation. Reproduced by permission of Busch Gardens Williamsburg. All rights reserved.
Tickets aren't cheap SO go to my dedicated Howl-O-Scream page to learn how to get tickets for up to half off!
Halloween Haunt at Kings Dominion
Weekends, Sept 22 - Oct. 28
Kings Dominion, Doswell near Richmond
If you prefer Kings Dominion over Busch Gardens, check out their "Halloween Haunt" event which offers "scare zones" including Cleaver Brothers Carnival, Feary Tales, Ironworx, Necropolis and the Lair. They also offer live shows such as Overlord's Resurrection, Skeleton Crew, Coven and the Grave Walkers.
They also "horrifying" mazes and one scary show. Click here to learn how to get Halloween Haunt tickets for up to $36 off! 

Howloween at Great Wolf Lodge Williamsburg
October 1-31
Great Wolf Lodge Williamsburg is offering special "Howloween" events during the month of October. In addition to the usual water pass fun, you'll be able to trick or treat "water park style," and join in a costume contest, "witchy" Cub Club crafts, and a "Spooktacular" story time. There's no extra charge over the usual room rate. Click here for the latest promo codes and discounts at Great Wolf Lodge Williamsburg.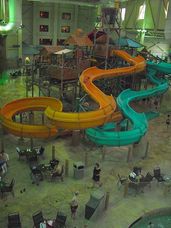 Great Wolf Lodge Williamsburg...where it's always a perfect 84 degrees!
Check out Halloween and Fall Events at Local Museums
Many Virginia museums offer wonderful Halloween or fall-themed events designed for the whole family. Just two examples are Norfolk's Nauticus, which hosts "Haunticus" and even lets you spend the night on a "haunted" battleship, and Hampton's Virginia Air & Space Museum, which has an indoor "Trick or Treat" event, usually the Saturday of or before Halloween.
For descriptions of Virginia attractions which may have fall fun events, go to my Attractions page. 
---

Apple Picking, Pumpkin Patches & Corn Mazes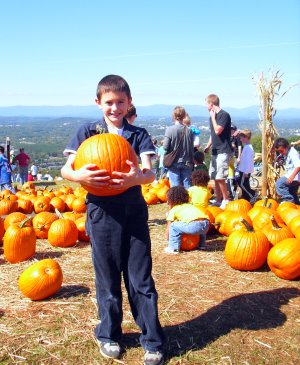 Catch amazing view of the Blue Ridge Mountains at Charlottesville's Carter's Mountain.
Personally, we love to pick apples at Carter's Mountain in Charlottesville because of their breath-taking view of the Blue Ridge Mountains (and their delicious apple cider donuts!). But there are many places in Virginia to observe this wonderful fall fun tradition.
If you're not near Charlottesville, there are plenty of other places in Virginia for fall fun with apple picking.

Pumpkin Patches & Corn Mazes

No fall is complete without picking pumpkins. But why buy them at a grocery store? Get the full fall fun experience by visiting a pumpkin patch. While there, why not go on a corn maze and maybe take a hay wagon ride? Find a corn maze and pumpkin patch near you by clicking here...
And if you love seeing the fall foliage, Virginia is an amazing place to enjoy it, especially near the Shenandoah Mountains. Virginia.org has great info on the best places for fall foliage, as well as a Leaf and Color Meter. 
---

Spectacular Fall Foliage Itinerary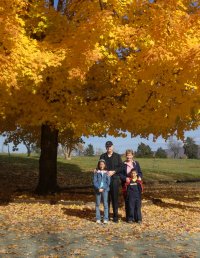 How do you like the vibrant fall foliage near Charlottesville's Ashlawn-Highland?
This year, experts say that the peak time for fall foliage viewing in Virginia will fall between these dates and locations:
Oct. 10 - 20 (between Blue Ridge Mountains and Western Virginia)
Oct. 15-25 (west of Harrisonburg and Roanoke and then east to between Charlottesville and Richmond)
Oct. 20-31 (coastal - just west of Richmond and then west to the coast).

One of the best places to view fall foliage is the Blue Ridge Parkway, and an easy spot to enter it is on Afton Mountain, just 15 minutes west of Charlottesville.
With an elevation of over 2000 feet, and three major turnouts overlooking the valley, it's the perfect spot for breathtaking photos.
So here's an itinerary idea for a two-three day fall fun getaway:
Day One:
Spend the day in lovely, historic Charlottesville, visiting Thomas Jefferson's Monticello and nearby Michie Tavern or Ashlawn-Highland (former home of James Monroe).
Be sure to take advantage of a free tour of the University of Virginia grounds, followed by a walk on the Charlottesville Downtown Mall where you can sample gourmet pizza at Lelo's pizza, cheap but delicious dumplings and pork buns at Marco & Luca's, or sit down for a more elegant meal at Hamilton's or C&O. Cap it off with some gelato at Splendora's or a chocolate crepe at The Flat.
Days Two-Three (how long it takes depends on you!):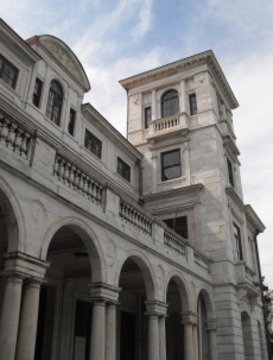 Is the Swannanoa mansion on Afton Mountain haunted? Some think so...
Take I-64 West from Charlottesville to Afton Mountain. When you get to the top of the mountain, take the exit for "tourist information" and stop at the Tourist Center for views of both sides of the mountain. (If you're going east down the mountain, they have two overlook turnouts; the first turnout has the best photos).
While you're on top of the mountain, don't miss Swannanoa, a lavish, Italianate, 100-year-old mansion. Although rarely open to the public, it's well-worth a brief stop just to view or walk around the crumbling old mansion and grounds. (Directions: From I-64, take the 250 Exit to Howardsville Turnpike/State Route 610, then take a right on Swannanoa Road.)
Back at the Visitor's Center, they'll be happy to guide you to the entrance of Shenandoah National Park to your north, or the Blue Ridge Parkway to the south, both of which offer spectacular views of fall foliage. Or, get back on I-64 to drive west down the mountain and out to historic Staunton. This former railroad town is home to Mary Baldwin College, the Woodrow Wilson Presidential Museum, and the Frontier Culture Museum.
Don't miss Sunspots glass-blowing center, where you can buy one-of-a-kind blown-glass balls, bowls, vases, and decorative items, or even make your own. If you're hungry, grab a meal at the Mill Street Grill, housed in a former wheat mill (try their Crab Cake Dinner with fried green tomatoes). Or for something really different, try Wright's Dairy Rite, a 1950's drive-in where you can phone in to order yummy burgers, fries and onion rings, and malts from your car or table.
If you have time, be sure to catch a play at the home of the American Shakespeare Center, Blackfriars Playhouse, a recreation of Shakespeare's indoor playhouse. 
---

Fall Fun Festivals & Events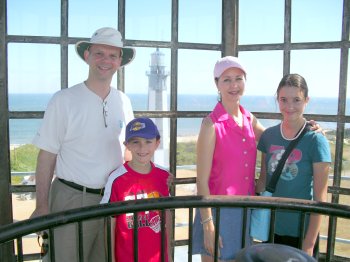 Free Museum Admission on Smithsonian Day, Sept. 22

Get a free admission for you and a friend when you download a coupon courtesy of the Smithsonian Museums on Smithsonian Day, Sept. 26. It's good for hundreds of museums across the US. Here's just a few of current or past participating museums in Virginia:
Childrens Museum of Virginia
Washington DC's Newseum
Virginia Zoo
To download your free ticket to one of these places, or to see a list of participating places by state or zip code, copy and paste this link in your browser: http://www.smithsonianmag.com/museumday/.
National Parks Fee-Free Days

On select days of the year, the US National Parks offer Fee-Free days, waiving admission fees at their parks. They offer two fall fun dates:
Public Lands Day (Sept. 29)
Veterans Day Weekend (November 11-12)
Participating parks in Virginia include Yorktown Battlefield and Historic Jamestowne. Visit on these days and you'll save $10 per person!
For more annual fee-free days, go to my Virginia Parks page.

Wine Festivals

Here's another recipe for fall fun: Fall is the time for Virginia wine festivals, including the annual Town Point Virginia Wine Festival, featuring 200+ Virginia wines along the Downtown Norfolk Waterfront. Entertainment plus crafts and food for purchase.
Offered mid-October, tickets (including sampling and a wine glass) are generally $20 at the door on Saturday and $15 at the door on Sunday.
Or, try the Annual Neptune Fall Wine Festival in Virginia Beach, usually the first full weekend in September. Located at Neptune's Park on 31st Street from noon to 5 pm each day, this event will feature over a dozen local wineries, plus wine vendors and more. 
This year's Fall Town Point Virginia Wine Festival on Waterside Drive in Norfolk around third week in October. The event features over 200 wine varieties from 35 different Virginia wineries amidst live entertainment and gourmet food for purchase.
The fall fun event runs from 11 am to 6 pm each day. General admission is $25 on Saturday and $20 on Sunday, while tasting is $35 on Saturday and $30 on Sunday (includes a souvenir glass and tasting privileges). For details, go to www.festevents.org.

---

Save Time & Money on Entertainment
Finding deals and saving money takes time. But you won't have to pay more for travel and entertainment when I've done the work for you.
I'll show you:
which attractions are cheap (or even free!)
how to eat out for less!
must-see attractions (plus which ones aren't worth the money)
Check out these pages:

And if you're traveling in Virginia or beyond, be sure to go to my Discount Travel Deals page. You'll find secrets of traveling and being entertained for less, from how to visit museums for "free" to amazing coupon deals.
Virginia Beach Family Fun

› Fall Fun