Hampton Roads Naval Museum & Battleship Wisconsin
Because you have to go through Nauticus to get to Hampton Roads Naval Museum & Battleship Wisconsin, many people don't realize that admission to these attractions is absolutely free!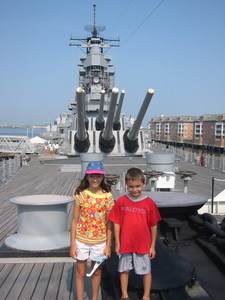 See the Battleship Wisconsin at Hampton Naval Museum.
That's why it earned a place on our coveted Cheap or Inexpensive Things to Do in Virginia Beach page. (Actually, Nauticus --a sort of nautical super museum with touch tanks, interactive weather and submarine exhibits, an IMAX, and computer simulation games --may not be cheap, but it is well worth the admission fee.)

The museum features scads of ship models, underwater artifacts, and exhibits on important naval battles and ships, including the USS Monitor.

Even young kids will find enough to entertain them, at least until you move on to the real prize: being able to climb all over the Battleship Wisconsin, a full-size, decommissioned US Navy ship. Marvel at its immense size, walk the decks to your heart's content, and be sure to have someone take a picture of you under the huge guns on the foredeck.

Hours: Open daily 9 am to 5 pm from Memorial Day through Labor Day; call for hours January through early March. The rest of the year: open 10 am to 5 pm Tues-Sat, and Noon – 5 pm Sundays. Closed Dec 24, 25 and Jan.1. Admission: Free! Limited street parking is available, or you can park in city parking garages within walking distance.

Hampton Naval Museum/Battleship Wisconsin address: One Waterside Drive, Norfolk VA. Hampton Naval Museum/Battleship Wisconsin phone number: 757-444-8971. Hampton Naval Museum/Battleship Wisconsin website: http://www.hrnm.navy.mil.

---

Attractions near Hampton Roads Naval Museum
In addition to Nauticus and the Battleship Wisconsin, there are several local attractions you won't want to miss near Hampton Roads Naval Museum.
The Chrysler Museum of Art is a world-class art museum filled with European, Asian, and modern art, an amazing blown glass gallery and several rooms dedicated to art by Louis Comfort Tiffany. The also have a glass-blowing studio where you can observe masters at their craft.
Another option in the Virginia Zoo, which has all the major animals with the benefit of having a small "footprint" (no pun intended), so it isn't too huge for little feet to walk around in a morning or afternoon. 
As for food, Baker's Crust is an excellent option, offering freshly-made breads, sandwiches, and to-die-for dessert crepes. Or, you can stop by Rowena's Tea Room for some afternoon tea or just to sample their delicious pound cakes.
For more on these sites, go to my Norfolk page.
Click here for a
Google map of Hampton Naval Museum/Battleship Wisconsin
.
Virginia Beach Family Fun