Charlottesville - The Best Place to Live in America?

A few years ago, Charlottesville (known by the locals as C-ville) earned the title "The Best Place to Live in America," according to several ratings services.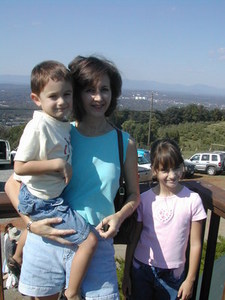 The view of Charlottesville from Carter's Mountain
That's no longer as true...because the word got out! Enough people moved to C-ville that housing prices took a jump up, thereby knocking this beautiful small city from its perch at the top of the list. 


For those of us who are blessed to live here, however, it's still the best place to live in America! It's also home to the University of Virginia (UVa), founded by our second president, Thomas Jefferson. 

C-ville has several excellent sights that are a great way to learn a little history the fun way. Here are our reviews and visitor tips of these attractions: 
---
Must-See Things to Do in Charlottesville...And Our Favorite Spots to Eat!
Like most college towns, Charlottesville has its bohemian parts. The Downtown Mall is where you'll see them. Sure, you can spend a lot of money at the trendy restaurants-- Hamilton's, C&O, L'Etoile, etc., all of which are great-- but we prefer the hidden bargain spots.

One of our favorite things to do is go for a walk on the mall, grab a bite at Christian's Pizza, and sit on the stools at the front windows to people watch.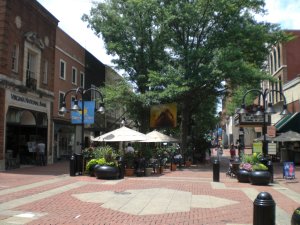 Charlottesville's famous Downtown Mall.
Although you can certainly get plain ol' cheese or pepperoni, Christian's specializes in specialty pizzas, such as Fresh Mozzarella, Tomato and Basil, Chicken Parmigiana pizza, even Tortellini and Pesto pizza. Since you buy it by the slice, you can sample more than one! My favorite pizza at Christian's is the Tomato, Feta, and Avocado pizza. Mmmmm...delicious!

Want something a bit more exotic? Two doors down (just past Quilts Unlimited) is our second favorite cheap spot on the mall: Marco and Luca's. It's nothing fancy, but Marco and Luca's has the BEST chinese dumplings we've ever tasted, hands down. They're so famous for their dumplings--and their delicious, special teriyaki sauce--that we've heard more than one visitor exclaim "This is the first place I run to whenever I'm in Charlottesville!"

Marco and Luca's also sells five other items: Pork Buns, Sweet and Sour Noodles, Sesame Noodles, and Vegetable Buns. I recommend the Sesame Noodles--drenched in a peanuty, sweet sauce and topped with sesame seeds and slivered cucumbers.

Just a few steps in the little mall behind Marco and Luca's is our new favorite Japanese spot, Miyako. Absolutely divine sushi...especially their Mexican rolls (tempura shrimp and avocado) and Dancing rolls (smoked eel, crab, and avocado). Yum! Go between 5:30 and 6:30 pm and get 10% off!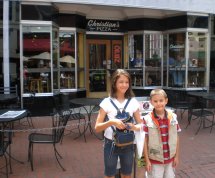 Get amazing gourmet pizza at Christian's
Top it of with a visit (Monday to Saturday only) to Splendora for some gelato, or to The Flat, a walk-up creperie, featuring both savory and dessert crepes. Our favorite: either the Nutella crepe or the Chocolate and Almonds crepe. 

If you're looking for something special, walk (don't run) to Water Street one street south of the mall, and you'll come to The Melting Pot-- yes, that Melting Pot. Simply wonderful (although you may need someone to roll you out of there...) 
What you'll see on the Mall... 


Depending on the time of day, you're likely to see all sorts of interesting characters—black-robed Goths, bearded and bespectacled college professors, guitar-playing street performers, and upwardly mobile yuppies pushing expensive strollers and bearing Whole Foods bags. And lots of UVA students. 

The brick-lined outdoor mall runs several blocks, bordered by the Omni Hotel on the west end and stretching to the Virginia Discovery Museum on the east. Along the mall are a variety of quaint restaurants, boutiques, book stores, art galleries, antique stores, soda fountains and gelato spots, and outdoor cafes. 


Our favorite stores: 
Quilts Unlimited – not just quilts, but one-of-a-kind jewelry, art-to-wear, knick knacks, and a huge variety of Vera Bradley bags. Our favorite buy there? A key-ring with a little cow that moo's when you push the button.

The Needle Lady – everything you can think of for knitters.

Studio Baboo – Even if you don't make jewelry, you should stop in just to see the huge variety of distinctive and funky beads. 


Alakazam - A quaint and cosey toy store with really distinctive and hard to find toys.

Another beautiful day in Charlottesville.
Free/Cheap Stuff to do: 
Visit the Virginia Discovery Museum

Ride the little carousel outside the museum
Make a fused glass frame, plate, or set of coasters at The Glass Palette
Browse the art galleries and sample free goodies on First Fridays (first Friday of the month)
Go ice-skating at the Charlottesville Ice Park
Go for ice cream at Chaps, or an old-fashioned soda float at Timberlake's
Go two blocks north and visit the McGuffy Art Center and watch artists at work
Take a free ride on the trolley

Charlottesville's has beautiful fall foliage in September/October
If you want a complete look at downtown Cville and UVA, you can take the free trolley for the whole loop which rings the outside of the downtown mall, goes to UVA Medical Center, the UVA village shops, the Rotunda and the Lawn, loops down into the faculty "ghettos," and then returns to where you started outside Christian's Pizza.

This can take a good 45-minutes to an hour, by which time the thrill of riding the trolley has worn off and you're just waiting to get off. So if you just want a little trolley "experience," catch the trolley outside Christian's pizza. Ride it about three stops and you'll be at the east end of the mall. 

Free Stuff by the University

Of course, you can always walk around UVa and ooh and aah at the architecture (much of it designed or inspired by Jefferson), visit Edgar Allen Poe's former dorm room on the Lawn, or stroll through the free UVa Art Museum.
---
Recommended Itineraries in Cville
 What do you do if you only have one day in Charlottesville?

Here's what I'd suggest (but keep in mind, it will make for a really packed day!)

Morning: Tour Monticello's house and grounds

Mid-Day: Have lunch at Michie Tavern's "The Ordinary," then take the Michie Tavern tour and browse the Michie Tavern shops

Afternoon: Go to nearby Carter's Mountain Orchard to pick peaches or apples, or just enjoy the view of C-ville and the Blue Ridge Mountains. Take a late afternoon tour of Ash Lawn-Highland

Evening: Go into C-ville to tour the Downtown Mall. Dinner at Christian's Pizza, Miyako's, or The Shebeen, South African Pub (located just behind Staple's just across from The Omni).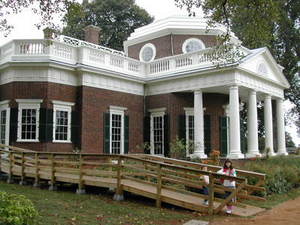 Don't miss visiting Thomas Jefferson's Monticello.
As I said, this would make for a really packed day, so only do this if you just have one day in Charlottesville. If you have longer, spread it out and add a tour of the University of Virginia and more time seeing other Charlottesville attractions, including The Virginia Discovery Museum, the UVA Art Museum, and the McGuffey Art Center.

Or head out in I-64 West toward Staunton to enjoy the views on Afton Mountain and begin a tour of the Blue Ridge Parkway. And if you're there in the summer, you may be lucky enough to visit during a weekend when the famed-- and supposedly, haunted-- Swannanoa Mansion is open to the public.
Virginia Beach Family Fun