Williamsburg Pottery

One-of-A-Kind Items and Serious Bargains
Face it: The old Williamsburg Pottery was nothing to look at...a mish mash of warehouses, chain-link fence enclosed areas, etc., which you had to traipse through and dig through to find bargains.
But after a multimillion dollar facelift several years ago, the new Pottery has become the shopping destination it was meant to be.
I was there the day after its grand reopening on April 5, 2012, and the parking lot was still packed with people looking for deals, unusual items, and even a delicious cafe (I'll give you a parking tip below.)

Brightly-colored and easy to navigate, the 160,000 square foot sidewalk mall appears to have resumed its place as one of Virginia's biggest tourist attractions (along with Colonial Williamsburg, Busch Gardens Williamsburg, and the Prime Outlets Williamsburg). 
But are the shopping "finds" still as good as they used to be? Is the Pottery still a place that's worth an extra stop to find that unique gift, that hard-to-find international dessert or special ingredient for your kitchen?
Read on to find out.
---

The Williamsburg Pottery Story

The Williamsburg Pottery Factory was founded in 1938 by James E. Maloney in a small roadside shack five miles west of Williamsburg. He became famous for making fine handmade 18th century style pottery reproductions at affordable prices.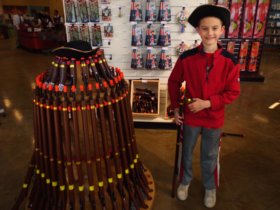 They have a great selection of specialty toys.
The Pottery is great for everything from plant pots, to garden statuary, to decorative metal tins, to wines and cheeses, to oriental rugs, to house wares.
Each of the three buildings at the Williamsburg Pottery houses a different shopping "topic." Building A houses a huge grocery with unusual food items rarely seen elsewhere...some of it at decent prices consider that they are specialty items.
For example, I bought two very large packages of British Digestive Biscuits (trust me, they are FAR yummier than they sound) for the same price as a container half that size elsewhere. I also found a bottle of Blue Cheese Balsamic Vinaigrette dressing for $6-- not bad for a specialty item I've never seen elsewhere. 


So honestly, I can't say the prices are fantastic anymore. But the items they offer are definitely unique.

And as is the case at wholesale stores like Costco, Sams and BJs, don't assume that all the prices are better than you'd get elsewhere. Know your prices.

A plus for seniors: the Pottery used to give a 10 percent discount to shoppers 55 and older, Mondays through Thursdays. No word yet on whether they will offer that again.
The Pottery is famous for its salt glaze pottery (Williamsburg Pottery...get it?). You used to be able to take tours to see the pottery being made, but alas, that is no longer available at the new Pottery.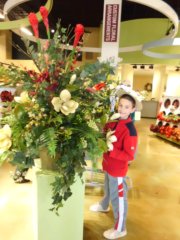 I loved the old Pottery because it had such an extensive selection of dried flowers and wreath-making materials. So far, the new Pottery has a good selection of silk flowers, but nowhere near as extensive as at the old site.

On the plus side, They also have a small bakery inside Building A so you can get a cup of coffee or a quick bagel or pastry so you can continue your shopping experience. A Gelato spot will be added soon, and there is an Au Bon Pain in the parking lot.

Other unique aspects of the Pottery: 
their Lamp Workshop-- where they can fix any lamp or turn ANYTHING into a one-of-a-kind lamp
Hand-crafted mugs, pitchers, butter churns, preserve jars, chamber pots and hurricane candle jugs, all turned on an old fashioned potter's wheel and brushed with 18th century style blue floral motifs


Custom framing at low Pottery prices. It used to be voted the Best area Picture Framer for several years in a row...we'll see if that's true of the new building
A garden nursery with indoor and outdoor plant sections.

Pottery Campground 


They have their own campground, offering 550 open or wooded sites with full hook-ups, water, electricity, and a large swimming pool. It's convenient...only 4 miles from Colonial Williamsburg, and 10 miles from Busch Gardens and Water Country USA, it's also a great deal!
Plus, they often run a special promotion from mid-April to early fall. In the past, if you stayed at the Pottery Campground and spent $100 subtotal at the Williamsburg Pottery you got a coupon good for one free night of camping on your next visit. I'll be sure to post it if they offer it again. 



Hours, Directions, & Parking Tips

The factory is open 364 days of the year.

Monday - Saturday 9:00 am - 9:00 pm Sunday 9:00 am - 6:30 pm

Location: Richmond Road, Lightfoot, Virginia (Exit 234A off I-64). 757-564-3326 - www.williamsburgpottery.com

Parking - The Pottery can tend to be packed. If you're coming there heading west on Richmond Road, skip the first entrance and head for the last entrance into the parking lot. It's much less crowded than at the first two entrances.


---

Other area attractions
Here are my reviews (and deals) for other area attractions:
Virginia Beach Family Fun