A Review of MacArthur Memorial in Norfolk
(by 3rd-grader Alex)
The MacArthur Memorial is a very interesting place which has lots of things about MacArthur growing up. Who was he? The "he" is Gen. Douglas MacArthur, who was the main general in charge of the American armies in the Pacific Ring World War II.
He was born January 26, 1880. He died April 5th, 1964. The museum has many metals which were given to MacArthur to honor him for his service to our country. It also has many facts about our fight against Japan during World War II. It has replicas of the ships used during the war, as well as of the pen that MacArthur and Emperor Hirohito of Japan used to sign Japan's surrender her room World War II.
There are also uniforms that MacArthur wore, some of his private things like a football and baseball, lots of weapons and old pictures from World War II, including a picture of an American who was captain Japanese concentration camp during the war. You can see that he was treated very badly because he was amazingly skinny from not being fed very much.

One thing they have which I really liked was pictures of American soldiers waiting for the Japanese to come so they could fight them. The Americans were hiding in trees, in water, and little holes on the beaches. It was amazing because the camouflage was so good could barely see them in picture.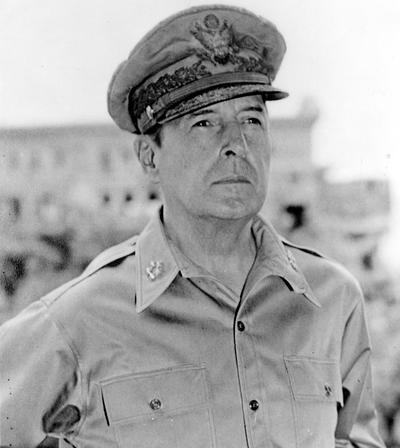 General Douglas MacArthur
Gen. MacArthur and his wife are buried at the MacArthur Memorial. He died when he was 84; she died when she was 102. I thought that the burial chamber at Museum was the coolest part.
---

Visiting the Macarthur Memorial
It's not a really big Museum, but it's free! And they do have a video at 25 min. long and runs every 30 min. They stop the movies at four o'clock.

I think this is a really good museum for adults, people interested in history, and kids ages seven and up if they really like history. There's another building in the back that has archives about MacArthur.
I hope you have fun if you go to it!
It's right across the street from MacArthur Mall, so you can go shopping, or to the movies after your visit. In the mall, right across from the Cheesecake Factory on the 3rd floor in the Food Court is a Hershey's Ice Cream place where you can get smoothies, ice cream, and smoothies were you pick your ice cream in a swirl it up for you into a smoothie.
I like Playdough ice cream. I know, it sounds kind of gross, but it's yellow and it tastes kind of like lemon, and it has blue and red things in it that crunch when you bite them. When I went they had 16 different types of ice cream. I really recommend it.
You can take a virtual tour of the museum by clicking here. 
The MacArthur Memorial is located at MacArthur Square, Norfolk, Virginia 23510. The phone number is (757) 441-2965. The memorial is open Tuesday - Saturday from 10 A.M. - 5 P.M. and on Sundays from 11 A.M. - 5 P.M.
Looking for more things to do in Norfolk? Check out my Norfolk Attractions page.


Virginia Beach Family Fun

›

Virginia Attractions
› Macarthur Memorial