Richmond VA - Museums, Civil War, Attractions & More
Why do we like Richmond VA?
At just under two hours from Virginia Beach, one hour from Charlottesville, and 1-1/2 hours from Washington, DC, the city is a great day trip spot.
Packed with museums, and Revolutionary War and Civil War sites, Virginia's capital city is also a perfect base for visiting central Virginia. Busch Gardens Williamsburg, Water Country USA, Colonial Williamsburg, Jamestown, Yorktown--all are within about an hour of Richmond.
Richmond VA is also known as the center for Civil War study, thanks to being one of the last stands of Robert E. Lee's armies before their retreat to the west of the state and ultimate surrender at Appomattox.

 It's also home to Confederate cemeteries, battlefields, and home to the Confederacy's own version of the White House.  It is also known for its fantastic museums, including the Virginia Museum of Fine Arts, the Virginia Historical Society, Maymont, the Edgar Allen Poe Museum, Tredegar Ironworks, and more.
---

So many museums to choose from...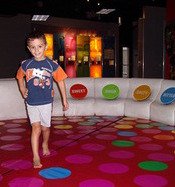 Fun galore for the kids at Richmond's Science Museum of Virginia.
Kids will love the Science Museum of Virginia, and the Richmond Children's Museum--conveniently located next door to each other.
Save money by taking advantage of the Target $1 Family Night deal at the Children's Museum of Richmond. Every 3rd Friday of the month from 5 pm to 7:30 pm, you'll get admission for just $1 per person (Central location only).
The Virginia Museum of Fine Arts has a wonderful collection of paintings, sculptures, one of the largest collections of Faberge eggs, and glassware...and it's free! Visit it in the morning, eat in one of its two gourmet cafes, then spend the afternoon next door at the Virginia Historical Society, a delightful, family-friendly museum celebrating all things Virginia (it's free too!).
Beautiful Maymont is not free, but pretty close. In fact, we think Maymont is the best kept secret in Richmond!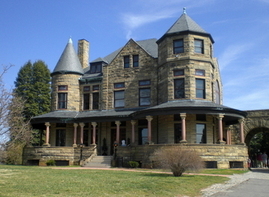 Beautiful Maymont House in Richmond.
Other area museums and attractions include Hollywood Cemetery, the Edgar Allen Poe Museum, the Valentine Richmond History Center, and the White House of the Confederacy. Just outside the city at the Richmond International Airport is the Virginia Aviation Museum, where you can see one of the few SR-71 Blackbird spy planes on display in the nation.
If your tastes run to breathtaking gardens and touring elegant, palatial estates, try the Lewis Ginter Botanical Garden, Maymont, a 100-acre Victorian country estate featuring a nature center and childrens' farm, and Agecroft Hall, an Elizabethan mansion brought brick by brick from England and reassembled in here. 
---

Area Amusement Parks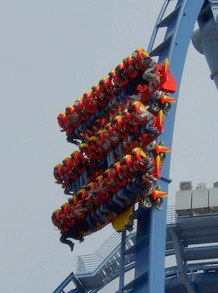 Busch Gardens' Griffon
Looking for an amusement park near Richmond? Busch Gardens Williamsburg boasts a combo of beautiful landscaping and spine-tingling roller coasters, including "Griffin," the world's tallest diver coaster. Click here for info on Busch Gardens Williamsburg and tips on getting discount tickets.
For really hard-core coaster fans,Paramounts Kings Dominion can't be beat (and you can find their discount tickets here).
Want a waterpark where the weather's always perfect? Great Wolf Lodge Williamsburg is a waterpark, spa, fitness, and family attraction, all under one roof. Click here to learn about their pools, waterslides, four-story interactive waterfort, and "Howlin' Tornado."
---

Fantastic Shopping in Richmond VA
Richmond VA is home to and near some of the best shopping you can imagine. For a good 10 miles on West Broad Street, you'll find just about any major retailer you can think of.
Short Pump on the west side of Richmond is a shopper's dream. The Short Pump Town Center is a huge, upscale outdoor mall with dozens of shops and restaurants, including Dillard's, Nordstrom's, Macy's, Cheesecake Factory, Dick's, Chico's, Aeropostale, H&M, Starbuck's, Ann Taylor, and Victoria's Secret.
And Short Pump is growing like a body builder on steroids, with Stein Mart, Marshall's, TJ Maxx, Ulta, Five Below, Kohl's, and more stores being built every year.
Going east toward Williamsburg, you'll find the Premier Outlets Williamsburg, Williamsburg Pottery, and more outlets and specialty stores. 
Virginia Beach Family Fun

› Richmond VA