Charlottesville Virginia has a Gem Called Carter's Mountain Orchard
For breathtaking views of Charlottesville Virginia, Carter's Mountain Orchard can't be beat. During summer and fall, this mountain top attraction is one of our favorite family excursions.
The entrance to Carter's Mountain Orchard is within sight of the Michie Tavern gift shop, and just down the hill from Monticello (it's actually the next mountain over from Monticello). You go up a long, windy road, party paved, and fairly inclined.
After a few minutes, you'll clear the trees and are greeted by a vineyard on the left, and open fields flanked by the orchard on the right.

At the top of the hill is the barn-like gift shop where you can buy local excellent produce. It's not necessarily much cheaper than what you could find on sale at the grocery store, but it's definitely tastier and fresher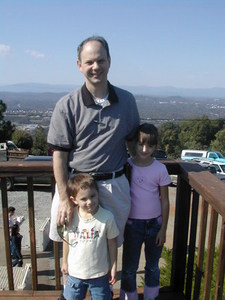 Overlooking the breathtaking view of Charlottesville Virginia
At the gift shop, you can buy produce and local crafts, sample homemade pies (and delicious apple cider donuts in fall), and get bags to go apple or peach picking depending on the season.

Peach season is generally June to July, while apple season is early September through the middle of October. Apple season is the busiest time of the year, when locals gather for weekend music and festivals.

If you decide to go peach or apple picking, here are a few tips:
Don't pick up fruit from the ground, however good it looks (it's more likely to have bugs)
For peaches, look for fruit that gives ever so slightly when you squeeze it. For apples, look for fruit that has even color (not green; they don't grow green varieties here).
You can check out long "picking poles" up at the gift shop (they look a bit like lacrosse sticks) if you want to pick fruit at the top of the tree.
Bring a hat (it can get hot out there in the summer) and bug spray for mosquitoes if you tend to be "tasty" to them. (My kids have never been bitten there, but mosquitoes love me, so I always take preventive measures.)
If you need the bathroom, there's a restroom building on the east side of the gift shop.
---

Don't miss the best view in Charlottesville Virginia!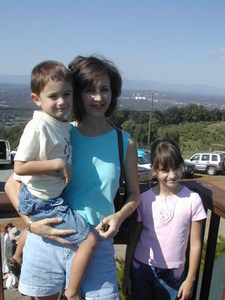 The view of Charlottesville from Carter's Mountain.
Carter's Mountain Orchard in Charlottesville Virginia has a small observation "tower" in the parking lot which gives you a wonderful 360 degree view of the area. On one side, you'll have a spectacular view of Charlottesville, the University of Virginia, and the Blue Ridge Mountains (they really do look a soft, misty blue!).
Look in the opposite direction and you'll be struck by have flat things are, and how Charlottesville Virginia really is at the foot of the Blue Ridge mountains.
Carter's Mountain Orchard is located on Route 53, about one mile west of the intersection of 53 and Route 20. From 64, take exit 120 and go right onto Route 20. Get into the left lane. You'll pass the free Thomas Jefferson Visitor's Center on your right, then make a left at the traffic light at Route 20. Go online at www.cartersmountain.com for their fruit availability chart and current hours and events.
---

Nearby Attractions
The Charlottesville area is chock-full of historical sites, attractions for the whole family, restaurants and more (plus several wineries!). You can easily spend a day of it or several days enjoying all it has to offer. To get started, check out my reviews of these local attractions:

Thomas Jefferson's Monticello

Ash Lawn-Highland, home of James Monroe

Michie Tavern, a real 17th century wayside tavern with delicious Colonial food, a tour, and shopping
James Madison's Montpelier
Virginia Beach Family Fun