Spooky Ghost Tours in Williamsburg and Yorktown
Do you love ghost tours? 
Colonial Williamsburg seems to be bursting at the seams with the sinister apparitions, judging from the wide variety of offerings in the area. Unrequited lovers, jilted fiances, victims of dastardly duels, and persistant historical figures--all appear to have their ghostly clutches hooked in the Historic Area. And they're waiting for you to visit them!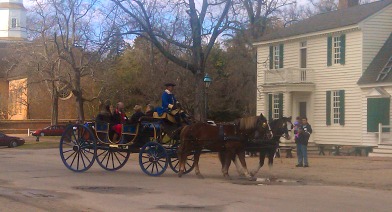 Imagine yourself in a different time in Colonial Williamsburg.
An intriguing, bone-chilling way to enjoy a little history (accurate or not), these dynamic ghost tours have become a very popular part of the Williamsburg experience. And since several of them let kids 6 and under in free, they're a fun evening entertainment that won't break the bank.

Apparently, most of the stories on the ghost tours come from a book called "The Hauntings of Williamsburg, Jamestown, and Yorktown" by Jackie Eileen Behrend. It features tales like the Wagon of Death, which can be heard rolling down Nicholson Street bringing prisoners to the gallows, and ghostly celebrations that take place at the Historic Area's Raleigh Tavern.

It also tells spooky tales from Yorktown--including sounds that supposedly come from "Cornwallis' Cave," a small cave down near the waterfront where British General Lord Cornwallis hid during the town's siege in 1781—and about a jilted lover that haunts the banks of the James River in Jamestown.
I've put together a comprehensive overview of the tours you can choose from, including prices, contact numbers, and details which may help you make the best selection for you. 
(By the way, if you're looking for ways to enjoy Williamsburg on the cheap, check out my "Secrets of a Cheap Colonial Williamsburg Vacation" guide.

---

So many ghost tours to choose from...
Ghosts Amongst Us 
Led by Colonial Williamsburg costumed interpreters, this 1 hour walking tour shares some of the strange tales and legends associated with the Historic Area. Keep in mind that the tour is NOT appropriate for young children.) Cost per person: $15. In season, they're Saturday nights. Call for tickets and schedules.
Ghosts Amongst Us phone number: 1-800-501-0156.
This used to be one of the pricier ghost tour options, pricier than most of the independent tours, but WOW-- the others have really caught up in the last year so now it's no pricier than most. However, it is a bit shorter than the others, so check out following tours to decide what makes the best "bang" for your buck.

Tavern Ghost Walks 
Also led by Colonial Williamsburg costumed interpreters, the tavern walk claims "our employees know there are ghosts among us!" It focuses on stories and happenings experienced by real-life employees at the taverns (like Raleigh Tavern) that you can visit and dine at in the Historic Area. Attendees also receive a souvenir pin. Cost: $12 for adults, $7 kids 12 and under. In season, they're offered nightly.
Tavern Ghost Walks phone number: 1-800-HISTORY. Call for schedule and tickets or go to www.colonialwilliamsburg.com/plan/calendar/tavern-ghost-walk/
I've only ever heard good reviews of this one!

The Original "Ghosts of Williamsburg" Candlelight Tours 
The fact that it's been voted Williamsburg's #1 spooky tour 12 years in a row must mean something. Cost: $15 for adults, kids 6 and under are free. In season, they're offered nightly. Call for schedule and tickets.
The Original "Ghosts of Williamsburg" Candlelight Tours phone number: 1-877-624-4678.  www.theghosttour.com. 
AxWild Ghost Tours 
This is a new group I just learned about though a Groupon deal. College of William and Mary employee Allison Wildridge leads what her site calls "the People Magazine of Williamsburg tours" and pulls out little-known facts "even the locals don't know."
Cost: $16 for adults, $12 for students, $7 kids 6-12. In season, they're offered nightly at 8 pm in front of the Williams Sonoma in Merchant Square. For details go to www.axwildtours.com.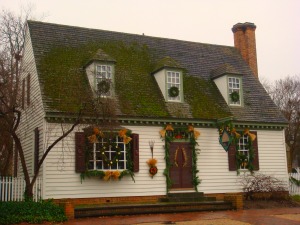 A holiday decorated house at Colonial Williamsburg. Imagine telling ghost stories around its fireplace...
Williamsburg Ghost Lantern Tours 
This isn't one of the major groups, but they've had some positive visitor comments. They also list "sightings" supposedly made on their tours and show those photos on their website.
This is NOT a group tour; they only do private tours so while they're more costly, they're more intimate than some of the other competitors' tours (which can have 40 people or more!)
The cost for this private tour is $140, which includes one private guide for up to 8 people, which works out to about $17.50 per person (above 8 people, additional people are $18 per person). They prefer you email them at the site below, but you can call if you prefer.
Williamsburg Ghost Lantern Tours phone number: 757-897-9600 or go to www.williamsburgprivatetours.com/ghostlantern-walk/
Just so you know...none of the ghost tours (with the exception of the "Legends" tour) will actually get you into any of the Historic Area buildings. If you want to see inside them, you'll need Colonial Williamsburg tickets.
However, these are rather pricey. So a cheaper alternative to get a feel of Williamsburg is to spend the day walking around the Historic Area and then take a ghostly tour in the evening. 
Here's the latest ticket prices at Colonial Williamsburg...plus tips for how to save on tickets.
---

Halloween events & fall fun
If you love ghost tours, you're probably a Halloween fan as well.
Don't miss Busch Gardens Williamsburg's Howl-O-Scream and King's Dominion's Halloween Haunt as well as other great things to do in the fall.
Check out my Fall Fun page for great Halloween/Fall things to do! 

Can't find what you're looking for? Go to my Site Index
Virginia Beach Family Fun

›

Fall Fun
› Ghost Tours