Winter Whale Watching Promises a "Whale" of a Time
It may not be beach weather...but wintertime means whale watching time at Virginia Beach...and I've got package deals for you.
The mercury may be dropping, but the whales are rising...to the surface that is, as they make their winter migration trek to warmer waters.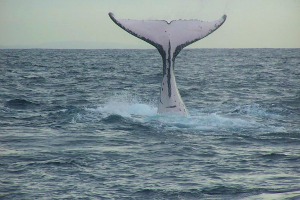 Now's your chance (the end of December to mid-March) to see rare fin and humpback varieties-- some up to 85 feet long and weighing 70 tons.

The Virginia Beach area is helping visitors enjoy this magical experience by offering fantastic packages starting at about $92 per person. One such package at the Oceanfront Inn includes:
Two nights accommodations in an oceanfront room
Two hour Virginia Aquarium & Marine Science Center Whale Watching Excursion
Admission to the Virginia Aquarium & Marine Science Center

, including the new Restless Planet exhibit
Through special excursion/education packages like this, you'll learn what brings these beautiful mammals so close to the Virginia Beach shore, as well as what's being done to protect them. It's an awe-inspiring experience.
(For example, did you know that humpback whales produce long harmonious songs that can last up to 35 minutes? And that some of these notes can travel up to 185 km through the water?)
Plus, with your admission to Virginia Aquarium you'll be able to enjoy one of the world's most exciting and cutting-edge aquariums, featuring sharks, harbor seals, sea turtles, and other amazing sea creatures. The aquariums exhibits include touch tanks, nature walks, and creek cruises...not to mention one of the largest aquarium "walls" I've ever seen.
Packages are available December 28 through March 15. Price is based on availability and double occupancy, and rates are per person (taxes excluded).
For more information, call the Virginia Beach Whale Watching Information Hotline, toll free, at 1-866-599-4253. 
The Barclay Cottage Bed and Breakfast also offers a package that includes accommodations, the excursion, admission to the Virginia Aquarium, and dinner at Rockafeller's Restaurant. For details, go to www.barclaycottage.com.
---



Whale watching only excursions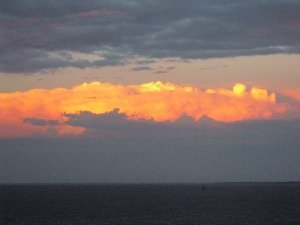 If you're not looking for a hotel package and just want to take a whale, dolphin, or winter-wildlife excursion, you have options for that too. Rudee Tours on Rudee Inlet offers ongoing cruises throughout the year that won't break the bank. Rates vary, but for example, a two-hour dolphin cruise is @$21 for adults and $15 for kids.
Winter wildlife tours run the end of December through mid-March. For details and the current schedule, call 757-425-3400. And to learn about more Rudee Inlet activities-- including parasailing and jet skiing-- click here.
Or, take advantage of Winter Wildlife Boat Trips at the Virginia Aquarium narrated by Aquarium educators. Besides (hopefully) seeing whales, you'll see brown pelicans, cormorants and other sea birds, plus cruise by local sights like Cape Henry Lighthouse. Rates are $28 for adults and $24 for kids (ages 4-11). 
Another way to see winter wildlife for free is to visit these wonderful Virginia Beach area parks:
Virginia Beach Family Fun

›

Virginia Attractions
› Whale Watching Excursions & Packages