Chesapeake Bay Bridge Tunnel

In a way, it's hard to believe the Chesapeake Bay Bridge Tunnel (CBBT) near Virginia Beach, Virginia, is one of the seven Engineering Wonders of the Modern World.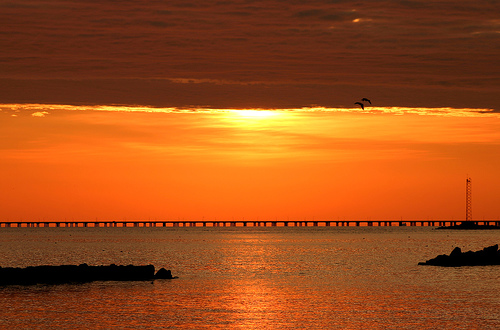 Chesapeake Bay Bridge © Matthew Sullivan
Years ago, when we lived in New York, the tunnel was just the last long (and expensive) leg of our journey to visit my sister-in-law, who was attending Regent University in Virginia Beach.

After 7 hours in the car (usually at night), we were in no mood to appreciate the CBBT's role as an architectural wonder.

How wrong we were.

Actually, the CBBT is a 23-mile phenomenon that vastly improved the lives of millions.

Before it was completed in 1964, local residents and travelers had only two alternatives to get from the Virginia Beach and North Carolina's Outer Banks to Cape Charles, Delaware, New York, and beyond: 1) go the long way around the Chesapeake Bay (adding 2 hours to their journey), or 2) cross the yawning chasm of the Chesapeake Bay on a long and often choppy ferry ride.

Can you say "sea sick?"

All that changed after the CBBT was built. Now, it takes just 15 minutes to cross the Bay.
---

How was the Chesapeake Bay Bridge Tunnel Built?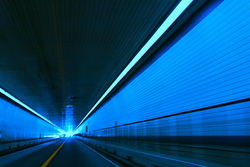 Chesapeake Bay Bridge Tunnel © MeraM
Build it and they will come…

Ah, it wasn't quite as easy as all that. The designers had two problems. First, the 23-mile distance across the bay was too much for a single span.

Second, there was the little problem that a bridge would cross right over two very busy shipping lanes.

Why not just build a higher bridge, one tall enough for ships to pass under?

In a remarkable display of foresight, the US Navy objected, noting that a collapse of the bridge (either accidental or as a result of terrorism or war) would effectively trap most of the US fleet, which is berthed at the Norfolk Naval Base.


What to do? To use a fast-food term, they decided to do a combo. The project would consist of creating four artificial islands, then connecting them and the mainland through a series of bridges and two tunnels. 

In other words, if you can't go over the ships, go under them. (And it's a pretty amazing feeling, when you're in the tunnel parts, to think of the massive tons of water and ship steel passing over your head!)

It took years, but the bridge was finally completed April 15, 1964.
---

What's the Best Way to See the Bridge?

In fact, you can probably enjoy the bridge better when you're not driving on it. (Not being fond of narrow spaces, I spend most of my time on bridges and in tunnels with a death grip on the wheel. I much prefer it when someone else is doing the driving!)

Sea Gull Island, at the southern end of the Chesapeake Bay Bridge Tunnel, is a good place to view the bridge without having to pay to go on it. They have a... 
Restaurant, featuring sandwiches and seafood platters
Gift Shop which sells souvenirs and postcards and has an ATM
Small display on the building of the bridge
625-foot fishing pier
Places to bird watch and take pictures of the bay

The restaurant is open daily from 7 am-6 pm, mid-September through mid-May, from 6 am-10 pm, and mid-May through mid-September.

I have no interest in fishing myself, but I hear that the fishing at the pier is exceptional. You can catch trout, flounder, bluefish, croaker, shark, and types of fish. Unlike other local piers, there is no fee to fish there, other than paying the toll for the bridge.

And to keep local fishermen "honest," they have a certified weighing scale right on the pier.

If fish aren't your bag, but ship spotting is, check out the coin-operated viewing machines to get a close-up view of the Naval and commercial ships that sail by.
---

How Much Does it Cost?

The cost for cars on the Chesapeake Bay Bridge Tunnel is $13 one way off-peak (passenger car, pick-up truck, panel truck, station wagon, motorcycle, and minibus/van with 15 or less seating capacity). The peak hour price is $15.

If you return within 24 hours (and bring your receipt), the return trip is only $5. Class 1 vehicles towing one-axle trailers are $18, and the price goes up for heavier vehicles.

Here's a link to their website, with information on EZ pass, an up to date toll schedule, and more.

The Chesapeake Bay Bridge Tunnel accepts EZ Pass, so you can just wave your pass and zoom on through. The EZ Pass lane is the left hand lane in both directions.

If you want more EZ Pass info, the EZ Pass phone number is 1-877-762-7824. The EZ Pass website is www.ezpassva.com.

The Chesapeake Bay Bridge Tunnel is an easy drive from the Virginia Beach resort area, and it's open daily. It only closes during severely inclement weather.



Virginia Beach Family Fun

›

Virginia Beach
› Chesapeake Bay Bridge Tunnel