The Top Internet Source for Busch Gardens Williamsburg Discount Tickets!
Looking for 2017 Busch Gardens Williamsburg discount tickets?
Look below to save $27 or more on tickets, discounts for military, first responders, teachers, and the new price drop on Fun Cards!
 Or are you happy paying $88 per ticket? Didn't think so. 
Look below for info and deals on the spring/summer season (and links to Howl-O-Scream and Christmas Town info), park hours, and events.
NOTE: The tips on this page are for single-day discount tickets. If you want a season pass discount, or for tips on saving money at the park, look below for links to those pages.
You'll also find up-to-date info on the latest promo codes, places to get discount ticket coupons, the park's hours and operating schedule, upcoming park events, tips for saving money at the park, and info on the park's Christmas Town and Howl-O-Scream events.

---



Super Secret Coupon Codes... Plus Places to Get Discount Tickets
New deals for Busch Gardens Williamsburg discount tickets are constantly coming out, so it's hard to stay up to date on all the latest deals. But I update deals just as soon as I find them, so be sure to subscribe to my Virginia Beach Blog. You'll receive a free subscriber feed and my latest tips immediately.
During the off-seasons (such as January-July for info on Howl-O-Scream) I sometimes leave up last year's deals so you'll know what you may expect to find when the season starts. Click here for more season pass savings tips.
Coupon/Promo Codes - Save up to $20!
Every year, I find summer promo code deals that will save you plenty! Subway, KFC, and McDonald's have offered Busch Gardens Williamsburg discount ticket coupons in the past. Most Busch Gardens coupons are good for up to six Busch Gardens discount admissions.
Go to my Busch Gardens Coupon Codes page for coupon codes that could save you $20 or more off tickets!
Try AAA

AAA always offers its AAA members discounts on tickets. They may be as much as 10% per ticket. Call your local office to find out what the exact discount for this year will be.
But WATCH OUT-- to get the discount you have to order your tickets through AAA ahead of time. Planning to just show up at Busch Gardens and flash your AAA card to get your Busch Gardens Williamsburg discount tickets? You'll get nada...
The Busch Gardens Williamsburg Website or Twitter feed
I really recommend you subscribe to the park's Facebook or Twitter feed, because sometimes they have special "online only" or Twitter feed ticket offers. Plus, if you buy your tickets online, you can print the tickets at home and skip the ticket lines at the park. Here is the Busch Gardens Williamsburg website - www.buschgardens.com.

Their Twitter feed is @BuschGardensVA.  
Parks and Recreation Departments -
Potentially save up to $20 per ticket and $3 on Fun Cards!
Many southern Virginia parks & rec offices may offer slight discounts, including the Virginia Parks & Recreation site, which last year offered $3 off Busch Gardens Fun Cards and Water Country USA Fun Cards. They also offered certain periods during the summer where you could save up to $16 per single-day ticket.

Unfortunately, as of now they have only posted Kings Dominion discounts (which are pretty good, so you should check them out!) but maybe they'll offer them again next year. Go to www.vrps.com for details.
---

Preschool Pass deal & 2-Park Fun Card Deal
Preschool Pass - Buy by May 31!
Kids 5 and under can get a free Preschool Pass giving them unlimited admission to both Busch Gardens and Water Country USA through the end of the season. This saves you $80 per child (the regular price for kids 3 and up)! Note that you have to register for your Preschool Pass no later than May 31. 

Register online at the park's website and bring in the registration confirmation and a valid ID (a birth certificate or a passport) to the park. 
2-Park Summer Flex Deal
For just $10 over the price of a Fun Card, you can get a 2-Park Summer Flex Deal that will give you unlimited admission to both Busch Gardens and Water Country USA May 19-Sept. 10.  Go to www.buschgardenswilliamsburg.com to order this 2-Park Fun Card. 
---

Looking for Howl-O-Scream and Christmas Town Deals?
Looking for Howl-O-Scream or Christmas Town discounts and promo codes? 
Be sure to check out my Howl-O-Scream and Christmas Town pages. During those seasons (mid-Sept to mid-October for Howl-O-Scream and mid-November through the end of December for Christmas Town) I'll keep you up to date on the latest hours, admission info, and discount ticket deals for these special events.
---

Ongoing Busch Gardens Williamsburg Discount Tickets Deals
The observation deck below Griffon is a great place to cool off at Busch Gardens Williamsburg.
Here are several spots I've found where you can generally get Busch Gardens Williamsburg discount tickets for single-day admissions:

1) Your Human Resources Department or Alumni Association- 
Many companies, school districts, and alumni associations offer Busch Gardens Williamsburg discount tickets coupons to their employees, so give yours a call. My sister-in-law (a Regent University graduate) was able to get Fun cards for about $40 each (about $30 off) last year by purchasing them through Regent University. I've also seen coupons good for at least $12 off single-day tickets in the mail room at the school where I work. Check with your Human Resources dept (probably late April or so). 
2) Travelodge King William - 
This Williamsburg motel often offers its customers discount coupons for Busch Gardens Williamsburg and Colonial Williamsburg!

3) The "One Stop Shop" at the Williamsburg Outlet Mall - 
In the past, they've offered Busch Gardens Williamsburg discount tickets coupons (a few bucks off) if you buy the tickets there. You don't have to purchase anything else in the store, but you may want to check out their discount coupons to President's Park and other area attractions).
5) Boy Scout/Girl Scout Discounts - 
In the past, you could get a significant discount if you mentioned that you had a boy scout in the family. They change their discounts from year to year, but it might be worth a try!

6) Virginia Beach Vacation Market - Stop by one of the three Vacation Market locations along Atlantic Avenue one block in from the beachfront. You can buy a single-day admission ticket for about $3 less and you won't have to pay tax. This will save about $5 per ticket.
Virginia Beach Vacation Market has three Atlantic Avenue locations at 16th, 25th, and 31st Streets. They also offer discounts to other local attractions and restaurants.
---

Try Your Local Library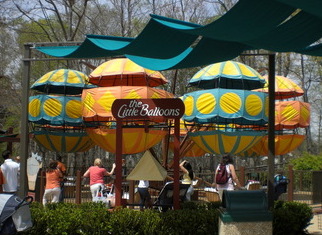 The Little Balloons ride in the Italy section of Busch Gardens Williamsburg is the perfect gentle ride for the kiddies.
Stop by your local library starting in late April or May for Busch Gardens Williamsburg discount tickets--especially once summer hits-- and you may find coupons good for 25% off single-day admissions (up to six) to either Busch Gardens Williamsburg or Water Country USA.
According to my librarian, the "head office" of public libraries in Virginia sends these coupons out to all their branches," so be sure to check your local branch for the coupon! 
---

Two things to keep in mind...
Remember, one drawback to using most discount coupons is that you'll have to wait in line at the park's ticket office to use them. And the lines can get pretty long in the summer! If your time is limited, and you're dying to hop on as many of the top rides as possible, it may be worth paying the extra money to get an online ticket...and bypass the lines! 
Another thing to consider: Williamsburg hotel package deals can provide significant ticket discounts. But be careful! 
I've been told that area hotels sometimes have pamphlets with Busch Gardens Williamsburg discount ticket coupons. But I'm a bit skeptical, since the tourist guides (like the "Colonial Guide") don't generally contain Busch Gardens Williamsburg coupons. Still, you might ask at your hotel. 
So it's buyer beware. Click here to find out what I mean...
Want to search for a great hotel deal in Williamsburg? Click here for a site that lets you compare rates at 30 different sites at once.
---



Check Out These Pages BEFORE You Visit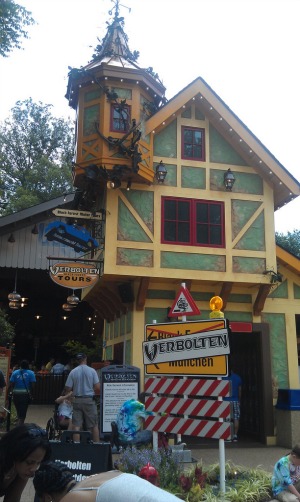 Hold on to your hat when you ride Verbolten!
I've found much more than just Busch Gardens Williamsburg discount tickets secrets. Check out these links to make your visit the best it can be:
Admission Facts & Ticket Deals
Operating Schedule & Park Hours
Money-saving tips, best days to visit, staying cool, and more...
Special Events and Concerts (like Glory in the Gardens)
What's the "scream-ability" of "Griffon"?
Busch Gardens vs. Kings Dominion? 


Virginia Beach Family Fun

›

Busch Gardens
› Busch Gardens Williamsburg Discount Tickets