Hollywood Cemetery in Richmond 

You might say that Hollywood Cemetery in Richmond is where history comes alive (pun intended!).
Who would have thought that a cemetery would be rated the 5th top attraction in Richmond by readers of TripAdvisor? Not me. But now that I've been there, I can understand the lure!
While you can certainly walk around the cemetery for free (and enjoy wonderful views of the James River - if you're there Monday to Friday, DO stop in the office at the entrance and purchase a cemetery map - well worth the $1 fee!), my husband and I loved the Civil War walking tour of the cemetery (more on that below!)

This highly historic, beautifully-maintained cemetery overlooking and providing breathtaking views of the the James River is a little oasis of peace and quiet in middle of the city, not far from numerous other attractions, like Monument Avenue and trendy Carytown.
The cemetery is also within 10-15 minutes drive of some major Richmond attractions, including the following museums which are well-worth your time: the Virginia Museum of Fine Arts, the Virginia Historical Society, Tredegar Ironworks, and the Museum of the Confederacy.
---

Why Hollywood Cemetery is so unique...
So what's this place's claim to fame? How about:
the burial place of two US presidents, James Monroe and John Tyler (plus the president of a "foreign" country, Jefferson Davis, of the Confederate States of America)
a huge, 90-foot, free-standing stone pyramid (which it took an intrepid horse thief to "cap" - I'll explain below)
a plucky iron dog standing watch over a little girl's grave which mysteriously "celebrates" the World Series winner each year
the resting place of 18,000 soldiers, including 25 Confederate generals (more than any other in the nation)
beautifully maintained grounds and a spectacular view of the James River and Brown's Island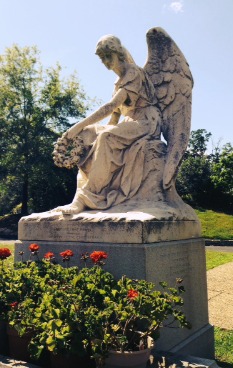 The stone angel that overlooks Jefferson Davis' tomb at Hollywood Cemetery.
The cemetery was founded in 1847, the third in the growing city of Richmond (which had been founded about 100 years prior). But it really came into prominence during the Civil War, when 18,000 soldiers came to be buried there, causing many to come to refer to it as the "Arlington of the South".
Having a "good death" (and decent burial) was particularly important to people of that era, so when the Union victors balked at burying the Confederate dead, a bunch of local Richmond ladies came to the rescue and formed a group dedicated to identifying and properly burying all the dead. Thanks to these ladies' efforts, the cemetery has an unusually complete record of who is buried where on the grounds.
---


Just a few quirky highlights...
There are far too many stories and things to see in Hollywood Cemetery for me to possibly cover so here's more on the highlights (for me, at least). As you make your way through the winding streets and hills of the cemetery, you'll notice a number of graves which look like little bathtubs. These "cradle" graves were made for babies or children who died young (a not uncommon occurence in the 1800s before immunizations). 
Dogs, rattles, and toys, and the World Series
Perhaps the most notable cradle grave is "guarded" by one of the cemetery's most well-known residents: a large, black iron dog statue. When the Civil War came and folks were having to turn in iron to make bullets and munitions to nearby Tredegar Ironworks to be melted down, this statue-- which had graced a local family business-- was at risk of being melted down. 
So the plucky owner donated it to the cemetery as an ornament to stand watch over his deceased daughter, Bernadine. 
These days, it has become a tradition for locals to deposit little toys (plastic rattles, balls, etc.) into the cradle grave. Another tradition is that every year when the World Series is over, someone mysteriously puts the ball cap of the winning team on the dog's head.
Of obelisks, pyramids, and torches
You'll note walking around Hollywood Cemetery that many graves with Egyptian obelists headstones. One tradition was that the higher the obelisk, the more the person had achieved in life. Conversely, a broken obelisk meant that the person's life had ended prematurely.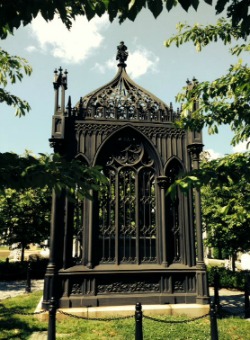 James Monroe's tomb in Richmond's Hollywood Cemetery.
Similarly, keep an eye out for upside down lit torches, either engraved on stone or in the black iron railings around some plots. These also symbolized a life being "snuffed out."
The 90-food pyramid which commemorates the Confederate dead has an interesting history. The ladies league worked hard after the war ended to raise funds for a suitable monument, and built the mortar-free pyramid within four years of the end of the war. Just one thing was missing: the capstone. 
No one was gutsy (or stupid) enough to want to scale a free-standing pyramid with a heavy capstone...until they found a horse thief in a local prison who agreed to do the deed in exchange for his freedom. He managed to successfully scale the pyramid and place the capstone without incident...then slipped away, never to be heard from again.
---


Hollywood Cemetery Hours & Tour Info & Discount
Just a few of the graves at Hollywood Cemetery.
Hollywood Cemetery is open to the public from 8 am to 5 pm year round (closes at 6 pm during Daylight Savings Time). Public tours are offered by the Valentine Richmond History Center Mondays through Saturdays at 10 am, April through October (plus select weekend dates). The cemetery is located at 412 South Cherry Avenue in Richmond. The phone number is 804-648-8501. The website is http://www.hollywoodcemetery.org/
While you can certainly tour Hollywood Cemetery for free, I was pleasantly surprised by the quality and length of the Valentine Richmond History Center tour. We had a wonderful docent who took us up and down hills while constantly regaling us with fascinating historical tidbits.
I took advantage of a spring Living Social deal that got us two admissions for the price of one ($15), but the tour was so good that I'd even recommend it full price. You can get $2 off the walking tour by going to the Richmond Visitor's Center site here.
Valentine Richmond History Center also offers a variety of other Hollywood Cemetery tours, as well as walking tours of Monument Avenue and Richmond bus tours. For details, copy and paste this link in your browser:
http://www.richmondhistorycenter.com/programs-tours/walking-bus-tours
One warning: DO wear good walking shoes and sunscreen and a hat if you're going during late spring or summer. Also, I wouldn't recommend taking the walking tour most days in July or August (too hot!). 
---

Nearby things to do in Richmond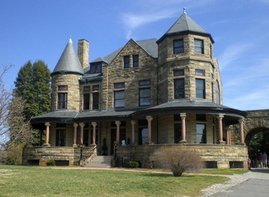 The fabulous Maymont Estate, an excellent example of the Gilded Age.
There are many nearby attractions near Hollywood Cemetery which are well worth a visit. Just down the hill you'll find Tredegar Ironworks and the lovely Canal Walk which has a pedestrian bridge leading over to Brown's Island which was the home of the Confederate States Laboratory which made ammunition during the Civil War.
 - Tredegar Ironworks - You can walk around grounds of the former ironworks, as well as see the National Parks Service Tredegar Ironworks museum (featuring artifacts and excellent videos) for free. Don't miss the photo op next to the metal sculpture of Abraham Lincoln on the hill.
If you're willing to shell out a fee, you can get a deeper appreciation of Civil War history next door at the American Civil War Center at Historic Tredegar (admission is $8). BEST DEAL:  Purchase a Richmond Civil War pass for $18 and you'll get admission to the nearby Museum of the Confederacy and White House of the Confederacy
- Museum of the Confederacy and White House of the Confederacy - Earlier this year I bought a Living Social ticket deal which included admission to these sites plus the American Civil War Center. Visiting all three in one day led to an amazing and well-worth immersion into the Civil War experience. Read about my tour of the Museum of the Confederacy and White House of the Confederacy here.
- Historic Maymont - another wonderful place to enjoy the beautiful outdoors, family fun, and a little Gilded Age culture, this huge former estate can be as free as you want it to be. 
- Great places to eat nearby - Stop by the Virginia Museum of Fine Arts for a delicious lunch at a reasonable cost (with a spectacular view) at their Best Cafe. (Be sure to park in the Virginia Historical Society parking lot next door and you'll save the $3 parking fee.) Or, drive 10 minutes to trendy Carytown for some boutique shopping and fun eateries (my favorite is Greek Cuisine at 3107 W. Cary Street). 
Virginia Beach Family Fun

›

Richmond Attractions
› Hollywood Cemetery