Virginia Beach Family Vacation Blog & Daily Deals!
My Virginia Beach Family Vacation Blog is your source for daily deals and breaking news on travel and ticket discounts in Virginia Beach, Busch Gardens Williamsburg, Colonial Williamsburg, Jamestown, Washington, DC, and beyond.
I'll give you the latest deals-- from hotel stays for 1 cent per night, to free admission days at Virginia attractions-- as well as secrets for visiting the top spots for less.
Plus, I'll give you insider reviews of the best restaurants and free or cheap places to visit. 
To keep up-to-date on deals and reviews, sign up for my RSS feed. Go to the box on the top right of this page where it says "Subscribe to this site" and you'll see an orange RSS button. Right click on it and paste the URL into your RSS reader.
That way, you'll get instant notifications whenever I post a new deal or discount that can save you money, like the latest Kings Dominion or Busch Gardens Williamsburg promo code that could save you up to 50% on tickets!
---

Check out my latest Virginia Beach Family Vacation Blog deals!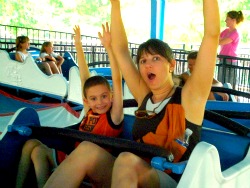 Are you on Twitter? You can always check out my latest deal posts and travel news by finding me on Twitter:
@vabeachfundeals
I regularly post or retweet travel-related information, stories and photos (and deals ranging from free Chick-fil-A days and National Pancake Day) on my Twitter feed.
Ready for the latest news, ticket deals, and travel and entertainment advice for southeast Virginia? Look below:
Howl-O-Scream Member Sneak Peek Rescheduled
Okay, that's a bit of a misleading headline. Busch Gardens Williamsburg's Howl-O-Scream had to cancel their Members' Sneak Peek night thanks to Hurricane Florence. They aren't exactly rescheduling, BUT they are making things up to members by announcing a special Members' Exclusive Night on Oct 4 from 5 pm to 11 pm.
No details have been shared yet, but expect to hear them soon from their Twitter @Busch GardensVA feed.
In the meantime, you can get the Howl-O-Scream facts you need, like hours, operating dates, and ticket deals here.