Why is Carrot Tree Kitchens our Favorite Yorktown Restaurant?

Yorktown restaurant Carrot Tree Kitchens is a lovely place to delicious home-style cooking--and delectable desserts like their sinful Carrot Cake--while soaking up some historic ambience. For our family, Carrot Tree Kitchens passed the test! 

It was time for the annual family reunion, featuring family members from as far away as New York and California. And these people are Italian, so believe me, not just any food will do! (Trust me, you can't imagine how picky they are about food.)
So where could we go for a one-of-a-kind experience with yummy, reasonably-priced food, in a memorable spot that could comfortably seat thirteen? 

While we love going to Norfolk's Bakers Crust with their fantastic desert Nutella and banana dessert crepes, we wanted to do something different. 
So we decided to try a friend's recommendation and spend it at Carrot Tree Kitchens, a quaint and historic stone cottage up on the bluff in Yorktown. 


With eight adults and four grandkids in tow--including a toddler and a crawler-- this Yorktown restaurant couldn't have been more perfect for what we were looking for. They even seated us in a private dining room upstairs under the eaves, so the kids could run around.
---

This Yorktown Restaurant has Home Cookin', History, and Room to Roam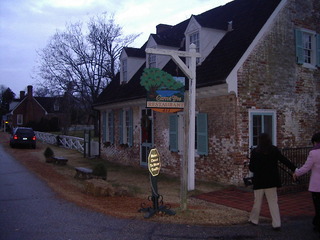 Because there were 12 of us (plus baby), we had reserved one of Carrot Tree Kitchens private dining rooms upstairs (at their old Yorktown location-- more on that later).
(On the main floor, they had two wood-paneled dining rooms, furnished as they would have appeared in an 19th century tavern.)
We walked up the narrow, twisted stairway to a private room which can seat up to 18 comfortably. It had plenty of room on the side for little cousin Noelle to crawl around...and for the kids to play cars while waiting for the food to arrive.
We even had our own private stereo system, complete with period music to set the mood. As we gazed out the mullioned widows at the nearby cottages, we felt like we'd gone back in time about 200 years.
Okay, on to the food. The menu at this delectable Yorktown restaurant leans heavily to salads, crab cake sandwiches, homemade ham biscuits, and unique wraps. The U.S. Grant features smoked turkey, dried cranberries, toasted walnuts, and a blue cheese spread with spinach in a sun-dried tortilla.

Our kids were thrilled to find a kids menu, with PBJ's and grilled cheese with chips and a brownie.

All of the adults decided to go with the special of the day--chicken cordon bleu, with vegies and dessert. Carrot Tree Kitchens is home cookin' at its best...and very reasonable, at $14, including dessert.

Ah yes. The desserts...

With so many of us, we were able to try almost all of them...Dad's Coconut Chess Pie, Perfect Pecan Pie, Sue's Sweet Potato Pie, Ole Olson's Orange Blossom cake, Carrot Cake, and (my favorite!) Grandma's Chocolate Cake.

We gave top marks to Grandma's Chocolate Cake, with chocolate ganache in the middle and milk chocolate frosting...and to the Carrot Cake. Our sweet waitress, Liz, told us that she normally hates carrot cake with pineapple in it. But she added that this carrot cake is made with crushed pineapple, so it adds moisture, without being obviously pineapple-y. 

Our verdict? She was right. It was some of the best carrot cake we've ever tasted.
---

Who was Cole Digges and why were we eating in his house?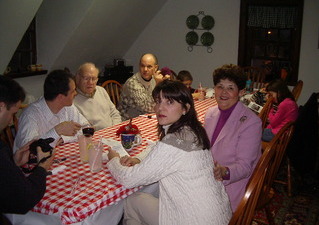 Carrot Tree Kitchens used to be located in the historic Cole Digges House on Yorktown's Read Street, up on the bluff among a smattering of historic houses and antique stores.
While the moved in recent years, the original location, located in the Yorktown historic area, has an interesting history.

Built in 1720, the house is a carefully-preserved, three-story cottage built by one Cole Digges. Digges, son of the area's most successful tobacco grower, owned most the waterfront at one point.

Fast forward 250 years. Restauranteur Debi was challenged by a restaurant manager to produce a better chocolate cake. She did, by calling her grandmother at midnight for the family recipe and shopping and baking till 3 am.

According to Debi, she burned up a few home ovens before buildingher first commercial bakery--in her home garage.

In 1995, she opened Carrot Tree Kitchens, Williamsburg's first scratch bakery in years. She opened the Yorktown restaurant location at the Cole Digges House in 2003.

Now located in Riverwalk Landing (which has the benefit of being in the midst of quaint shops, the restaurant is open for breakfast and lunch 10 am to 4 pm daily. 

Itinerary Idea: Why not make a day of it? Visit Yorktown Battlefield in the morning, stroll along the shops at Riverwalk Landing early afternoon, then follow up with a late lunch at Carrot Tree Kitchens?

Carrot Tree Kitchens address: 323 Water Street, Yorktown. Carrot Tree Kitchens phone number: (757) 988-1999. Click here for the Carrot Tree Kitchens website.
They also have two more locations in the Historic Triangle:
1303 Jamestown Road, Williamsburg
1367 Colonial Williamsburg, Jamestown
Virginia Beach Family Fun