Cheap Colonial Williamsburg VA Vacation? Here's How
When it comes to Colonial Williamsburg VA, it pays to be an insider...an insider, that is, in knowing what the locals know but few tourists ever guess: That you can see much of the Historic Area without ever paying a dime.
And I'm going to tell you how to do it.
Here's what you do: Park your car in one of the downtown lots near Merchant Square. Then, stroll up and down Duke of Gloucester Street (the town's version of "Main Street") and you'll be able to...

enjoy amazing, historic buildings and taverns


observe costumed interpreters in character and ask them questions


see military bands parading up and down the street (like the famous Fife and Drums)


go inside any of the restored historic shops that create and sell historic goods and chat with the costumed workers
...all for free.
What won't you be able to see? Only things that require an admission ticket, like the Governor's Palace. (Yes, it's a great tour which I highly recommend for ages 8 and up if you have the money. But even the basic ticket won't get you into that building.)
And don't miss this great free photo op: The stocks on Duke of Gloucester Street by the Colonial Williamsburg VA Courthouse. In Colonial days, they used them to publicly punish and humiliate criminals. Now, they're fun for the whole family. (Who knew?) 

---

Free events and more things to do without paying admission 
For my family, no Colonial Williamsburg VA freebie visit is complete without visiting Whyte's Candy Shop. Located in Merchant Square, a cute and historic shopping area, it's chock-full of delicious candy and chocolates (make mine dark, please!). They even have a yummy line of sugar-free chocolates.
Don't miss the famous Binn's department store (great quality stuff), and other specialty shops, like the Virginia Shop, where you can buy buy everything from Virginia peanuts to Smithfield hams, Colonial Williamsburg-themes goods, and even miniature lead toy soldiers.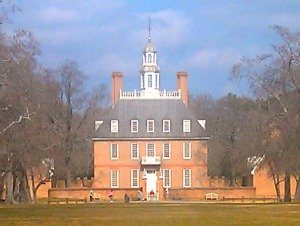 The Governor's Palace at Colonial Williamsburg
You'll be sure to go home with a unique gift or memory. But since it's a tourist area, things aren't cheap. So you may want to save your bucks for the outlet stores (see below).
The area also offers many free events throughout the year, including the following:
The Summer Breeze Concert Series - a favorite family freebie!
Don't miss Colonial Williamsburg Va's annual Summer Breeze Concert series. On select Wednesdays during July and August these free concerts take place in Merchant's Square near the Historic Area. Concerts begin at 7 pm (although you may want to arrive at 6:30 pm to snag a good spot to put your lawn chair and purchase some ice cream).
Bands may include the following: U.S. Air Force (USAF) Heritage of America Band, Central Virginia Jazz Orchestra, USAF Heritage Brass Ensemble, USAF Rhythm in Blue Ensemble.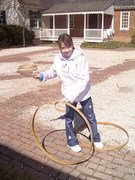 Playing the colonial game "hoops" in the Historic Area.
Here is the 2017 line up:

July 5 - 504 Supreme
July 12 - Bobby Blackhat Band
July 19 - Dharma Bombs
July 26 - Good Shot Judy
Aug 2 - Trutone Honeys
Aug 9 - The Michael Clark Band
Aug 16 - US Air Force Heritage of America Concert Band
Aug 23 - US Air Force Rhythm in Blue Jazz Band
Aug. 30 - US Air Force Heritage Brass Ensemble
For details, go to Merchantsquare.org. 
More free summer events:
Saturdays, May - October - Farmers' Market, 8 a.m. - Noon, Duke of Gloucester Street

Sundays, June - October - Free Movie Night, 8-10 pm, Prince George Street
Second Sundays - April - December - Second Sundays Festival of Art & Music on Prince George Street from 3 to 6 pm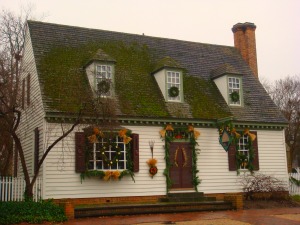 A house decorated for December's Grand Illumination at Colonial Williamsburg VA. You can see it for free!
Hear/see the famous Fife & Drums for free

You can see the renowned Fife & Drums band (in their full Revolutionary War regalia) for free IF you know when to catch them. This website will show you the upcoming dates for their free marches.
Don't miss the Grand Illumination!
The first or second Sunday in December, celebrate the start of the Christmas season with the annual Grand Illumination. All the stores and historic buildings-- lavishly decorated for the holidays-- will suddenly come ablaze with candle lights, roaring wood fires, and fireworks.
The Grand Illumination is held on the first Sunday of December from 4 pm to 8 pm. Go to www.colonialwilliamsburg.com/plan/calendar/grand-illumination/ for more information. For more information, see www.merchantssquare.org or call 757-259-0209. 
---

Looking for an inexpensive place
to stay near Colonial Williamsburg VA?
The Colonial Williamsburg VA area offers many different places to stay-- some cheap, some luxurious. If hotels are your style, click here for secrets for getting a great hotel rate...
Camping more your speed? Williamsburg has some wonderful campgrounds, such as the Williamsburg KOA (it even has its own shuttle stop for the dedicated bus traveling between Colonial Williamsburg Va and other local sights).
Click here for more on great Williamsburg campgrounds, including our top recommendation: the Williamsburg KOA campground.
---



Pick up a free Visitor's Guide
Another great way to save on a Colonial Williamsburg Va visit: Pick up a free visitor guide. You'll find current ones at local attractions, hotels, and restaurants, and they're full of coupons saving you money on dining, shopping, and attractions, plus offer helpful maps. Guides include:
"The Colonial Guide"
"The Original Williamsburg Magazine"
"The Official WHMA Visitor's Guide"
My favorite is "The Colonial Guide" thanks to its compact size (perfect for slipping into a purse or backpack). What I like about the "WHMA Visitor's Guide" is that it frequently offers a discount card you can tear out and stuff in the Colonial Guide. 
---



Looking for a great and




inexpensive place to eat?
Eating in a Historic Area tavern is a memorable experience, BUT...it's not cheap. Besides the food (which is excellent) you're paying for being served by costumed interpreters, including serving "wenches". The King's Tavern is a local favorite for both service and food.
But if you want to save money, go outside the Historic Area. Just a 5-10 minute drive from the Historic area are our two favorite local spots:Peking Restaurant and Pierce's Barbeque.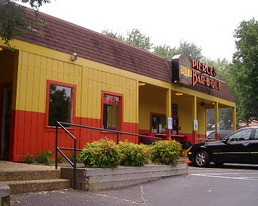 Pierce's Pit BBQ is the perfect cheap eats spot for Colonial Williamsburg and Great Wolf Lodge.
They've been our favorite eateries for the last 18 years whenever we're in Colonial Williamsburg VA. Peking Restaurant is a huge, all-you-can-eat buffet offering Chinese, Hong Kong dim sum, sushi, Mongolian BBQ, pizza and french fries, and my favorite: soft-serve ice cream (at no extra charge).
A little further afield (off I-64, not too far from the Premier Outlets) is Pierce's Barbeque, renowned throughout the area for having excellent barbeque fare.
Both restaurants offer great food and a big bang for your buck. For the full review of Peking Restaurant and Pierce's Barbeque, click here. 
---



Find bargains at the




Williamsburg outlets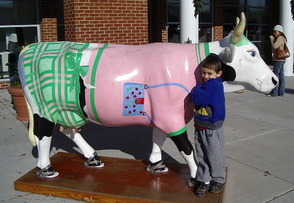 Premier Outlets at Williamsburg used to have these funny cow sculptures. Unfortunately, they're gone now, but the amazing deals remain.
Yes, the shopping is heavenly near the Historic Area. But prices at Colonial Williamsburg VA can be steep.
More of a bargain-hunter like me?
Hop in your car for ten minutes and you'll find complex after complex of outlet shops. Click here for my reviews of the Premier Outlets Williamsburg and the newly-renovated Williamsburg Pottery.
And just a mile or so east of the Premier Outlets, don't miss the Yankee Candle Factory. This wonderful complex is like a little mini-shopping center/amusement area featuring candles, a free entertainment show for the kids, and "snow" that falls from the ceiling in the Christmas store. 
---


Free ferry rides...and more things to do in Williamsburg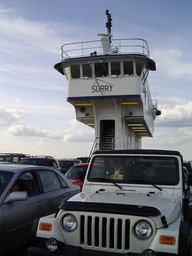 Take a free Jamestown Scotland Ferry ride!
For a little side excursion from Colonial Williamsburg VA (just a stone's throw from Jamestown) take free the Jamestown Ferry. You'll get a lovely, peaceful view of the James River (and a great river's-eye view of Jamestown Settlement and Historic Jamestowne). For all the details, go to my Jamestown-Scotland Ferry page.  
Looking for more to do in Williamsburg?
There are so many things to do in Williamsburg, from Great Wolf Lodge, to Busch Gardens and Water Country USA, to the Virginia Shakespeare Festival.
For my dedicated Williamsburg page, click here. 
Virginia Beach Family Fun

›

Colonial Williamsburg
› Colonial Williamsburg VA Freebies & Deals