Virginia Beach Neptune Festival
The annual Virginia Beach Neptune Festival is more than just a yearly event featuring free musical entertainment, delicious food, over 300 crafts booths, Surfing and Volleyball competitions, arts & craft shows, an Atlantic Regatta, fireworks, and the Grand Parade.
It's also the site of a fierce competition between local and international sand sculptors...and sand sculpting cities! (Virginia Beach likes to duke it out with Myrtle Beach for the World's Largest Sand sculpture contest!)
While the highlight-- the Boardwalk Festival-- takes place Sept. 30-Oct. 2 along 5th through 10th Streets at the Virginia Beach Oceanfront, it also includes weeks of fun events, including the following: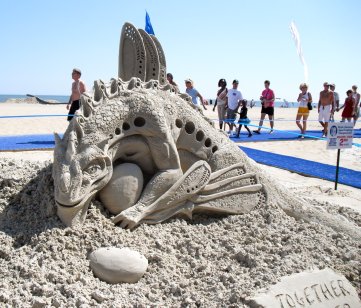 Godzilla emerging at Virginia Beach.
Endless Summer Beach Bash - Aug. 29 

Cavalier Beach Club, 42nd and Atlantic, 8 pm - 12 am

Say "good-bye" to summer with "endless" food and dancing. Prices: $100 per individual ticket, $2,500 per table, $5,000 per cabana. 
Annual Neptune Fall Wine Festival - Sept. 12-13
Neptune's Park 31st Street, 12:00 pm - 5:00 pm

Sample fine wines and food at this fine wine extravaganza. More than a dozen top-notch Virginia vineyards (including Trump Winery and Barboursville Vineyards) will be on hand to let you taste merlots, chardonnays, rieslings, and other fine specialty wines while shopping local craft and wine accessory vendors.
Tickets for Saturday are $30 in advance and $35 at the door. Tickets for Sunday are $25 in advance and $30 at the door. For more information, call call 757-498-0215.
The "hair" on these twins is amazingly life-like.
Seniors' Gala Ball - Sept. 2 
Cavalier Beach Club, Virginia Beach Oceanfront 

7:00pm - 10:00pm
Kick off Virginia Beach Neptune Festival events with this special Seniors Gala Ball at the Cavalier Beach Club on the oceanfront. Dance the night away to Big Band music. Just $10 per person gets you in to dance, listen to music, sample refreshments, enjoy a cash bar, and meet King Neptune and his Royal Court. 

Virginia Beach Neptune Festival Boardwalk Weekend
41st Annual Virginia Beach Neptune Festival Boardwalk Weekend Events 
Sept. 25-27 
18th-32nd Streets 

Hours vary by the event, but most events are absolutely FREE to viewers!
Surfing Classic - Sept. 12-13
8th street, 7:30 am to 11 am - Call (757) 696-1050 for details.

Arts & Craft Show - Sept. 25-27
8th street, Noon to 7 pm Friday, 10 am to 7 pm Saturday, and 10 am to 6 pm Sunday 
Viewing is free and open to the public.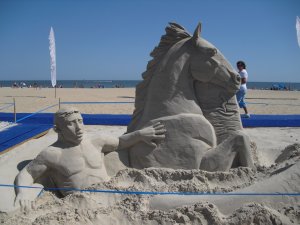 Poseidon emerges from the sand at The Virginia Beach Neptune Festival.
International Sand Sculpting Show - Sept. 25-Oct. 4 

5th street - 10th Street 
View over 300 sculptors in three divisions as they create true works of art. This year, they have an extended 10 full days in which you can view the sand sculpting (and it's free!).
This year, they'll also be offering "Neptune's Kingdom, Land of Sun," a huge, football-sized covered tent, which will house 22 sculptures created by 12 solo and 10 doubles teams! Sculptors will compete for the biggest money prize given in the US for san sculpting. Don't miss Teaching demos and live "QuickSand" competitions.
Atlantic Regatta - Sept. 26, 8 am to 3 pm 
All day along the ocean, see cruisers and catamarans sponsored by the Broad Bay Sailing Assoc.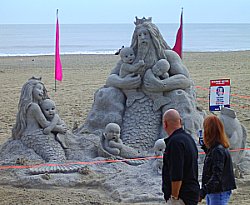 Could you build a sand castle like this one at the Virginia Beach Neptune Festival?
Volleyball Tournament - Sept. 26-27
32nd-36th Streets at 9 am
Fireworks Celebration - Sept. 26 

14th Street Pier at 9 pm

Youth Art Show - Sept. 27 
27-28th Streets from 10 am to 5 pm

Grand Parade - Sept. 26
16th to 32nd Street, 11:30 am - 1 pm 
For more details, go to the event's website.
---

Looking for more things to do in Virginia Beach?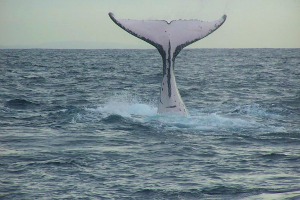 Save time and money by checking out these links:
And don't forget to subscribe to my Virginia Beach Blog for daily updates on ticket deals, coupons, and more.
So don't miss the Neptune Festival, that grand-daddy of Virginia Beach events...and all the other amazing things to do at Virginia Beach! 
Can't find what you're looking for? Go to my Site Index
Virginia Beach Family Fun

›

Virginia Beach Events
› Virginia Beach Neptune Festival