ACM Reciprocal Program Lets You Visit Museums for Free!
What is the ACM Reciprocal Program and how can it help you plan a cheap family vacation? Well, how would you like to visit a children's museum -- for free?
The ACM (Association of Children's Museums) deal lets you buy a membership at one children's museum, enjoy free admission for one year at that museum, plus get into 150 participating centers around the world...at no extra cost
For example, let's say you live in lovely Charlottesville, VA. You buy a family membership at the Virginia Discovery Center there. Cost: $80. You visit the museum at no charge several times that year, more than paying for your membership fee.
BUT, you also use your membership to visit several other childrens' centers (in Virginia or in other states) this same year--for free.
Your savings in one year could easily amount to well over $200! You could save even more...it just depends how much you travel, and how often you visit!

AND...some children's museums (like the Virginia Discovery Center) also automatically give you membership in the ASTC Passport program.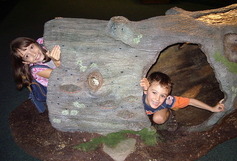 Having fun at the Virginia Living Museum.
So you also get in free to over 250 science centers around the world, including The Science Museum of Virginia in Richmond, and the Virginia Air and Space Museum in Hampton, VA.
See how the savings can add up?
---

Participating ACM Reciprocal Program Museums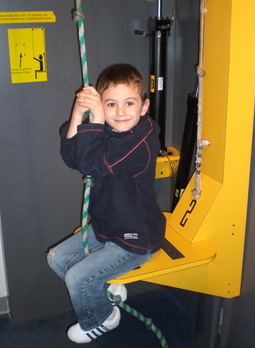 Kids love the ACM-reciprocating Childrens Museum of Portsmouth.
Here are the participating Centers in Virginia - 

The Portsmouth Museums (the Children's Museum of Virginia, Courthouse Galleries, the Lightship Museum, and the Naval Shipyard Museum)
Amazement Square (Lynchburg)
Children's Museum of Richmond
Harrisonburg Children's Museum
Shenandoah Valley Discovery Museum (Winchester)
Virginia Discovery Museum (Charlottesville)

Are there any participating kids museums near you? Click here for a list of program participating centers around the world.
---

Your membership can even save you money overseas!
Here's another example of why these reciprocal programs work so well.

One year, we bought a membership at the Science Museum of Richmond, which belongs to the ASTC program. We went to the museum several times, plus took advantage of free reciprocal admission to the Virginia Living Museum and Nauticus in Virginia.
Visiting relatives in Southern California, we used our membership to visit the Santa Barbara Living History Museum for free. Then, when we visited Bermuda that same summer, we got into a science museum in Bermuda for free. We spent $90 for something that would have cost us hundreds of dollars had we done it ala carte!
Virginia Beach Family Fun

›

Discount Travel Deals
› ACM Reciprocal Program