Best Bargains in Williamsburg Restaurants!

Looking for great (and cheap) Williamsburg restaurants near the Historic Area and Great Wolf Lodge Williamsburg for a meal that will satisfy you and won't break the bank?
Well, you could take my word for it (and I hope you do). But I haven't eaten everywhere in Williamsburg (sob-- although maybe that's a good thing, since there are so many great restaurants to choose from). And there can be safety in numbers (after all, what if you don't agree with my review?). 

So here's what I'll do. I'll tell you MY top picks for cheap Williamsburg restaurants, THEN share the results of one Virginia Gazette's "Best of Williamsburg" poll based on what their local readers recommend for dining out in and around the Historic Area and beyond. Then you can make your own decision about where you should spend your hard-earned dining dollars. 

Sure, I could direct you to a variety of fabulous but expensive restaurants I love (La Yaca, a lovely French restaurant comes to mind with its prix fixe menu and my favorites, lobster crepes and chocolate mousse). But I love to save money, so I'll limit my self to my cheap Wiliamsburg restaurants picks.

---

My Family's Top Picks for Cheap-But-Great Williamsburg Restaurants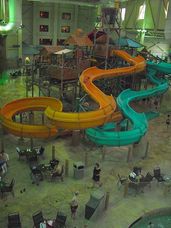 Great Wolf Lodge followed by dinner at Peking Restaurant-- A great combo!
Here's OUR two picks for the top bargains in Williamsburg restaurants:


1) Peking Restaurant -

An inexpensive buffet powerhouse, such a delicious (and filling) bargain that we've been going here for years. From sushi to Thai, BBQ to french fries, donuts to ice cream, you can find it here. Cuisines include Chinese, Mongolian BBQ, Korean, Vietnamese, Japanese (their sushi -- transported on an endless sushi "train"-- is plentiful and delicious--I recommend their California and spicy rolls!), and Hong Kong-style dim sum.
You can literally stuff yourself silly here, so it's a great option if you want to maximize your dining dollars. If you can (believe me, it's tough), try to leave room for some self-serve vanilla and chocolate ice cream. It's probably the best, most comprehensive Chinese buffet I've ever been to. And it's just a short drive (5 minutes) from Colonial Williamsburg and a 10 minute drive from Great Wolf Lodge.

Peking Restaurant it located in Kingsgate Shopping Center, just a block or two from Pirate Golf. They're open 7 days a week for lunch and dinner. Cost: Lunch is $6.99 Monday-Friday and $7.99 weekends; dinner is $10.99 daily.

Peking Restaurant's phone number: 757-229-2288. Peking Restaurant address: 120 Waller Mill Rd # J, Williamsburg, VA. Here's a Google map to Peking Restaurant.

(They also serve take-out, so why not pick some up and have a picnic on Duke of Gloucester Street as you watch the costumed interpreters walk by?)


2) Pierce's Barbeque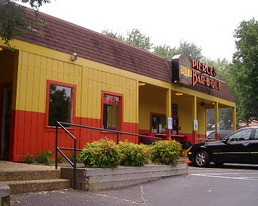 Just off the interstate (and literally one mile east of Great Wolf Lodge), this unique fast food spot is a BBQ-lovers' dream (and close to both Prime Outlets Williamsburg and the Williamsburg Pottery.

They have delicious pulled-pork and pulled-chicken sandwiches, tantalizing ribs, and the funkiest sweet potato fries I've ever tried (bigger than your thumb, crunchy on the outside and creamy on the inside).

Inexpensive, but so famous among Williamsburg restaurants that it's always packed. Don't worry--it's a fast food joint so you won't have to wait long for a table. Or, just eat it in your car on your way to buy more Williamsburg shopping bargains.

Pierce's Barbeque phone number: (757) 565-2955. Peking Restaurant address: 447 E Rochambeau Dr, Williamsburg, VA. Here's a Google map to Pierce's Barbeque.
---

Virginia Gazette's "Best of Williamsburg" Restaurants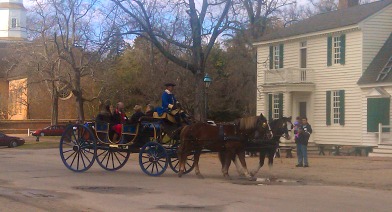 Readers of The Virginia Gazette have voted Old Chickahominy House, Peking Restaurant, Berret's Seafood Restaurant and Taphouse Grill, and the Trellis Restaurant among their top restaurant picks for "The Best of Williamsburg."

Readers voted in 90 categories. Here are some of the highlights of Williamsburg restaurants:

Best Chinese Restaurant: Peking Restaurant, long known as one of Williamsburg's best bargains (see our review above). Tops China took second and Mr. Liu's took third.

Best Homemade Soup: Old Chickahominy House on Jamestown Road (second year in a row!). Panera Bread and Victoria's came in second and third places, respectively.

Best Fast Food: Chick-Fil-A's Monticello Marketplace location took first place, while its Mooretown Road location took third. Drive-in burger joint Sonic, on Rochambeau Drive next to Wal-Mart, placed third.

Best BBQ: Pierce's on Rochambeau Drive won first again. Hog Wild Smokehouse in Toano came in second, followed by Red, Hot & Blue on Richmond Road.


Best Italian: Sal's by Victor (it won for "Best Pizza" too). 

Best Steak House: Outback Steakhouse on Richmond Road, followed by Aberdeen Barn, and Fireside Chophouse. 


Best Seafood: Berret's Seafood Restaurant and Taphouse Grill in Merchants Square (it also won for the "Best Crab Cakes"--it's eighth win in this category!). Second and third place: Backfin Restaurant on Strawberry Plains Road, and Fireside Chophouse. 
Best Deli Restaurant: New York Deli, followed by Paul's Deli and Florimonte's Deli.

Best New Restaurant: Food For Thought on Richmond Road. Second place went to Panera Bread in New Town. Third went to Carraba's Italian next to Yankee Candle.

Best Mexican: La Tolteca came in #1 (10th straight year!), followed by Casa Maya and Tequila Rose.

Best Ice Cream: Bruster's Ice Cream in the Williamsburg Crossing Shopping Center (4th year in a row), followed by Cold Stone Creamery and Ben & Jerry's.

Best Candy Store: Wythe Candy in Merchant's Square.


Virginia Beach Family Fun