Super Deals at
Colonial Williamsburg Hotels
Looking for a great deal at Colonial Williamsburg hotels?

There are tons of places to stay in and around the Williamsburg area, and there are many price options too (scroll down for our latest cheap hotel secrets).
The rates vary wildly, from place to place, date to date, weekend to weekend, so use these as a guideline and then check them using the HotelsCombined source below.
Here are just a few Colonial Williamsburg hotels to give you an idea of what you'll spend: 

Big, big bucks Kingsmill Resort and Spa ($230-$1075 per night) 

Big bucks Williamsburg Lodge ($155-275), Williamsburg Woodlands Hotel & Suites ($115-195), or Embassy Suites ($150-220)

Reasonable bucks Country Inn and Suites ($89-159), Howard Johnson Williamsburg ($89-120) 


(Relatively) Little Bucks Red Roof Inn ($59-99)
Here's a great resource from HotelsCombined that lets you search rates at Colonial Williamsburg hotels from multiple online booking sites at the same time.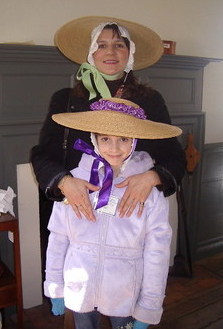 Dressing up at the Ben Powell House at Colonial Williamsburg
Just enter in your check-in and check-out dates and the name of the city where you want to stay. (Note: the search may take a minute or more, since they're searching multiple sites.)

You'll get back a list of Colonial Williamsburg hotels with room prices, hotel ratings, and --best of all, in my view-- reviews from people who've stayed there. Sort them by price, reviews, location and more. Try it!

If you're looking for everyday cheap deals, keep reading.
---

Tips for getting really cheap Colonial Williamsburg hotels...

Do you stop at rest stops? You may want to now. While you're there, be sure to pick up these publications (also available in restaurants, hotels and attractions in the greater Williamsburg/Virginia area):

Room$aver Traveler Discount Guide

VA-DC-MD-West VA-DE Travel Coupons (travelcoupons.com)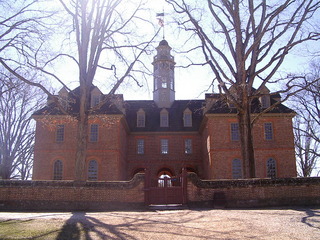 The Capitol Building at Colonial Williamsburg.
Published monthly, they're free and they feature coupons for Colonial Williamsburg hotels. And the prices are good! They claim to have better discounts than online sites too. Here's a sample of hotels that are within a few miles of both Colonial Williamsburg and Busch Gardens Williamsburg:

Quality Inn Kingsmill - coupon is good for 10% off the regular room rate (good for 1-4 people) -- they offer free breakfast, a pool and game room

Howard Johnson Williamsburg - coupon good for $69 room Sun-Thurs. (1-5 people) -- includes indoor pool, hot buffet breakfast, complimentary local calls (they're pet-friendly too!)

**Great Deal!***Travelodge King William - $55 (1-2 people - weekends/holidays higher) -- kids under 17 FREE, free continental breakfast, outdoor pool PLUS they offer discount tickets for Busch Gardens Williamsburg ($6 off) and Colonial Williamsburg!

Do these rates sound too good to be true? There's a few catches: they're only good for walk-ins (no booking ahead) so you run the risk of finding a "no vacancy" sign, especially during the summer. And some coupons aren't good on holidays and weekends, or may have weekend surcharges (like an extra $10 per day).

But if you're trying to save money and don't have to plan ahead, they can help you save big on Colonial Williamsburg hotels!

***Don't forget! One way to get free nights at hotels is to join a hotel loyalty program. By sticking with one chain, you'll earn points that can get you free nights in the long run. One example is Best Western.

Hey! These guides also offer discount coupons for Virginia Beach hotels. To see a sample of the hotel deals for Virginia Beach, click here.
---

Stay at a Hostel
One way to really save money is to stay at a youth hostel. Next to camping, it may be your cheapest option. Here's a hostel I've found in Williamsburg:  (Just remember: While it's really cheap, it's REALLY basic, so don't expect much!)

Pineapple Inn & Housing Center - 5437 Richmond Road, Williamsburg

For $15 a night, you'll get the following: Laundry, Air conditioning, Outdoor Swimming Pool, free WiFi and internet, cable TV, linens and showers.

The best way to check on availability is through Hostels.com.

Note: This appears to be the only hostel in Williamsburg.
---

Inside Tips & Ticket Deals for Visiting Area Attractions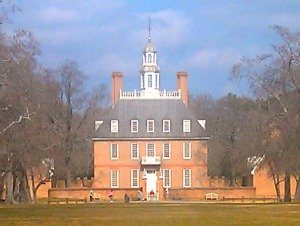 Governor's Palace at Colonial Williamsburg
How can you get into local attractions for less? Which ones are worth visiting anyway?

Those are questions which spur us on to constantly review new Virginia vacation attractions, hotels, and restaurants, as well as scour the web searching for the best travel deals, discount ticket, and other ways to save you money on your Virginia Beach family vacation getaway.

If you're planning a visit to Williamsburg, be sure to read our pages on Williamsburg attractions, the best places to eat in Williamsburg, where to shop including Prime Outlets and The Pottery, and best area campgrounds. And don't miss our guide for seeing Colonial Williamsburg on a dime, the "Secrets of a Cheap Colonial Williamsburg Vacation". 

Click on the links below for reviews, insider tips, and discount ticket secrets for the following sites:  Busch Gardens Williamsburg and Water Country USA, Jamestown and Yorktown.

Virginia Beach Family Fun