Busch Gardens Events for 2017
What are the 2017 Busch Gardens events for their Williamsburg location? Well, the park offers great shows daily, including the new "Roll Out the Barrel" and "Sunny Days Celebration," as well as "Celtic Fyre" (an Irish step dance extravaganza), "The Secret Life of Predators," and the ever-popular "More Pet Shenanigans." 

But they also offer a variety of special events and musical acts during the season. So here's the latest scoop on upcoming events during the spring/summer season (including their summer lights/fireworks extravaganza "Star Spangled Nights"), details on Christmas Town and Howl-O-Scream, a link for military discounts, and details for finding discount tickets and tips for making your visit the best it can be.
---

Busch Gardens Events in the Spring/Summer
All Spring and Summer events are included in the cost of admission! (Click here to learn how to get discount tickets.)
And before you make plans to attend these events, check my Busch Gardens Hours & Operating Schedule.

Jack Hanna Weekend - April 25-26 - See world-famous conservationist and animal expert Jack Hanna and some of his "animal ambassadors" at the park -- included in admission.

Choo Choo Soul - April 23 - Enjoy three performances by these popular kids performers in Il Teatro San Marco in Italy.  

Laurie Berkner - April 30 - Kids of all ages will be able to bop and wiggle to three performances by this artist in Il Teatro San Marco in Italy.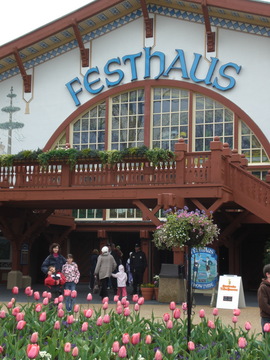 Don't miss the great German food and shows at Das Festhaus at Busch Gardens Williamsburg.
Food & Wine Festival - Weekends, May 26-July 2 - From 11 am until one hour before park closing, purchase sample-sized tastings of delicious gourmet foods and wines you won't normally find in the park, such as coq au vin and schnitzel. There's no extra charge to attend the festival, but tastings range from $3 to $7. 
"Kidsiderate" Concert Series 
Select groups will perform live - free with regular admission!
May 6 - Choo Choo Soul with Genevieve
May 13 - The KidZBop Live
May 20-21 - Teen Stars Live
Fourth of July Fireworks Extravaganza - July 3-4, 9:15 pm nightly
Celebrate our nation's birthday with Bush Gardens Williamsburg by day and a fantastic fireworks display by night. Best fireworks viewing spots: Italy, Germany, and of course, from the top of Griffon!
Summer Nights - Weekends, July 1-August 31
Every Saturday and Sunday July through August, the special events start after dark, with special entertainment and special food experiences to shake up the night time atmosphere. On select dates, you can also enjoy first-rate music with their Summer Nights Concert Series featuring popular rock, country, and Christian artists performing in the Royal Palace Theatre.
July 8 - Chase Bryant and Cassadee Pope
July 15 - Josh Turner
July 22 - Jeremy Camp and Rend Collectve
July 29 - Mercy Me
August 5 - 38 Special
August 12 - Kool and the Gang
August 19 - Lighthouse & Switchfoot
August 26 - Ne-Yo
Labor Day Weekend Concert - to be announced
One of the most popular Busch Gardens events, celebrate the end of summer with a concert. Previous years' concerts were headlined by Peter Noone, of Herman's Hermits fame. No word yet on who is participating this year.
Bier Fest - Sept. 1-4, 9-10, and 16-17 
The last of the Busch Gardens events for the summer season, celebrate the start of fall with a celebration of 200 years of Oktoberfest, featuring beer sampling and more.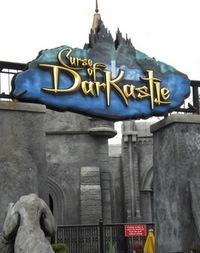 Howl-O-Scream - select dates and weekend, Sept. 23 - Oct. 29

Howl-O-Scream will celebrate its 144th year of chills this year-- and it's still available at no extra charge (for season passes and Fun Cards) at this scariest Busch Gardens events! Get spooked at the haunted houses, "scare zones" and spooky shows, and learn why so many people make this a must on their Halloween list. See below for a link for my dedicated Howl-O-Scream page.
Christmas Town - Select dates, the third week of November - Jan. 1.
See below for more on these holiday Busch Gardens events.
---

Howl-O-Scream and Christmas Town!
Howl-O-Scream
Even when the park closes for the summer, the fun doesn't end. After a two-week hiatus in early September, the park comes alive during weekends through October for the Halloween-themed Busch Gardens event called Howl-O-Scream.
Unless you have a season pass, this is a separate ticketed event. So go to my dedicated Howl-O-Scream page for this year's rides, hours and operating schedule, and the latest Howl-O-Scream discount tickets and promo codes.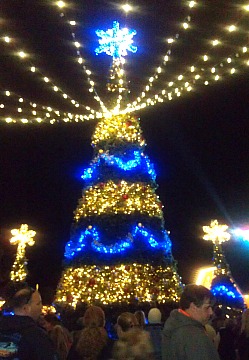 Christmas Town
When Thanksgiving rolls around, do what my family did last year: start of your holiday season with a visit to the park's Christmas Town event, as millions of shimmering lights transform the park into a winter wonderland.
Santa and roller coasters? Yes to the first, it depends to the second. Of course, Santa will make a visit each night. As for the rides, as the official website states, "Some rides and attractions are weather dependent" (and won't be open), while others adapt to the season. For example, instead of taking death-defying drops like the rest of the year, Mach Tower slowly moves up and down for a bird's eye view of the beautiful twinkling lights.
Depending on the weather, "Griffin" is one coaster that's open. But you'll have to forgo rides like "Escape from Pompeii" and "Roman Rapids." (No problem here: While I love getting wet on these rides in July, the thought of braving them in chilly December is just too much to bear!)
Christmas Town will be open Fridays, Saturdays, and Sundays November and December. To learn more about Christmas Town, including admission, go to my dedicated Christmas Town page.
---



How to Get a Military Discount
Are you an active member of the military? Anheuser-Busch has long offered a military tribute to the troops by continually renewing its "Here's to the Heroes" program. The program--offered at all Anheuser-Busch parks nationwide-- offers free admission to service members and their families. Click here for details on how to get in free to Bush Gardens Williamsburg and other parks, plus other valuable military discounts...
---



How to Make the Most of Your Visit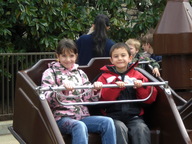 As a season pass holder, I have the inside scoop on the best of Bush Gardens Williamsburg. So I can tell you the best day of the week to visit, how to save money, which are the best shows, reviews of rides like Griffon, and other tips you need to make your family vacation getaway a blast. You'll find my important tips and recommendations by clicking on this link.
Then, there are our extensive tips on how to get the deepest discounts on tickets and season passes. Here's my exclusive discount ticket information. 
Looking for more attraction reviews, travel deals, or ticket discounts? Go to my Site Index
Virginia Beach Family Fun

›

Busch Gardens
› Busch Gardens Events