Busch Gardens Virginia Deals & Admission Facts 
Looking for Busch Gardens Virginia discount tickets and coupons, plus the free Preschool Pass and 2-Park deal?
See my 2017 online ticket info below to make sure you get the lowest price possible!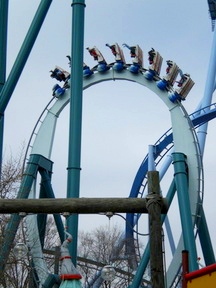 Look no further!
The park has admission prices comparable to most other big-name theme parks.
But if you're looking for a cheap Virginia Beach family vacation getaway, you have to work hard to get the best discounts and maximize your dollar..especially in these tough economic times. Luckily, I've got some fantastic deals for you-- you may even be able to get in two parks for the price of one!
Busch Gardens Virginia Single-Day Admission Rates

Adults (ages 3 and up): $55-$88 depending on the date you choose to visit. ($90 at the door)
NEW FOR 2017 - It pays to plan ahead!
The park is now offering something different for tickets which is similar to what they tried with the last Christmas Town. Online tickets must be purchased with a date in mind and the price changes depending on these factors: 1) how far in advance you're buying (prices for a day or two from the purchase date will pay a premium), and 2) how popular the date is.
So if you can plan ahead and buy a few weeks in advance, plus pick a weekday, you're more likely to get single-day ticket prices in the $60's or $70's. The same goes for Water Country USA tickets, and for their Summer Bounce Ticket, which gives you unlimited admssion to both parks for 7 consecutive days.
Children 2 and under are free 

Save big by getting a free Preschool Pass (ages 3-5) by registering for the pass by May 31. It's good for both Busch Gardens AND Water Country USA all season long.
The bad news? Single-day ticket prices for adults are up $5 over the last 5 years. The good news? I've always found many ways to get you in on the cheap!
Up until the last five years (when just about everything in the world has skyrocketed) Busch Gardens has been pretty good about trying to minimize price increases over the years. Here's where they've been making up for it: parking.

Daily parking is not included in ANY single-day Busch Gardens Virginia tickets. The real bummer is that I used to be able to give you a link to save you $2 on a daily parking pass. 
Unfortunately, penny pinching at the park has eliminated even that deal, so you have to pay the full $15 per visit now. 
Click here to find out how to get summer season ticket deals, promo codes, and discounts!
Don't Forget...
Remember to check my Busch Gardens Virginia Hours & Operating Schedule page to find out when the park's open and look for upcoming special park events on my Busch Gardens Events page.
---



Save Money with a Fun Card
NEW - Save $30!
Single-Park Fun Card - $60 for unlimited visits to one park through Sept 4 (does not include parking).
At the start of the season these cards were $90 each, so when I saw the price had dropped to $60, I was amazed, since I've never seen then drop the Fun Card price mid-season. I don't know if this is a temporary deal, but my guess is that they'll keep it at $60 for the rest of the season (through Sept. 4).
EXPIRED: Early-Bird Fun Card Deal - Get TWO parks for the price of ONE:
Buy your unlimited admission Fun Card by March 31, and you'll get TWO parks for the price of one. That's right: They'll throw in Water Country USA for free. That gives you unlimited admission to Busch Gardens from March 25 through the start of Sept. 10 as well as unlimited admission to Water Country USA from May 20 through Sept. 10. 
Regular Season 2-Park Fun Card--

Buy your card after March 31 and you'll pay $115 for the 2-park card.  
Check out this way to save more...

One hybrid option you may consider for families: Have one person (Mom or Dad) buy a season pass and the rest of the family buy Fun Cards. The person with the season pass will pay more, but if you go multiple times, it will pay for itself in free parking PLUS if that person does all the food purchasing, you'll save 10% on food and shopping purchases. (See more on season pass benefits below.)
---

FREE Preschool Pass &
"Twilight Ticket" Deal
Preschool Pass
Kids 5 and under can get a free Preschool Pass giving them unlimited admission to both Busch Gardens and Water Country USA through the end of the season. This saves you $80 per child (the regular price for kids 3 and up)! Note that you have to register for your Preschool Pass no later than May 31. 
Register online at the park's website and bring in the registration confirmation and a valid ID (a birth certificate or a passport) to the park. 
"Twilight Ticket" deal?
A few years ago, they offered a "Twilight Ticket" during the summer season and during Howl-O-Scream. Visitors paid just $50 for admission, dinner, and a beverage when they visited the park after 3 pm.
You'd save money...and be able to enjoy the park during cool evening hours, plus experience evening events which occur from time to time, like fireworks extravaganzas. Unfortunately, they did not offer this deal the last few years, but I'll keep you posted.
---



Busch Gardens Virginia Deals We May See Again This Year
7-Day, 2-Park Summer Flex Tickets - 
NO WORD ON WHETHER THIS TICKET WILL BE OFFERED IN 2017, SO HERE IS THE INFO THE LAST TIME THEY OFFERED IT TO GIVE YOU AND IDEA OF WHAT TO EXPECT:
At $85-$95, this deal is good for unlimited admission for up to 7 consecutive days to both Water Country USA and Busch Gardens during the regular season.

"Bring a Friend" Deal - In past years, Virginia residents were able to buy one single-day adult ticket and get a second one for a friend for free. They didn't offer it recently, but I'll keep an eye out in case they revive it this year. 
---



More Multiple Day Ticket Deals
Busch Gardens Williamsburg and Colonial Williamsburg Spring Bounce Ticket - 
Get unlimited admission for 7 consecutive days to both places. Plus, you'll get FREE PARKING.
The deal is good March 25 - May 15, and costs $99 for adults (13+) and $79 for kids ages 6-12 (kids 5 and under are free when accompanied by an adult with a Bounce ticket).
Once we get into May, they'll probably offer a 3-park version of the deal which adds admission to Water Country USA to the mix. Expect to pay about $130 for adult tickets. I'll post more information if it becomes available.
Busch Gardens Virginia may post new multi-park deals and discounts, so to keep up with the latest deals, subscribe to my VA Beach Blog for updates.

---

Busch Gardens Williamsburg Passes
Once you've read the season pass facts below, go to my Season Pass Deals page to see how to save on season passes.
Pass Deals:
1 Park Pass - Busch Gardens Virginia 
--1 Year - Individual Passes: $144
2 Park Pass - Busch Gardens Virginia + Water Country USA
--1 Year - Individual Passes: $192
2 Park Platinum Pass - Busch Gardens Virginia & Water Country USA (+ 9 other SeaWorld parks)
--Individual Passes: $228
Why go Platinum? If you're a truly serious park-lover who really gets around, this is your best bet. You'll also get free general parking, preferred parking at the Busch Gardens Virginia parks (if available), and a variety of other discounts, shop savings, etc.
To help ease the budget pain, they offer an EZ pay option, which allows you to be billed in monthly "EZ" installments (you can even spread the payments out over 2 years!). You'll pay  $12 per month for the 1-Park Pass, $16 per month for the 2-Park Pass, and $19 per month for the Platinum Pass.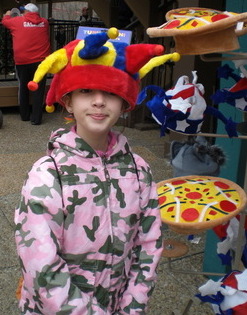 1-Pass, 2-Pass, & Platinum Benefits:
Here are the EXTRAS your passports provide--
Free General Parking for 1 and 2 Pass, as well as discounted preferred parking; Platinum holders get free preferred parking at the Virginia parks, and free general parking at all other Anheuser-Busch parks
50% discount on Christmas Town tickets
10% discount at Busch Gardens merchandise shops and restaurants (discount applies to all Anheuser-Busch parks for Platinum holders)
Discounts on single-day tickets for friends and relatives at Busch Gardens Virginia and Water Country USA
10% savings on golf, dining, merchandise, tennis & the spa at the Kingsmill Resort
Member Appreciation nights on Sunday nights during the Summer Concert Series
Savings on stroller, wheelchair, motorized cart rentals, and Pet Kennel
Pass Member "Advantage Pricing" on select products in restaurants and merchandise shops
---

Howl-O-Scream and Christmas Town
Looking ahead? 
Click here for Christmas Town info and discounts, hours, and more to give you an idea of what to expect for the 2015 season.

Click here for THREE CURRENT Howl-O-Scream discounts and ways to save up to $30 off tickets on this fall event, which runs mid-Sept. to the end of Oct.
Virginia Beach Family Fun

›

Busch Gardens
› Busch Garden Coupon Virginia