Get a Busch Garden Military Discount
(plus military discounts for hotels, museums, travel, rentals, and more)
Want a Busch Garden military discount? (For more military discounts, scroll down below.)
Look below for details on their new Active Duty Military Passport. 
SeaWorld Parks is once again offering its "Here's to the Heroes" program (now called "Waves of Honor"). This Busch Gardens Military Discount provides a single day's free admission to any one of the company's nine parks for the service member and up to three direct dependents.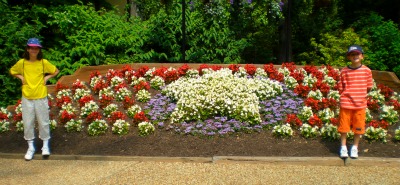 These parks include Busch Gardens Williamsburg, Busch Gardens Tampa, SeaWorld, Adventure Island, Water Country USA, etc.)  
Several million members of the US and coalition armed forces and their families have taken advantage of the free offer.
NEW: Active Duty Annual Military Passport - $99
Now, active duty members can get annual admission to Busch Gardens, Water Country USA, Howl-O-Scream, and Christmas Town, all for $99 per person. Keep in mind that that is the pre-season price and that it may well go up in the summer. To get the deal, you'll need to login here (or start a new account) with your military ID. 
I've got to hand it to Busch Gardens: they really do honor the troops, and not just by providing a Busch Garden military discount. Check out the bridge that leads from the Italy to Germany section of the park. The bridge is lined with banners honoring the military, as well as letters from military members expressing their thanks to the park. 
---

Ready to use your Busch Garden Military Discount? Read these tips first...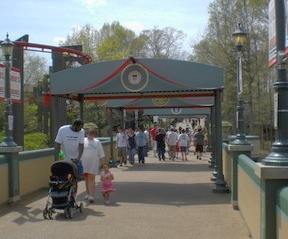 So, besides info on getting a Busch Garden military discount...what insider tips --like how to get discount tickets or the best day of the week to visit -- do you need to make your visit a blast? Click on these links to find out...
---



Looking for Discount Ticket Deals at Other Attractions?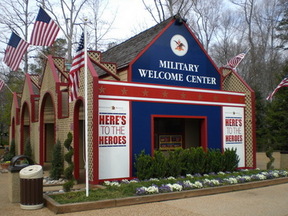 As you know, serving in the military doesn't exactly make you rich. It's a real financial sacrifice. So besides getting a Busch Gardens military discount, military families need to save every dollar they can on a family vacation getaway.
My site can help! Think of me as your professional bargain hunter for Virginia travel. Every week, you can find me researching the Web to find the latest discounts. For my latest finds, go to my Discount Tickets & Travel Deals page.
---

Here's How to Get Other Military Discounts
I decided to scour the net looking for other military discounts which may be of benefit to you. Here's what I found.
Blue Star Initiative let's you get into 1800 museums nationwide for free!
Military members and families, here's a thank you deal for you: From the end of May through the start of September every year, receive free admission at about 1800 science, history, and art museums nationwide through the Blue Star Initiative. Museums include Virginia's Colonial Williamsburg, the Museum of the Confederacy in Richmond, the Frontier Culture Museum in Staunton, and the James Monroe Museum in Fredericksburg.
Just bring your Geneva Conventions Common Access Card (CAC) for active duty military personnel or a DD Form 1173 for active duty military family members. The military ID holder can get up to 5 family members in free on one card.
For details and a list of participating museums in all 50 states and Washington, DC, go to www.arts.gov/bluestarmuseums.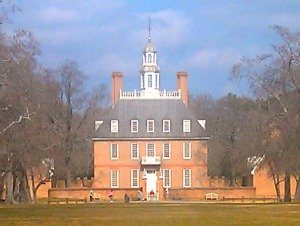 Virginia Attractions with Military Discounts
Virginia Air and Space Center - Active Military/NASA/Riverside Employees: $1 off general admission
Virginia Aquarium - Active military and their families, as well as retired military with ID, get $2 off
Kings Dominion - They generally offer two weekends during the summer season when active duty military and families can visit for free. 2015 dates aren't posted yet, but last year they were the last weekend in May and the July 4th weekend. 
Ocean Breeze Water Park - Military Adults and Children: $2 off general admission
Mariners Museum - Military Adults and Children: $1 off general admission
Nauticus- Active Military: $1 off general admission
Great Wolf Lodge - Military receive 10% off room rate
Chrysler Museum of Art- Now the museum is always free to all visitors!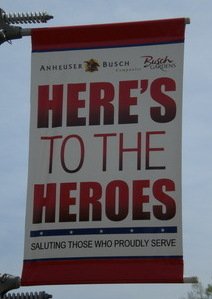 More Military Discounts
Veterans Day Discounts - For a list of current Veterans Day discounts, go to www.militarybenefits.info. Just a few of the freebies you'll find include free meals at Applebee's, Shoney's, Sheetz, Red Robin, Outback, Olive Garden, Max & Erma's, Krispy Kreme, Golden Corral, Denny's, and more.
Shadow Mountain Escape Discount - A unique vacation deal near Luray Caverns - www.shadowmountainescape.com. 
Best Western Military Discounts - Click the link for the latest discounts
Car & Hotel discounts - http://www.valoans.com/discounts.cfm
Wyndham Resorts military discount -http://www.wyndham.com/specialoffers/programs/details/govt.wnt
Discounts for selling/renting your home - http://www.militarybyowner.com/Get a 10% discount on your listing at this site which specializes in military homes for sale or rent.
Airline & Travel discounts - http://www.militarytogo.com/

Florida Attractions military discount - http://www.wdwinfo.com/discounts/discounts-military.htm#current-discount
Finding apartments/rentals which offer military housing discounts in Washington, D.C., Maryland, and Virginia - http://www.washingtonpost.com/wp-adv/vm/rentals/Military_Govt_Discounts/Virginia_Military_Govt_Discounts/index.html
Keep checking back for the latest on Busch Garden military discounts and more! 

Can't find what you're looking for? Look at the navigation bar on your left to go to my Site Index.
Virginia Beach Family Fun

›

Busch Gardens
› Busch Garden Military Discounts