Insider Tips for Busch Garden Williamsburg VA
Busch Garden Williamsburg VA (also known as Busch Gardens Europe) is organized into little "hamlets" based on major European countries. Each of the 9 hamlets takes on the theme of a country.
Below, I'll take you on a detailed tour of the park. But first, here's what you need to know to maximize your visit...
Any active duty, active reserve, ready reserve service member or National Guardsman is entitled is eligible for the program. Also included in the offer are members of foreign military forces serving in the coalitions in Iraq or Afghanistan or attached to American units in the U.S. for training.

For example, a lot of people don't realize that until June, Busch Garden Williamsburg VA is only open weekends and select weekdays. I can't imagine anything worse than driving an hour or more to visit the park in May, only to find out that it's not open that day!

So check out these important pages...
You don't want to show up at the gate all excited to jump on a coaster, only to find that the park isn't open that day, or that it closes much earlier than you expected. So start with my Hours and Operating Schedule page as your first step. Also, the park offers a number of special weekend programs throughout the summer. So check the Events and Festivals schedule to see what's going on when you're planning to visit.
Since you don't want to pay any more for your Busch Garden Williamsburg VA tickets than you have to, check out my Discount Tickets page, or my special Coupon Codes page. If you're a member of the military, be sure to check out my Military Discounts page to learn about the Busch Garden Williamsburg VA "Here's to the Heroes" program and other military discounts.
Then, be sure to visit my Tour Tips page, where I've highlighted how to save money in the park, best days to visit, what rides to go on first, how to stay cool, and how to get discount parking. 
---
Time to Start Your Tour of Busch Garden Williamsburg VA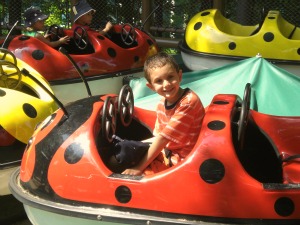 Tip #1 - While you can certainly walk from hamlet to hamlet in the park, should your toes need a rest, try:
The Skyride - sky-high transportation gives you a bird's eye view of Busch Garden Williamsburg VA going between Scotland/England, Germany, and France.
Steam Train - carries guests between New France, Heatherdowns/Scotland, and Festa Italia.
Unless you're in fantastic shape, do use these rides to help ease the walking burden...and don't forget to wear worn-in, walking shoes. Believe me, after a full day of walking and riding coasters at Busch Garden Williamsburg VA, you may be ready for a good massage. Here's how to combine your Busch Garden visit with a visit to Kingsmill Spa.
England - Banbury Cross
"Ride a fine horse, to Banbury Cross, to see a fine lady upon a white horse. With rings on her fingers and bells on her toes, she shall have music wherever she goes."
My English-born mum used to sing this famous English nursery rhyme while bouncing me on her knee. So anything English holds a special place in my heart! Most people visiting Busch Gardens Europe stop here first.
How about attending the Elmo Rocks show at a recreation of Shakespeare's round Globe Theater? It's blissfully cool on a hot day, entertaining enough for the adults, and the kids will especially love the 3D effects (you may even get a little bit wet!).
Get your photo taken while posing by a typical red telephone booth, overlooked by St. Stephen's clocktower. Banbury Cross also includes The Squire's Galley, which serves breakfast and lunch, a funnel cake shop (hardly English food, but still delicious), an ice cream shop, and a candy store.
Tip #2: most park guest services at Busch Garden Williamsburg VA--such as pet care, Passport Sales, and Guest Relations-- are located in England/Banbury Cross. The Lost Child station is located in France just beyond Trapper's Smokehouse and before you get to the Caribou Train Station.
Scotland - Heatherdowns
Kilts are optional here (thank goodness), but this quaint hamlet in Busch Garden Williamsburg VA really is like a little slice of Scotland. The top spot here (not just because it's tall) is the Loch Ness Monster, Busch Gardens' oldest roller coaster.
The Garden Gate nursery in England.
Want to give your feet a rest? Tweedside Train Station starts from here and steams through a 20 minute ride through the park (with stops in New France and Italy). You can also see huge Clydesdale horses here.
Tip #3-- Food at the park isn't cheap. Eating at the sidewalk vendors is your least expensive alternative (next to packing your lunch). Scotland's Pigs in a Kilt, a quick snack stop offering--guess what?--pigs in a blanket (hot dogs) will help you take a nip out of your hunger...but only a small bite out of your wallet.
Look below under "New France" and Italy for more relatively inexpensive eating options.
Also, consider buying a Dining Plan. For about $24 for adults and $15 for kids, you'll get an entree, a snack, and two beverages, saving you about 35% over buying these items separately. 
Now, I'm not a big eater, so if I were visiting with a child, one way I could save money would be to share one adult Dining Plan deal, then supplement it with granola bars or snacks I'd brought with me. 
If you want more food, consider their Deluxe Dining Plan, which includes lunch, dinner, a side item and a snack, plus a Drink All Day Souvenir Cup. This deal costs about $34 for adults and $25 for kids. Considering the fact that the Drink All Day Souvenir Cup is about $15 (and gives you free soft drink or ICEE refills all day), that's a good deal.
Another option for saving money on beverages is for one member of your family or group to buy the Souvenir Cup and then share it with other members of your party.
Ireland - Killarney

 

This relatively new section used to have a 4-D simulator ride Corkscrew Hill, where guests were "shrunken" into miniature size and "travel" through an imaginary Ireland populated by leprechauns, fairies, flying horses and witches.
Personally, I hated the ride.
Why did I hate it? Most of the ride made you feel like you're diving or riding on a bucking bronco...let's just say the seat belts were there for a very good reason. Since I get nauseated really easily, I couldn't wait for the ride to end. So I'm glad it's gone!
Love Irish dancing? Don't miss the new show Celtic Fyre, a 25 minute show the park calls "an Irish celebration filled with stories, singers, musicians and the magic of Irish dance." It is performed in Ireland's Abbey Stone Theatre, and takes the place of the old Emerald Beat and Secrets of Castle O'Sullivan shows.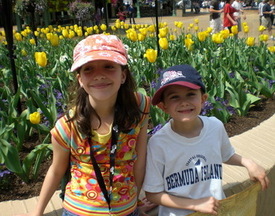 Busch Gardens regularly wins awards for their landscaping and gardens.
Tip #4-- On a hot day, the Abbey Stone Theatre (along with Festhaus and the Curse if DarKastle, and the Sesame Street show in England) will be blissfully air-conditioned! Nearby Grogan's Grill is the main Irish-themed restaurant here, highlighted by corned beef and huge stuffed baked potatoes.

Tip #5-- Are you a beer lover? Busch Garden Williamsburg VA is your dream come true. Join the Anheuser-Busch Brewmaster's Club, and you'll be able to sample a variety of lagers, stouts and other fine beers (think of it as the beer version of wine-tasting) accompanied by tasty snacks. Sorry teens, you have to be 21 or older, and if you appear younger than 30, they'll card you (which, depending on your age, may be a compliment!).
You can also sign up for the Brewmaster's Club in Das Festhaus in Germany.
Italy - San Marco
The Renaissance lives again in Busch Garden Williamsburg VA. One of our favorite areas (we're suckers for anything Italian). Escape from Pompeii is a log ride set in a 1920's archaeological "dig" of Pompeii. Blast by an erupting Mt. Vesuvius before taking the fifty-foot plunge. It's a good way to cool off on a a hot day.
Even if you don't go on the ride, it can still cool you off. Just stand on the observation deck overlooking where the ride splashes down. You'll really get drenched!
We really like Da Vinci's Garden of Inventions, which features gravity-defying rides based on the inventor's sketches, including The Flying Machine, Da Vinci's Cradle, and The Battering Ram. (Little kiddies, never fear: there are da Vinci-inspired rides for you too).
Tip #6-- Ristorante Della Piazza has decent Italian cuisine (even my Italian relatives liked it!)  including cannelloni and pasta (good mozzarella sticks!) which you can slurp while watching the Viva Italia! show. Their Italian sampler is a great, inexpensive way to eat since you can choose three entrees which can be easily shared between two people. Also, the amply-shaded seating makes it an excellent place for dinner theater, especially on a hot day.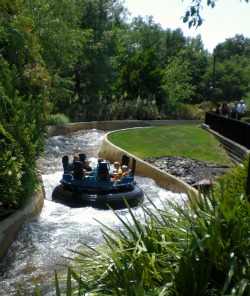 Roman Rapids in Italy is a fantastic place to get drenched on a hot day!
Italy - Festa Italia
A second Italian-themed hamlet, Festa Italia mimics a fair celebrating Marco Polo's return from China. Rides include Apollo's Chariot, a roller coaster featuring a 210-foot drop. Roman Rapids, a raft ride skirting through "ancient" Roman buildings is a great way to get drenched on hot days. (It's one of our favorite ways to cool off -- but be sure to put your season pass in something that will keep it dry (we learned that the hard way!) Other rides include spinning Tradewinds, the teacup ride Turkish Delight, and a children's ride called Elephant Run.
It's easy to miss this section of Italy. We'd been to Busch Garden Williamsburg VA twice before we even realized it was there. Just follow the signs to the Festa Train Station.
Bavarian Germany - Oktoberfest
Germany has two sections: Rhinefeld and Oktoberfest. If you coming from Italy over the "Here's to the Heroes" bridge (filled with banners honoring the military as well as letters from grateful soldiers) you'll come to Oktoberfest first. This used to be home to the Big Bad Wolf (a suspended roller coaster that was removed to make way for a future ride), Bumper Cars, Waveswinger (Der Wirbelwel), Festhaus, the 4D ride Curse of DarKastle, and lots of shops. You'll also find an ATM here.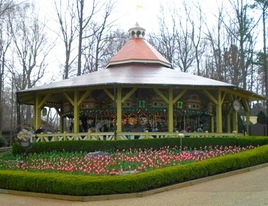 Have some old-fashioned fun at the Merry Go Round near Land of the Dragons.
Das Festhaus is a huge, air-conditioned hall with German specialties like sausage, sauerkraut, and soft pretzels. Arrive early to eat while you watch the 12:00 Brass Quartet "oompa" band on the stage indoors.
The Curse of DarKastle a 4D, motion-based dark ride, has shattering "ice," and a simulated freefall. How is it? For us, once was enough. I thought it would be something like the Haunted Mansion at Disneyland-- lots of images, a little scary, and a little motion.
What we got was something that made little Miss Nauseated (me) have to spend give minutes lying on a bench when the ride ended. Expect TONS of motion, turning, twisting, drops, spinning...you name it, plus lots of things being "thrown" at you thanks to the 3D. I kept my eyes closed a lot of the time just to keep from throwing up.
Having said that, if motion rides don't bother you, you'll probably love Curse of DarKastle. It's rather scary and demonic, if you like that sort of thing. So if you have little kids, skip this one until they're older (unless they're used to really scary things). If my 6-year-old had gone on the ride, he'd have had nightmares for months. As it was, he thankfully chickened out at the last minute.
Tip #7-- If you get up to a ride at Busch Garden Williamsburg VA and one of your kids decides not to ride, they have places where the kids can wait (with or without a parent) while you ride with the other child. On DarKastle, our son and my sister-in-law were able to wait in a little room next to the exit while I took my daughter on the ride. When we were done, we waited with my son while they allowed her to get right on the ride.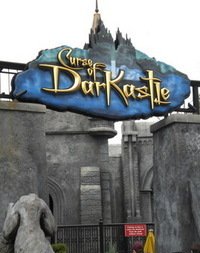 Do you dare ride DarKastle?
Germany - Rhinefeld
Home of Alpengeist, one of the tallest and fastest inverted coasters in the world, Rhinefeld looks like a ski resort. Also in Rhinefeld is Land of the Dragons, a large children's play area featuring a playground, five rides, and seasonal shows.
Tip #8-- Land of the Dragons is our kids' favorite part of Busch Garden Williamsburg VA. There's a treehouse with slides, tubes, and rope bridges, and lots of things to climb on. My son LOVES the mini waterpark area, which has water jets that burst from "volcanoes" and up through stepping stones. He got blissfully drenched there. Remember to have your kids take their shoes off before going in the play area or their shoes will be soaked too. Parents will find a few shaded benches where they can observe the frolicking. 

Bavarian Germany - Oktoberfest
Another Germany hamlet in Busch Garden Williamsburg VA, this one focuses on Oktoberfest (oompa oompa bands, shows, beer, and a great place to eat and cool off). Old favorite, The Big Bad Wolf, is gone now, but in its place is their latest ride, Verbolten, which is a must for roller coaster lovers (tip-- don't wear a hat...you'll lose it! And do get a locker for jackets or larger bags). Oktoberfest also has bumper cars and other kid rides.
Das Festhaus is a huge hall where you can enjoy authentic German food, including German sausages, slow-smoked baby back ribs, and corned beef (pizza is also available for those who can't stomach German food). While eating in Das Festhaus, guests can also enjoy the German-themed song and dance show "This is Oktoberfest."
France - Aquitaine
Home to a skyride station, France became the hottest spot in Busch Garden Williamsburg VA with the opening of Griffon. Griffon is the tallest dive coaster in the world (205 feet up, a 90 degree drop, with speeds of up to 75 mph. Kind of gets your heart pumping, doesn't it? Also in France, the Royale Palace Theatre has shows, including a summer concert series.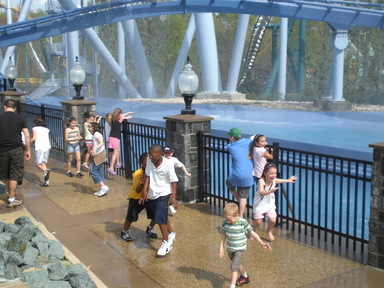 The observation deck near Griffon is a great place to cool off!
French Canada - New France
Based on French colonial Canada, New France includes the starting point of the Busch Gardens Williamsburg VA Railway, Trapper's Smokehouse Restaurant, and the water ride, Le Scoot Log Flume.
I really enjoyed Le Scoot Log Flume. Pretty similar to log flumes at other amusement parks, it has one medium drop, and a big one at the end. You get a bit wet, mostly on your shoulders.
Tip #9-- if you're with a young child, have them sit in the seat between your legs, not in the seat behind you. The seats are far enough apart that you won't be able to hold our child's hand if they need comfort.
Trapper's serves excellent barbequed chicken, ribs, paella, and similar fare. One "relatively" inexpensive option: order a kids chicken strip meal. You get two chicken strips and fries in a souvenir "Land of the Dragons" plastic lunch box for @$7. Drinks are extra. We bought a large lemonade for $4, got extra cups, and split it between us. Bottled water at Busch Garden Williamsburg VA runs between $3 and $4 (depending on size and brand), so bring your own water bottle.
The store to the left of Trapper's has three fun activities: a Candle-Dipping station, a Paint Your Own Pottery station, and a stand where you can fill up your own mammoth pixie stix. 
Virginia Beach Family Fun

›

Busch Gardens
› Busch Garden Williamsburg VA Tour Tips