Busch Garden "Griffon" is Screaming Good Fun
(After you read the review of Busch Garden 's "Griffon", scroll down for a step by step photo gallery!)

I'd LOVE to give you my personal review of Griffon, the world's tallest dive coaster.
But as you may remember from reading my Busch Gardens main page, roller coasters are "verboten" for me. 

Never fear: I can pass along this review. Three writers from the Daily Press tested the Griffon, which shoots riders up 205 feet and plunges them down 90 degree at a speed of 75 mph.
The intrepid reporters rated the ride on five dimensions:
vomit factor
scream factor
wobbly legs factor
whiplash factor
Ratings were based on a scale of 1 (lowest) to 5 (highest). They also gave it a thumbs up or down on whether it's worth waiting in line for a second try. 

So here's highlights of the review: 

Scream Factor 
Score: one 5, one 4, and one 10 
Clearly, Griffon has a serious scream factor, so much that one reporter's rating completely blew the scale. Diving straight down at 75 mph can do that to you! They recommend that people hang on to glasses, loose shoes, and anything else that might go flying off!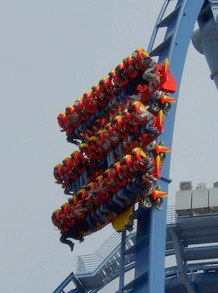 Do you dare ride Griffon?
Wobbly Legs Factor
Score: one 3, two 5's

One reporter said "my knees were like Silly Putty." Another said "I could hardly walk after we got back to the station. But I couldn't wait to ride again."

Whiplash Factor
Score: two 1's and one 2
My favorite comment: "No need for a chiropractor here." Apparently the seats are so well-padded and you're so well-strapped in that there's little fear of anything vital getting jerked around. And the ride sounds smooth, smooth, smooth. 
---

Is Griffon at Busch Garden worth a second wait in line?
They agreed that it depends on the line. If you're there on a Saturday afternoon, forget it-- it's not worth another 2-hour wait for a 2-minute ride. But if you're there on a mid-week evening? Go for it! 

On past trips to Busch Garden, I took lots of photos of the ride from all different angles. I've shared them on this page. Notice that it's a great way to cool off at the end of the day! (You won't get soaked, but you will get wet!) 

Griffon ends with you splashing down on your back in the water.
Notice the picture on the right. We were there on a cool day, so we didn't want to get wet. But if it's a hot day and you feel like cooling off without going on Griffon, just stand at the railing next to where Griffon touches down. You may not get completely soaked, but you will get wet!

So...are you ready to risk Griffon and all the other coasters at Busch Gardens Williamsburg? Click on these links to find out...  
Admission Deals - Current admission info plus deals like Fun Cards, and the free Preschool Pass. Don't miss the limited time 2-Park fun Card deal! 

Single-Day Ticket Discounts - A DOZEN or more ways to save! 

Park Hours and Operating Schedule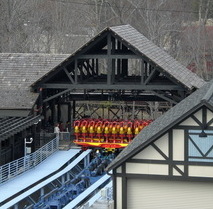 Here's where you get on and off Griffon.
Howl-O-Scream - Details on the Howl-O-Scream Halloween event...plus discounts

Christmas Town - Nov/Dec's Christmas Town event, including hours and discounts

Busch Gardens/Hotel Package Deals Are they good or bad? We'll give you the straight scoop.

Tips to Read BEFORE Your Visit (How to save money at the park, best spots for hot days, best shows, best time to visit, etc.)

Upcoming special events at the park (Gardening weekend, Joyfest, Summer Nights Concert Series, Howl-O-Scream, and more)

How to Go Straight From Roller coasters to a Luxurious Massage... A review by a very satisfied customer after her day at the Kingsmill Spa.
For information on how to get a map for your phone, click here.
Virginia Beach Family Fun