Our Top 3 Itineraries For Holiday Lights and Fun!
Do you ever get tired of doing the same-old, same-old holiday lights traditions? Looking for something different this Christmas?
My tried-and-true Top 3 favorite itineraries for holiday fun are just the ticket. I've created three day-long tours -- featuring holiday attractions, shopping, and delicious dining-- that will keep your kiddies (and your tummies) happy as you enjoy the Christmas season.
As always, I emphasize family fun which is unique but won't break the bank. And I've focused on creating comprehensive itineraries which combine a variety of food and fun for the whole family.
So go out and have a perfectly memorable day or weekend!
---

Holiday Lights Itinerary #1
Oldtowne Portsmouth 

Start your day with a Mermaid scavenger hunt in downtown Norfolk. You'll find these colorful, artistic, and whimsically decorated mermaids all over town.
Stop for a nostalgic lunch at Doumar's drive-in, home of the world's first ice cream cone, and grab a burger, fries, and yummy chocolate malt. 
Busch Gardens Christmas Town
Then proceed to Portsmouth to visit the animated figures from the famous Winter Wonderland collection. They'll be on display at the Courthouse Galleries at High and Court streets. 
Just $4 gives you admission to the Wonderland AND Andalo's Clubhouse. You can also get a $12 pass which includes the Wonderland plus the Courthouse Galleries, the Children's Museum of Virginia, and Portsmouth Naval Shipyard Museum. Click here for their latest gallery offerings.

Then for dinner or a late afternoon snack, stop by Baker's Crust in nearby Ghent for delicious sandwiches and dessert crepes (I especially recommend their Nutella and chocolate crepes with almonds and whipped cream).
Finish off the evening with a movie at the Commodore Dinner Theatre, a fabulous 1940's Art Deco theater featuring first-run movies (and dinner) in a decidedly romantic and fun atmosphere.
---

Itinerary #2
Garden of Lights Evening 

Spend at few hours at the free Chrysler Museum of Art to see the latest exhibits (don't miss their extensive Louis Comfort Tiffany collection, modern glass exhibits, and European paintings), including their "Hot Glass" glass blowing demonstrations. 

Then, stop by our #1 Girl's Day Out Spot, Rowena's Tea Room, for spectacularly delicious afternoon tea and pound cake (my personal favorite is the Almond Pound Cake) plus pick up some tea-related items like tea cosies, Lemon Curd, and other Brit-lovers goodies in their gift shop. You can read my full review of Rowena's Tea Room here.
Later, drive over to the Norfolk Botanical Garden to see the "Garden of Lights" drive. 
---

Itinerary #3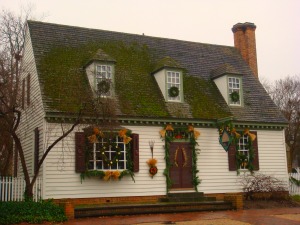 A house decorated for Colonial Williamsburg holidays.
Williamsburg Shopping & Colonial Williamsburg holiday decorations walk

Spend the day shopping at the Premier Outlets Williamsburg and the Williamsburg Pottery to enjoy great discounts and get your holiday shopping list completed. 
Stop for dinner at our favorite super (and inexpensive) buffet at Peking Garden (for other "Colonial Williamsburg Vacation Secrets," click here). Then proceed to Colonial Williamsburg's Market Square and Duke of Gloucester Street to stroll past the beautiful holiday decorations on the buildings. Cap off your evening chocolate treats at Whyte's Candy Store in Merchant Square. 

Or, spend your morning at the outlets and then scoot on over the Busch Gardens Williamsburg's Christmas Town for a delightful afternoon and evening full of holiday lights, musical entertainment, and amusement park fun. 



Virginia Beach Family Fun