Busch Gardens Coupons, News, & Deals
Here's your source for all the latest Busch Gardens coupons, ticket deals, park news, tips, and more...including Christmas Town, Howl-O-Scream, upcoming events and festivals, park hours, and special add-ons like the Quick Queue pass.
Check out the links below for more on Busch Gardens Coupons and the latest coupon codes and ways to save on tickets.
First, here's the latest park news:
Membership Program for 2019 - The park has been fiddling around with its membership program the last two years with mixed results. But the great writers at BGWFans recently posted what they considered shocking news about membership for next year:
The Premier level is being "scaled back" to include only Virginia parks
They're adding a new Platinum level above the Premier level
The folks at BGWFans claim to be confused by the changes, and question why anyone would want to pay the extra $7 per month for the New Platinum plan versus the old Premier plan. Time will tell how other members react. 
New "Finnegan's Flyer" Screaming Swing - This 32-person ride will be added to the Ireland section of the park for 2019. It will rise 80 feet and reach speeds of more than 45 miles an hour. 
The Death of DarKastle = The Birth of...? - You may have heard that DarKastle the ride closed at the start of the year, to the disappointment of a number of fans. It is currently being used for a new haunted house called "FrostBite" (with decidedly mixed reviews).  Some reports are saying that it may also be used in part during ChristmasTown which will run Nov. 19-Jan. 5 this upcoming season.
New Dedicated Sesame Street Park? - According to BGWFans, the park has been distributing surveys to parents trying to gauge possible interest in a dedicated Sesame Street park in Virginia. This would be the third Sea World entertainment location in Virginia, and would be similar to the Sesame Street park in Pennsylvania. No new news on this proposal as of Fall, 2018. 
Christmas Town Admission - It's now included in all season passes. It's about time! One downside: Park reps are making noises that single-day prices may go up significantly this year, and that it may be harder to get discounts.
Military Annual Pass - While they've always offered one free visit per year for military members and their dependents, Busch Gardens has been lacking in a discount for military members who want a discount for an annual pass. They've finally made up for it with this new deal for active duty military. 
Battle for Eire - This is their new ride for 2018, a fairy-oriented, virtual reality ride set in Ireland. It's located in a building which has had several different rides. After one season, reviews for the ride are mixed. No clear hit here. 
Look below for a fantastic behind-the-scenes YouTube preview of the ride.
Grogan's Grill has been renamed - It is now Taters Irish Restaurant. 'Kay, I think that's a lame name, but on the plus side, they've added a Chicken Alfredo Loaded Potato to the mix, so I'll try to be open minded. 

Howl-O-Scream Control Lab Complaints - A number of Howl-O-Scream participants have complained they patrons at the nearby park bar are able to watch participants' reactions as they go through the Control Lab haunted house. 
Safety tip Reminder - This is something I shared last season, but it bears repeating. A Norfolk man was caught awhile back stealing things from people's lockers at the park. Apparently, the man noted that some park goers put their things in lockers but did not actually lock them, so DO remember to lock that lock!
Now, click these links to get the latests on other Busch Gardens coupons and other news:
Busch Gardens SINGLE DAY ticket discount secrets and Promo Codes

Special deals like the Fun Card and FREE Preschool Pass
Busch Gardens Hours & Operating Schedule

An insider's tour of the park plus money-saving secrets
Christmas Town facts and discounts
Howl-O-Scream facts and discounts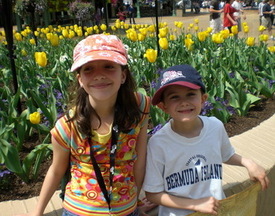 Thanks to the economy, in recent years, attendance at the park has been down (last time we were at the park, I was amazed at how uncrowded it was.) Bad for the locals...but good for you! The money-saving discounts at hotels, attractions, and restaurants have been particularly good if you know where to look.
Busch Gardens is offering several web specials to try to boost attendance. If you're interested in a package deal including hotel and maybe Busch Gardens Williamsburg AND Water Country USA, click here to see what their specials can do for your budget. 
---

Go to the Front of the Line with a Quick Queue Pass
Go to the head of the line...get a Busch Gardens Williamsburg Quick Queue Fast Pass!
In addition to getting Busch Gardens Coupons, want to maximize your visit by hitting ALL the major rides? Hate to wait in line? It may be worth your while to spring for the new fast pass!
For an additional fee starting at $20 per person (3 and up), you can get a one-time priority boarding pass that sends you directly to the front of the line on all the major rides except Verbolten (Griffon, Alpengeist, Escape from Pompeii, Loch Ness Monster, Roman Rapids, Log Flume, Curse of DarKastle, and one bonus ride).
If you really want to fly through major lines ALL day (not just once per major ride), get the Quick Queue Unlimited Pass starting at $50. Yep...it's for serious riders only.
Quick Queue passes are good for one day only. Rides which take the Quick Queue fast passes will have a special "Quick Queue" logo at the front of the line. You can buy the passes at the admission window the day you visit, or online. Passes are limited, so get there early! 


---

One Final "Stay Cool" Tip after using Busch Gardens Coupons & Deals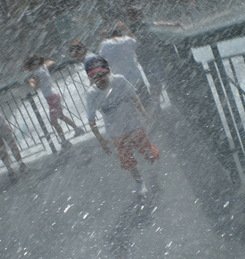 Getting drenched outside Escape from Pompeii.
Where I Got Drenched: My Best "Stay Cool" Tip!
I love Busch Gardens coupons and deals...but I also love staying cool. When we were at the park at the height of summer it was HOT...94 degrees! I was feeing sticky by 10:30 am. So we tried out favorite "stay cool" trick and headed directly to Roman Rapids, a water ride.
Did I get wet? Oh yeah. I got drenched! Like, a bucket of water poured down my back (and that was just at the end of the ride when I went directly under the waterfall!). It was delicious! I was wearing jeans shorts, and let me tell you, my shorts were still damp when I left at 2:30 pm...but I stayed nice and cool in between!
So hit Roman Rapids first! Or, go to the Escape from Pompeii viewing platform--you'll get even MORE drenched (just remember to put your camera away first...) For more ways to stay cool in the park...and other tips for maximizing your visit, click here. 
Virginia Beach Family Fun

›

Busch Gardens
› Busch Gardens Coupons and News