Latest Busch Gardens Coupons, News, & Deals
Here's your source for all the latest Busch Gardens coupons, ticket deals, park news, tips, and more...including Christmas Town, Howl-O-Scream, upcoming events and festivals, park hours, and special add-ons like the Quick Queue pass.
Check out the links below for more on Busch Gardens Coupons and the latest coupon codes and ways to save on tickets.
First, here's the latest park news:
- Summer Nights Concert Series Announced - Every Saturday July through August, you can also enjoy first-rate music with their Summer Nights Concert Series featuring popular rock, country, and Christian artists performing in the Royal Palace Theatre.
July 8 - Chase Bryant and Cassadee Pope
July 15 - Josh Turner
July 22 - Jeremy Camp and Rend Collectve
July 29 - Mercy Me
August 5 - 38 Special
August 12 - Kool and the Gang
August 19 - To be announced
August 26 - To be announced
- Le Frite's Snack Shop - Located near Griffon in New France, this shack shop will featuring french fries topped with your choice of toppings, including bacon, chili, and for those who want to try something akin to Canada's famous poutine, cheese curds. 

- InvadR is the name of the park's newest coaster, slated for unveiling April 7, 2017. This Viking-themed ride is unique for having its name chosen by park fans. The wooden coaster features a 74-foot drop and 5p mph speeds and will be located in New France.
Look below for an animated YouTube preview of the ride.
- New Shows in Britain and Oktoberfest - Britmania, a new Brit-themed show with songs from the 60's through 90's, will start June 30 and be performed daily in the Globe Theatre. In Oktoberfest, you'll be able to see a new show, Oktoberzest, which debuts March 31 and features a modern take on traditional German music.

- Kid-friendly Halloween Event - Oct. 7-29 - The park will be offering a family-friendly spooky event featuring a parade and costume competition during daytime hours.
- Safety tip: A Norfolk man was caught awhile back stealing things from people's lockers at the park. Apparently, the man noted that some park goers put their things in lockers but did not actually lock them, so DO remember to lock that lock!
Now, click these links to get the latests on other Busch Gardens coupons and other news:
Busch Gardens SINGLE DAY ticket discount secrets and Promo Codes

Special deals like the Fun Card and FREE Preschool Pass
Busch Gardens military discounts (plus military discounts for other attractions)
Admission Facts and ways to get discount tickets
Busch Gardens Hours & Operating Schedule
An insider's tour of the park plus money-saving secrets
Christmas Town facts and discounts
Howl-O-Scream facts and discounts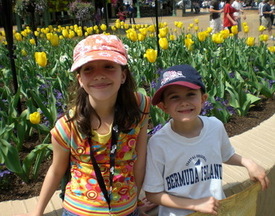 Thanks to the economy, in recent years, attendance at the park has been down (last time we were at the park, I was amazed at how uncrowded it was.) Bad for the locals...but good for you! The money-saving discounts at hotels, attractions, and restaurants have been particularly good if you know where to look.
Busch Gardens is offering several web specials to try to boost attendance. If you're interested in a package deal including hotel and maybe Busch Gardens Williamsburg AND Water Country USA, click here to see what their specials can do for your budget. 
---

Go to the Front of the Line with a Quick Queue Pass
Go to the head of the line...get a Busch Gardens Williamsburg Quick Queue Fast Pass!
In addition to getting Busch Gardens Coupons, want to maximize your visit by hitting ALL the major rides? Hate to wait in line? It may be worth your while to spring for the new fast pass!
For an additional fee starting at $20 per person (3 and up), you can get a one-time priority boarding pass that sends you directly to the front of the line on all the major rides except Verbolten (Griffon, Alpengeist, Escape from Pompeii, Loch Ness Monster, Roman Rapids, Log Flume, Curse of DarKastle, and one bonus ride).
If you really want to fly through major lines ALL day (not just once per major ride), get the Quick Queue Unlimited Pass starting at $50. Yep...it's for serious riders only.
Quick Queue passes are good for one day only. Rides which take the Quick Queue fast passes will have a special "Quick Queue" logo at the front of the line. You can buy the passes at the admission window the day you visit, or online. Passes are limited, so get there early! 


---

One Final "Stay Cool" Tip after using Busch Gardens Coupons & Deals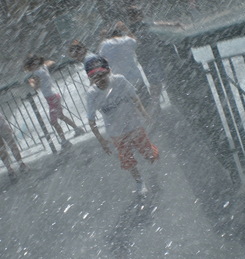 Getting drenched outside Escape from Pompeii.
Where I Got Drenched: My Best "Stay Cool" Tip!
I love Busch Gardens coupons and deals...but I also love staying cool. When we were at the park at the height of summer it was HOT...94 degrees! I was feeing sticky by 10:30 am. So we tried out favorite "stay cool" trick and headed directly to Roman Rapids, a water ride.
Did I get wet? Oh yeah. I got drenched! Like, a bucket of water poured down my back (and that was just at the end of the ride when I went directly under the waterfall!). It was delicious! I was wearing jeans shorts, and let me tell you, my shorts were still damp when I left at 2:30 pm...but I stayed nice and cool in between!
So hit Roman Rapids first! Or, go to the Escape from Pompeii viewing platform--you'll get even MORE drenched (just remember to put your camera away first...) For more ways to stay cool in the park...and other tips for maximizing your visit, click here. 
Virginia Beach Family Fun

›

Busch Gardens
› Busch Gardens Coupons and News