Virginia Beach Weather and Surf Conditions...
Looking for info on Virginia Beach weather, including temps, surf conditions, and the best time of year to visit?
Warm to hot summers (daytime temps range from low 70's to mid-80's) make for perfect beach vacations. Summer includes cool evenings, which makes for lovely, relaxing walks along the Boardwalk.
Though not as popular with tourists, off-season (especially fall and spring) can be a real treat. Lodging prices drop significantly, crowds decline, and cooler temperatures are just the ticket for golf and other outdoor activities, including the famous Virginia Beach Neptune Festival. 
The city of Virginia Beach boasts a very temperate climate--yet provides access to all four seasons.

In the fall, the weather contributes to the brilliant leaf displays along the James River--stunning golds and yellows, and vibrant reds--that make it a perfect time to visit the James River Plantations, about an hour and a half drive from the beach.


Other great places to view spectacular fall foliage include the Charlottesville area (home of Thomas Jefferson's Monticello and Michie Tavern) and the Shenandoah Valley leading up to Luray Caverns.

Winter at the beach boasts its own unique opportunities and events, including whale-watching season, and the annual Holiday Lights at the Beach.

Click here for a full list of Virginia Beach events by season.
---
Up-to-date Virginia Beach Weather and Surfcam
***Here's your up-to-the-minute guide to Virginia Beach weather.
Surf's up! Virginia Beach has some of the best surfing spots on the Atlantic seaboard. How's the surf today?
Click here for the Virginia Beach surf cam, courtesy of Surfline.com (they also provide even more detailed weather conditions), and give you real-time images from these Virginia Beach surfing spots:
Fishermans Island
North End
15th Street Pier
1st Street Jetty
Croatan/Pendleton
Camp Pendleton
Sandbridge Beach


By the way, while you're speeding to the beach to catch some waves and take advantage of the great Virginia Beach weather, make sure you take it easy on the pedal. Virginia Beach was recently voted one of the top ten speed traps in the nation. Click here for speed-trap intersections where you need to be especially wary.
---

Looking for Things to Do & Ways to Save in Virginia Beach?
Finding deals and saving money takes time, but why travel or have fun in Virginia for more than you have to when I've done the work for you? 
I'll show you:

...which attractions are free or cheap (or can be cheap when you use my tips!)
...how to eat in great restaurants for less!
...how to travel or get entertainment for less, from how to visit museums for "free" to amazing coupon deals
...which attractions you must see, and which aren't worth your money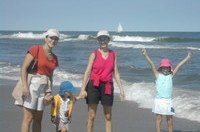 Check out these pages:

Free or cheap things to do in Virginia

Money-saving travel tips & deals

How to plan the perfect Virginia Beach vacation

Virginia Beach restaurant deals


Can't decide where to go or what to do? My Attractions page is chock-full of my personal reviews of the best attractions for your buck, from aquariums to amusement parks to presidents' homes!


Virginia Beach Family Fun

› Virginia Beach Weather