Holiday Lights at the Beach - 
Cruise and Be-dazzled!
McDonald's Holiday Lights at the Beach - Look below for discounts and a $3 off coupon, plus military discounts.
Santa...in the sand?
Rolling out Nov. 18 to Jan. 1, this event is a truly magical family fun attraction. Located at the Virginia Beach Boardwalk, it's the perfect way to start the holiday season. Join 30,000 people who flock annually to this festive and creative light display on the oceanfront.

Don't worry--that's 30,000 over the entire holiday season--you won't have to battle them all at once! Still, go with what the locals know: Saturday nights have the biggest crowds, so stick with Friday and Sunday nights.
Here's something else the locals know: It's one of the holiday highlights of the year. In fact, it's been named one of the Southeast Tourism Society's "Top 20 November Events" the last few years. Some of the top sights at this extravaganza include a "Twelve Days of Christmas" light exhibit, a three-story Christmas tree of lights, and a "surfin' Santa."
This year's show-- sponsored by Liberty Tax Service-- is your once a year chance to actually "cruise" the boardwalk. (Note: There is an entrance fee for cars, but you can cram as many people into your car as your like!)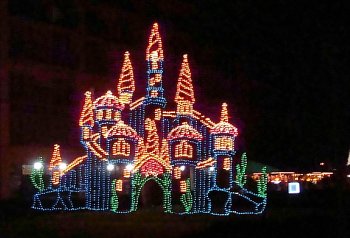 Holiday Lights at the Beach in Virginia Beach.
When: Sunday-Thursday, 5:30pm – 10:00pm Friday-Saturday, 5:30pm – 11:00pm

Location: Virginia Beach Oceanfront, 2nd Street to 34th Street (enter at 2nd street)
Method: Your Car!
---

Holiday Lights at the Beach Admission & Discounts
Cost: $15 per car Monday-Sunday, Thanksgiving and Christmas Day 

Limos $25; Motor coaches $45; Mini Buses $25 
$25 Combo Tickets (Boardwalk light show and Santa's Seaside Village at Atlantic Avenue and 30th Street (admission for four). 
Lights at the Beach Discounts
DRIVE through the Lights - Wednesday, November 16, 5:30pm-8:30pm
$5 donation per car accepted at the entrance - Benefits Ronald McDonald House Charities. 
Opening Weekend Deal - Friday, Nov. 18-Tuesday, Nov. 22 - $8 per car

Special Military Discount! - On Mondays Dec. 5-26, active military pay just $7 per car (must show military ID)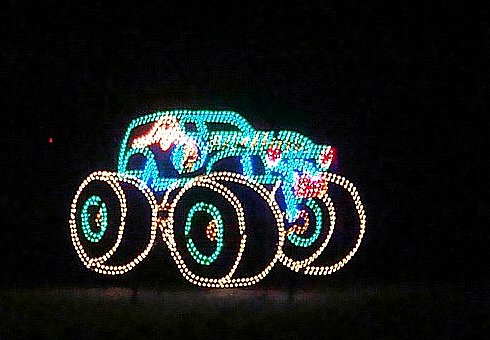 Coupons
As always, I've found a way for you to get $3 off admission Mondays through Thursdays - just go to this link to get the coupon.
So c'mon...come see Santa at the beach. It's just one more reason Virginia Beach is such a great family vacation destination...year-round. 
---

Looking for more holiday events?
Looking for more holiday fun, including light events, parades, ice skating, a winter planetarium, and more? 
Check out these links:
For November holiday events, click here.
For December holiday events, click here.

For our top three favorite holiday itineraries, click here. 


Virginia Beach Family Fun

›

Virginia Holiday Guide
› Holiday Lights