Revolutionary City...Where History Comes to Life

What do the words Revolutionary City (RC) suggest to you? Well, ever wish you could go back in time and experience the American Revolution first-hand? (Ever had a secret desire to join a mob?)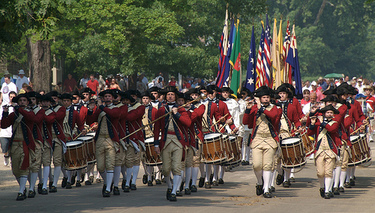 Photo © Sean Terretta
With RC, you can...sort of. It just takes a little imagination and a ticket to Colonial Williamsburg. A street theater production that brings history alive, it debuts March 17th, 2008 and runs through the fall.
The two-hour productions feature actors in authentic costumes acting out real events from the revolutionary era along Duke of Gloucester Street, the main drag in the Historic area. This year's productions will be even more interactive than ever, encouraging observers to feel as if they're part of the actual events.
They've added a morning program, "Revolutionary Stories." These are kind of mini-programs featuring juicy tales based on fact (like colonial love stories) which are designed to whet visitors' appetites so that they'll stay for the main shows in the afternoon.

Here's the schedule:
Mondays

Tuesdays, Thursdays and Saturdays (1774-1776)
 Collapse of the Royal Government - 3 pm to 5 pm. The event starts off with "The Next Disagreeable Thing," a re-enactment of a loud argument over the 1765 Stamp Act which took place at the newly-recreated Charlton's Coffeehouse. 
Wednesdays, Fridays, and Sundays (1776-1781) 

 Citizens at War - 3 pm to 5 pm.

Want to get a glimpse of what you'll see at Revolutionary City? Look below for a video clip of one of the productions:
Now, to attend these programs, you have to have a Colonial Williamsburg admission ticket. (Sorry, this is one of those events where being a street bystander just won't cut it. But if you DO want to see parts of Colonial Williamsburg without paying admission, here's how.) 

Here's the Colonial Williamsburg phone number: 1-800-HISTORY. Their website is www.history.org.
---

Join Revolutionary City for Less!

Revolutions can be expensive. Want to see this one for less? Here are two options:

Revolutionary City Adventure Hotel Package

From time to time, Colonial Williamsburg offers special hotel packages, which usually include nightly lodging, daily breakfast in your hotel (continental breakfast at the Woodlands and Governor's Inn), Colonial Williamsburg admission pass valid for length of your stay, and sometimes, $100 gift cards or other amenities. Note: there is usually a two-night minimum. Click here for package deals. 

Buy Your Tickets Online

If you buy your tickets online at the Colonial Williamsburg website you can save 10%. For a family of four, this could save you from $12 to $20 total, depending on which tickets you're planning to buy.

To get this deal, visit my Colonial Williamsburg admission page.


Virginia Beach Family Fun