Need Colonial Williamsburg Virginia Admission Secrets?
Here's all you need to know to get Colonial Williamsburg Virginia discount admission tickets. (If you really want to do things on the cheap, scroll down and I'll tell you how to see much of the Historic Area for free...and how you can eat in Williamsburg for less!)

Plus, scroll down for winter deals, military, senior deals, and Virginia resident admission deals!
Let's start with the basic admission info...
Regular Season Single-Day Tickets
(Look below under "Admission Deals" for Fall and Winter ticket prices (Jan - mid-March)
Adults - $40.99 / Youths Ages 6-12 - $20-49 
INCLUDES: single-day admission to most Historic Area sites, including the Capitol, and most exhibition buildings except for Governor's Palace, Colonial Explorer Activities, Revolutionary City productions, Museums of Colonial Williamsburg and Bassett Hall. 
NEW: Get $10 off a single-day ticket when you show your Food Lion MVP Card.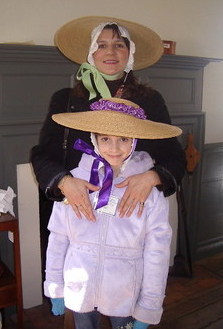 Dressing up in colonial dress at the Benjamin Powell House at Colonial Williamsburg Virginia.
Multi-day ticket (3 days use within 7 days of purchase)
Adults - $50.99 / Youth Ages 6-12 - $25.49  (March - Dec)  (See below for winter rates.)
Annual Pass
Adults - $66.99 / Youths Ages 6-12 - $33.49 (March-Dec) - Includes unlimited admission to all Historic area sites, including Revolutionary City and the museums. Also includes discounts on tickets and tours.
Historic Triangle Combo Ticket
Get admission to five area historic sites, including the Historic Area, Historic Jamestowne, Jamestown Settlement, Yorktown Battlefield, and Yorktown Victory Center. For details on this deal, see "Consider Combo Tickets" below.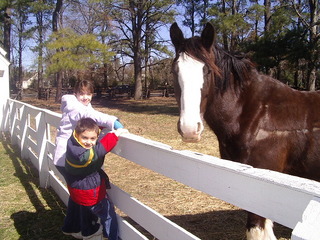 Petting the horses at Colonial Williamsburg Virginia during Homeschool Days.
Colonial Williamsburg Museums
Colonial Williamsburg has three museums: DeWitt Wallace Decorative Arts Museum, Abby Aldrich Rockefeller Folk Art Museum, and Bassett Hall. All three are included in the Multi-Day Ticket, Good Neighbor pass (see below) and Annual Pass.
If you want to go to the museums alone, here are the prices:
Single-day Pass: $12.95 Adults; $6.50 Youth
You can buy these tickets at the museums or at the main ticket office.
Here's important contact information:
Colonial Williamsburg Virginia phone number: 1-800-HISTORY 
Colonial Williamsburg Virginia website: http://www.history.org/ 
---

How to "get in" the Historic Area for free...and eat for less
Even with the admission discounts I'll discuss below, the Historic Area isn't cheap. But you CAN see much of it for free.
Check out my "Colonial Willliamsburg Secrets" page to learn how you can see the Historic Area for free...
And if you want to skip the pricey tourist spots, here's how you can eat well for less at Williamsburg. 
---

Colonial Williamsburg Virginia Admission Deals
Discounts on Colonial Williamsburg Virginia tickets come and go throughout the year, so it's hard to keep track of the latest deal. Below are past and current deals, but for the latest updates, be sure to subscribe to my VA Beach Blog Daily Deals.
Military Discounts
All active duty military members, activated or drilling reservists, and National Guard members get one free single-day admission for themselves and up to three dependents each year. OR, the military member can get 50% off up to five annual passes. 
Retired military or veterans get 50% off either single day tickets OR annual passes for themselves and up to three dependents. 
Senior Discount
Seniors always get 10% off admission. But last year, between Labor Day and the end of the year, seniors got unlimited admission to the Historic Area for just $37.95. They have yet to offer that deal again this year, but I'll post it if they do. Currently, the "Local Guest" single-day ticket price is no different from that for out of town guests. However, look below for their "Good Neighbor" discount.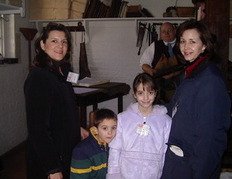 The Printmaker's Shop is one of our favorite stops at Colonial Williamsburg.
Winter Deals
Visit Colonial Williamsburg Virginia between January and mid-March and you will save up to 30% off the regular admission.
The Single-Day Ticket allows you to visit the Historic sites for only $25.99 for adults and $13 for youth. It also includes access to the art museums, the Governor's Palace, and the Capitol Building, plus a 10% discount on tours.
The Winter Multi-Day Visit price (three consecutive days) includes access to all the sights for $32.99 for adults and $16.50 for youth.
Is the Winter Season Special worth it? You'll definitely need to bundle up some days (although it's not unheard of to get 70 degree days this time of year). Some of the minor buildings may be closed, but all the major buildings will be open. Crowds? None.
William & Mary Collegiate Pass
Full-time students at William and Mary get in free! Their parents can purchase a Collegiate Pass to receive 50% off regular admission. Meanwhile, W & M alumni can get an annual pass for the price of a single-day ticket.
Bring a Friend Deal
A few years ago, residents of James City, York, Hampton, Newport News, Poquoson and Williamsburg could bring a friend for free during April if you bought an annual pass. I'll keep you posted if they offer it again this year.
Local Resident "Salute to Virginia" Deal - LIMITED TIME OFFER
Want to pay for a single day at Colonial Williamsburg and visit all year for no extra charge? If you're a Virginia resident and buy a single-day ticket between March and May 31st, you'll get an annual pass for free. The pass expires Dec. 31, 2018 and is also good for active duty military and their dependents living in Virginia. Just show proof of residency when you order your tickets.
Not bad for just happening to live nearby! 
Good Neighbor Pass
Through the "Good Neighbor" Card program, Williamsburg area residents can visit for just $10 per adult per year.
This program is available to residents of the City of Williamsburg, James City County and the Bruton District of York County.
Youth 17 can join for free, as can employees of the local "jurisdictions," and students, faculty and staff at the College of William and Mary.
Good Neighbor Card benefits: 

Admission to all Colonial Williamsburg Virginia sites and museums
Use of Colonial Williamsburg's bus service
Shopping, dining and recreational offers*
25% discount on evening programs
25% discount on up to 20 admission tickets per household each year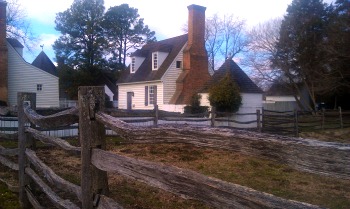 To get or renew a Good Neighbor Card, go to the Colonial Williamsburg Virginia Visitor Center. Bring a valid Virginia driver's license and a current utility bill (e.g., heating/AC, phone) as proof that you occupy a local residence.
Students can prove their status with a student ID card, report card, class assignment letter, or a curriculum approval letter for home-schooled students.
Educator/Museum Professional Discounts
Show your ID at the ticket window and get a discount - not available online.
Homeschoolers- February 24-March 4 & Sept. 10-25
Tickets are $12.50 adults and $10 for kids when you preregister. What a deal! This amazing price gets you into everything, including the Governor's Palace and the Capital Building-- plus gives you access to special interactive activities.
---

Consider Combo Tickets...Carefully!
Combo tickets for Colonial Williamsburg Virginia may not always be a good deal.
For example, I priced the America's Historic Triangle ticket, which at $89.25 for adults and $41.25 for youth which includes admission to Colonial Williamsburg Virginia, Jamestown Settlement, Historic Jamestowne, Yorktown Battlefield and the Yorktown Victory Center.
I couldn't see how it really saved any money over buying separate tickets, so I called the web site! (Anything for you, right?)
Here's what they said at the ticket office: "The America's Historic Triangle ticket isn't so much for a cost savings-- it's more for flexibility, so you can go wherever you like whenever you like." Further clarification, please?
At some of the sites, an individual ticket is only good for the day of purchase. So if you are planning on seeing all the sights, but make some last minute changes to your itinerary, the America's Historic Triangle can make things a bit easier, since it's good for 7 days.
So here's a pro of this ticket option:
Loved visiting the Wigmaker's shop at Colonial Williamsburg Virginia? Want to go back a second day? No problem, if you have the Historic Triangle ticket. Bought a regular Colonial Williamsburg ticket (or even the Jamestown Settlement/Yorktown Victory Center combo ticket) and want to go back a second day? You'll have to pay again!
And here's the con:
If you don't make it to one or more of the Historic Triangle sites, you'll definitely lose money. So make sure you really do plan to see them all before you buy one of these "mega" combo tickets.
Good Deal: Get a Bounce Ticket in the Summer
Priced at $138 for adults and $113 for youth, the Bounce Ticket is a great deal in the summer. Good for 7 consecutive days, this ticket gives you admission to Colonial Williamsburg, Busch Gardens Williamsburg, and (during operating hours May through the start of September), Water Country USA. You'll also get free parking at all three sites. 
Virginia Beach Family Fun

›

Colonial Williamsburg
› Colonial Williamsburg Virginia Admission Secrets