Don't Miss Magiquest at Great Wolf Lodge Williamsburg!

Ready for a MagiQuest?

When you finally want to take a break from all that water (and that may never happen), kids and adults alike will enjoy this mystical game.

Called a "Renaissance-style fantasy propelled by modern-day technology," this 3-D, interactive, live-action adventure game lets you (the magician) slay dragons, get new powers, solve riddles, and earn your way to higher and higher levels of the game.

Choose a magic wand (a techo-instrument that you use to control your play), attend a little wand training school, and work with other friends and family members to complete your quest (no two quests are alike).

And should thy tummy get famished...no problem: You can return to your game at any time to finish your game, either during your stay or during another visit to Great Wolf Lodge Williamsburg. 
---

Magiquest fees
This special store has a huge variety of magic stuff.

Wands are $15-$20 each (depending on whether you get the basic version or a fancy schmancy wand), plus $9.99 per game. Wands can be reused for the next time you come to Great Wolf Lodge Williamsburg. They also have booklets and quest guides which they'll try to sell you to offer you hints. There's one which is only about $1 that is worth the extra money. But beware: all the extra wizard paraphernalia (wizard hats, cloaks, etc) can set you back some serious money if you're not careful.

Want to save? If you buy a Hampton Roads edition of the Entertainment Book, you may find a coupon that lets you get a free game when you buy a game and wand (saves you almost $10). We did a few years ago when we bought our first wand.
Two Big Tips! 

1) If you're planning to reuse your wand on another trip to Great Wolf Lodge Williamsburg, pack it away in a safe place! We know a number of friends who've had to purchase new ones because the kiddies "lost" theirs, or used it to dig mud pies and ruined them.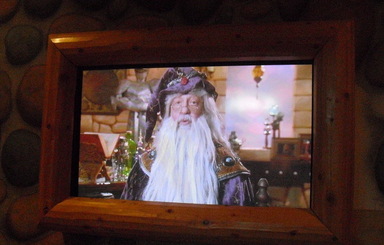 Just one scene in this 3-D interactive game.
Starting a new game is only about ten bucks, but having to purchase a game AND a new wand each time can easily double and triple your cost. So pick a safe place at home to keep your wand for the next visit.

2) MagiQuest is one of only a few things at Great Wolf Lodge Williamsburg (along with "Howl in One Mini-Golf"--see below-- and story time) which you can do without having to stay the night. So if you're in the area, you can just drop by and play a game 9 am to 10 pm. You don't have to pay for a room to enjoy your wand!

For more details, go to Great Wolf Lodge Williamsburg.
Virginia Beach Family Fun

›

Great Wolf Lodge
› Magiquest