Water Country USA Ticket Discounts
Water Country USA ticket deals aren't always easy to come by. So I've done the digging for you! Keep reading to learn how to get discount tickets-- including a current promo code good for $25 off!
One-Day Admission Facts:
Single-Day Admission (ages 10+): $60.  Children 2 and under are free.
Best bet for multiple visits: Buy a Busch Gardens Flex Card - For $85 you can get unlimited admission all season to Busch Gardens Williamsburg, plus free admission all season to the water park as well.
The $85 price is based on ordering tickets online at least 14 days before you visit. It is $100 if you purchase tickets at the door. Note that daily parking is not included in ANY Water Country USA ticket deals, with the exception of the Passports and the Bounce Ticket.
Parking is $15 per day (which frankly, seems like highway robbery to me, but there's nothing you can do...)

Military Discounts
Are you military or from a military family? Anheuser Busch offers a great deal to military members at all its theme parks. Click here for details.)
---



How to Get Single-Day Ticket Discounts
©Busch Entertainment Corporation. Reproduced by permission of Water Country USA. All rights reserved.
If you plan ahead there is no reason to have to pay the full $60 for your at-the-door price. Instead, buy your tickets online for a potentially hefty discount.
Online Ticket Discounts
Last year, if you bought online and in advance and you could get tickets for as low as $40 and as high as $59, depending on what day you wanted to visit (more popular days of the week and weekends were higher) PLUS how far in advance you purchased your ticket.
They have done away with that idea this year, with all tickets being the same price regardless of day. So for real discounts, you're back to having to keep an eye out for promo codes and short time deals.
I'll list those deals below as they become available, but to keep up-to-date on deals, subscribe to my Daily Deals blog or follow me on Twitter @vabeachfundeals.
Promo Codes/Deals - save $20-$30
Groupon Deal - Get 50% off tickets (you pay just $30) when you take advantage of this limited time deal.
Use the following promo code and you'll get $25 off single-day adult tickets (you pay $65).

bgwoffer - Get tickets for $35 when you use this code and buy in advance
NOTE: If you put these promo codes in at the Water Country USA site and it says "promo code invalid" go to the Busch Gardens Williamsburg site to order your Water Country USA tickets and the codes will work. 
Deals for Special Groups

Military "Waves of Honor" Deal
Active duty members get one free admission per year. For details, go to my Military Discounts page.
First Responder Deal

First responders (fire fighters, paramedics, EMT's and current and former law enforcement) can get FREE ADMISSION during the month of May, as well as 50% off tickets for up to four family or friends. The offer is only available at the gate and users must have a valid ID proving they are a first responder.
College Student Deal
Not sure if this will be offered again this year, but in some seasons, college students who were enrolled in 2 or 4 year colleges could get $10 off admission to Water Country USA when they registered online with their student ID (not available at the gate). Keep looking to see if they'll offer it again this year.
---

More Potential Ways to Get Discounts
Here are a few spots I've found where you may be able to get single day Water Country USA ticket discounts:

1) Your local Parks & Rec Department: They often offer deals where you can get a significant discount by ordering tickets through them (although you'll have to pay some service fees).
2) Library Discount & Teacher/Human Resource Coupons: 

Get 20% off ($10 savings) on up to six single-day tickets with coupons now available at many local libraries. I've seen similar coupons available at schools for teaching staff, and in Human Resource departments of many companies.  
3) Grocery stores, fast food spots, and gas stations: In the last few years, deals have included using coupon codes from Subway and McDonalds to get single-day ticket discounts, so keep an eye out for them.
© Busch Entertainment Corporation. Reproduced by permission of Water Country USA. All rights reserved.
Coupons may be printed on grocery bags, or are available as paper coupons near the checkout stand, and are good for up to six admissions. Coupons must be redeemed in person at the park window, and are usually good until the park closes for the season.
Other places to try for a Water Country USA ticket coupon: Giant, Subway, Quiznos, Chick-fil-A, Wawa gas stations, and Human Resource departments.
4) Group deal: Get together with your friends and order tickets in batches of 15 or more and you'll save $16 per ticket. You must purchase tickets at least two days before your visit.
---



Water Country USA Ticket Deals for Multiple Days or Parks
2018 Fun Card - You'll get unlimited admission through Sept. 3 - $90
Busch Gardens/Water Country USA/Colonial Williamsburg Summer Bounce Ticket
- $146 adults; $121 ages 6-12; free for 5 and under
Get 7 days of visits to both parks plus Colonial Williamsburg. Good May 18 - Sept. 9 (includes parking!). NOTE: Prices are $5 higher if you buy the tickets at the gate.
Experience the best that Williamsburg has to offer. Start your day at Water Country USA or Busch Gardens Williamsburg then bounce over to Colonial Williamsburg (or vice versa). Visit as many times as you'd like during your a 7-day period, even in the same day. Bonus: Get free parking at all sites. (Remember: This is also just a summer pass and doesn't include admission to fall or winter events. Click here to get Howl-O-Scream discounts or here to get Christmas Town discounts.)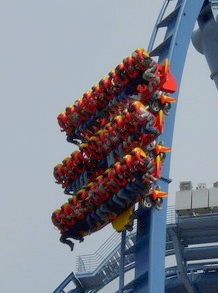 Busch Gardens Williamsburg's Griffon.
Busch Gardens and Water Country USA Flex Ticket - $90 

Get 7 days of visits to Busch Gardens March 24-Sept. 9. You'll also get Water Country USA for free when you visit May 19-Sept. 9. NOTE: Tickets are $10 if purchased less than 14 days in advance, and the deal is not available at the gate.
Click here for Season Pass Deals.
---

Package Deals
You may also save money (or at least, time) buy purchasing a package deal like these:
Kids Play Free Package
Get 7 days unlimited admission to both parks AND a free child's ticket with each paying adult when you purchase this hotel package. 
Everyone Eats Free Package
Note: Purchase this package by May 1 for travel May 17-Sept. 4 and you'll save $100 off the price. Get 7 days of unlimited admission to both parks and two free meals per person along with your hotel stay.
Click here for details and hotel availability.
Virginia Beach Family Fun

›

Water Country USA
› Water Country USA Ticket Discounts