Looking for a Virginia Beach Oceanfront Hotel?
Want a Virginia Beach oceanfront hotel? I don't blame you. (There's nothing like being lulled to sleep by the waves.)
These hotels are right on the Boardwalk and get consistently top marks for their amenities and family-friendliness.
While you'll almost always pay more for an oceanfront hotel, unless you have to go dirt-cheap, you'll probably appreciate paying the extra bucks in end, since the oceanfront is so centrally located to the Boardwalk, top restaurants, and of course, the beach.
For example, there's the Spring Hill Suites. Consistently rated the top oceanfront hotel by many travelers, Spring Hill Suites gets top marks for cleanliness, value, and friendly staff. It's also located in the middle of the beachfront, so you'll be right in the thick of things (and just across the street from a superb Italian restaurant, Il Giardino).
However, there are deals to be had even for hotels along the Boardwalk, particularly if you're willing to travel off-season (fall is a particularly great time to visit-- generally nice temps and the crowds have mostly gone, plus you can enjoy things like the annual Virginia Beach Neptune Festival). 
It's also a good idea to find low rates by searching online, trying last minute deal apps like HotelTonight, and checking out places to get discount coupons (see below).
---

Some of the most popular Virginia Beach Oceanfront Hotels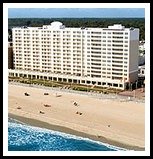 SpringHill Suites Virginia Beach Oceanfront
Amenities include private balconies with views for all rooms, free high-speed Internet, 2 TVs, sofa bed, kitchenette, complimentary hot breakfast buffet, fitness center, heated indoor pool and seasonal outdoor pool, and outdoor cafe overlooking the ocean. To get a great rate at SpringHill Suites Oceanfront Virginia Beach, click here.
SpringHill Suites Oceanfront Virginia Beach address: 901 Atlantic Avenue. SpringHill Suites Oceanfront Virginia Beach phone number: 757-417-3982.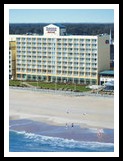 Fairfield Inn & Suites Oceanfront
This clean, modern, and pleasant Virginia Beach oceanfront hotel consistently ranks highly with travelers for its great value. It's centrally located on 19th street in the middle of the oceanfront area, so you can enjoy the Virginia Beach Boardwalk in either direction.
Amenities include high speed internet access, a complimentary full breakfast, in-room refrigerators, indoor pool and hot tub, and fitness room. And they welcome visitors with fresh-baked cookies and lemonade! 
Fairfield Inn & Suites address: 1901 Atlantic Avenue. Fairfield Inn & Suites phone number: 757-422-4885.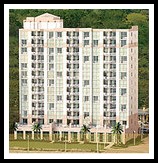 Residence Inn Virginia Beach Oceanfront
This family-friendly (and pet-friendly) Virginia Beach oceanfront hotel boasts "suites that are fifty percent larger than most traditional hotel rooms" with fully-equipped kitchens, and "First Nighter" baskets with coffee, tea and popcorn.
Other family-friendly amenities at the Residence Inn Marriott: complimentary full breakfast, heated indoor pool and whirlpool, free parking, an evening social hour M-Th with free beverages and snacks, and babysitting referrals so you can have that romantic dinner ALONE. Click on my Romantic Restaurants link on the navigation bar on the left.)
Oh, and Starbucks and Haagen-Daz are just a short walk away. Not that you're interested, of course...
Residence Inn Marriott address: 3217 Atlantic Avenue. Residence Inn Marriott phone number: 757-425-1141.

Holiday Inn Sunspree
A totally family-friendly Virginia Beach oceanfront hotel, the Sunspree is well known for its "Kidspree" children's activity center (open weekends in winter, daily in summer), two indoor pools-- including a "Lazy River" pool laden with waterfalls & rock formations-- and two on-site restaurants, including Italian-themed Isle of Capri. It also offers free high speed Internet access.
Holiday Inn Sunspree Resort address: 3900 Atlantic Ave. Holiday Inn Sunspree Resort phone number: 800-94-BEACH. Their website is http://www.vboceanfrontnorth.com/
***Want discount coupons for the Holiday Inn Sunspree? You can find them in the "Room$aver Guide." Click here to find out where you can get this discount hotel guide.

Considering a rental or timeshare? Click here for information on Virginia Beach condo rentals or timeshares. 
---



Be careful of these hotels...
In recent years, TripAdvisor.com announced that its readers listed the Tropicana Resort Hotel in Virginia Beach as one of the "dirtiest hotels" in the nation. It ranks near the bottom of the list of hotels in their Virginia Beach hotel popularity index.
Why did readers dislike it so much? Complaints included dirty carpets and sheets, mold in the bathrooms, bad smells, and rude staff. It's a shame, because the hotel has a great location. But unless the Tropicana sees the light, or gets new management, you may want to avoid it. 
Another hotel which Trip Advisor readers has often panned includes the Palm Grove Hotel on Atlantic Avenue. 
---

Planning the Perfect Beach Stay
Once you've got your hotel taken care of, you're ready to start planning what to do in Virginia Beach...and I can show you how to do it for less! 
Check out these links for the best local attractions...and how to save on tickets, restaurants and more:
Virginia Beach Family Fun

›

Accommodations
› Virginia Beach Oceanfront Hotels